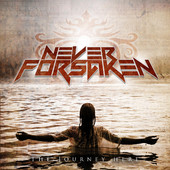 Artist: Never Forsaken
Album: The Journey Here
Label: Innakore Entertainment
Release Date: 05.01.14
Reviewer: Lee Brown
Track Listing:
We All Fall Down

More Than Conquerors
Beg A Pardon
In Your Arms
Surrender My Life
Break the Chains
Take Control
Wait For You
Never Forsaken are new to the contemporary Christian rock scene. Musically, they come across as a mixture of bands like Random Hero, Fireflight, and The Letter Black, but also show moments where one could point to Rebecca St. James and Joan Jett being thrown heavily into the brew. Production for The Journey Here was handled by industry veteran Travis Wyrick (P.O.D. Pillar, Disciple), so allusions to his work with other female-fronted rock bands such as Gretchen and Eowyn also feel somewhat apt. Vocally, lead singer Denise Jubb brings something of a deep, breathy feel to each track.
Lyrically and spiritually, Never Forsaken are bold in proclaiming their love for God, often weaving Scripture into the very framework of each song. It would be hard, after having listened for just a few moments, not to know what the band is all about. Not only is The Journey Here upfront about God and faith, it also turns to Him through the pains of life, failures, and heart aches. The title of the album feels organic as the band considers this album to be the beginning of their new journey, but also acknowledge the journey that brought them to this release.
Thematically, Never Forsaken are very upbeat and positive in their tone. Songs like "More than Conquerors" and "Surrender My Life" focus explicitly on the hope we have in Christ to be much more than the mess some would say we are. Other tracks, such as "In Your Arms" and "Break the Chains" take a similar theme, but embrace openness about brokenness and failure. All said, The Journey Here is an uplifting album that inspires without brining worn out platitudes or simple solutions to the forefront.
Album Breakdown: The album begins with "We All Fall Down," which immediately gives you a taste of what is to come, as it dances with some of the basic tropes of female fronted rock. What the listener is presented with are light rock vocals mixed with more ballad-esque moments that play off each other nicely. Musically there is some nice piano work to be found that brings a nice anchor to the tone and tempo, riveted together by a harder rock bridge. The message of the song is transparent; we all fall down, but we all have to get back up again. The first time I listened to it, I was reminded of the scene in Batman Begins where young Bruce falls down the well and his father asks him why we fall.

"More than Conquerers" presents poppy atmospheric elements to open the song and then crashes into an uptempo sound that is a break from the first track. Vocals mix dynamically between "rocker" and soft and tender. Not unexpectedly, the song follows after the Biblical verse it represents (Romans 8:37). "We are more than conquerers. No matter what we go through, the world can't keep us from You." As I listened to the track I came away with the feeling that this was very much like Rebecca St. James in style and execution only mixed with a heavy dose of Joan Jett, as well.  This is the type of song that would have been extremely edgy in the 90's Christian rock scene, in that regard. "We have scars… we cry out loud… but You hear us. You reach down to show us Your love… the battle has been won. Before the day is done, we will rise up to say, we are… more. So much more."
"Beg A Pardon" begins with an Eowyn styled atmosphere in the intro. It revisits the theme that "I've failed again… I seek your grace…" This is similar to the message presented in the album opener, however this track focuses on needing to be lifted up again by God. The heart of the track echoes Luke 23:34, where Jesus asks God to forgive because the soldiers, "know not what they do." "I know not what I've done," takes this same wording and personalizes it so the listener feels the sting of the betrayal we sometimes fall back into. In all, the track presents a good heart and humble submission. Musically, there is a slower rock style that has a nice pacing to it.
"In Your Arms" is a fitting track to follow the message presented in "Beg A Pardon," as we move from failure to new hope and rest in His arms. The song has a nice piano rock intro that again reminds of Gretchen/Eowyn, or a softer version of RED. Lyrics like, "where can I hide from You? You're holding me in Your arms and there's no place I'd rather be. I'm never forsaken," aside from giving a musical basis for the band's name, also parallel some of RED's ballads, nicely. As always, the track is positive, reassuring, and uplifting throughout and carries a good message that people need to hear. "In Your Arms" is one of the stronger tracks on the album.
"Surrender My Life" begins with a skittering, almost electronic, element in the background that gives a light poppy feel, though the piano rock and rock vocals keep the sound consistent with the overall album sound. This is a track that really shows some great passion behind Jubb's vocal work. "You've give me hope to sing again, that you are the Truth, the Life, and the Way." The song focuses on the pains of life fading away as life is surrendered to Christ, while also brining in the element of how Christ's sacrifice was for "you and me." Fittingly, the track is centered around surrender. Musically, this track works to stand out a bit from other comparative influences.
"Break the Chains" continues with a similar theme to the above, asking God to "break me from the chains of my past… so that everyone will know…" This was one of my favorite songs on the album as it nicely incorporated supporting male vocals (done, again, with the standard Wyrick style and touch). I was also caught up in the worship styled "take me, break me, mold me" verse, which echoes Hillsong's "The Potter's Hand," and Heather Williams' "Hallelujah." The song poses the problem that "I was too lost in this world to be free," but gives the answer in once again submitting to Christ.
"Take Control" gives a strong Joan Jett styled intro with a lot of what some parts of the country call "stank" on the vocals so that they almost hit a Tracey Chapman sort of feel in some ways. This is a slower rock track, which counters nicely the harder sound of the track it follows and makes the two feel like a potent pair. Where, as mentioned, other tracks have a tendency to fall a little too close to The Letter Black, Eowyn, and other such female fronted bands, "Take Control" has a little more distinct sound. On future efforts, it would be great to see the band diversify into a sound more distinctly their own, and this song would form a great template for that. There's just an attitude of power/empowerment that comes across in the vocal performance, and yet it is perfectly submitted, humble, and and devoted. The track is not empty self-aggrandizement. The message is for the Lord to take control of the chaos of this life, and is therefore sweet submission… just with some "stank" on it.
Following after one of the strongest efforts on the album, "Wait For You" closes things out succinctly. As the closing track, "Wait For You" presents a more somber soundscape with some light techno flourishes. Jubb once again brings a strong breathy feel to her vocals as she croons, "screams of my desire say I come first… I will wait for You… standing on the promises till You come through." In this, the song is transparently about waiting on God through trials and temptations of life. Because, as I feel, the album's brightest tracks hit near the end, the impression one leaves the album with grows more positive with each track. "Wait for You" is a solid way to close out this brief introduction to what Never Forsaken has to offer.
Musicianship: Never Forsaken hit all the right strides to fall in line with similar genre bands whether female fronted (Fireflight, The Letter Black, Gretchen) or male (Random Hero, Disciple). Musicianship is solid throughout, and comes across with the distinctions that Travis Wyrick brings to each production.
Lyrical/Spiritual Content: Because so much of the album is a direct reflection of Scripture, the lyrics are both solid and predictable at times. I certainly applaud the deep integration of Scripture, however, as the band grows I foresee a little more dynamic weaving of God's Word throughout… much as bands like Disciple and Spoken learned to do as their careers progressed.
Lasting Value: Never Forsaken bring a solid opening effort to the table. That said, it often feels a little too similar to other genre pieces at times. "Take Control" and other tracks prove that NF have some great range and are primed to expand as a band with each release, but this album does hit some of the standard first-album spots. I don't want to make it sound like this album is of little impact, but I think years from now fans will look back and see just how far the band has progressed and grown. They show great potential and have brought a solid opening effort that will likely serve as a basis for growth.
Overall: New Jersey's own Never Forsaken comes up to the plate with a debut effort that is perfectly suited for fans of rock music with fitting female vocals. The Journey Here weaves a nice tale of redemption, forgiveness, humility, trust, and submission to Christ that is upbeat, empowering, and faithful at all times. Musically, the band mixes the industry standard for female-fronted rock with moments of Joan Jett power that sees the album get stronger with each track.
RIYL: Fireflight, Random Hero, Gretchen, Eowyn, The Letter Black