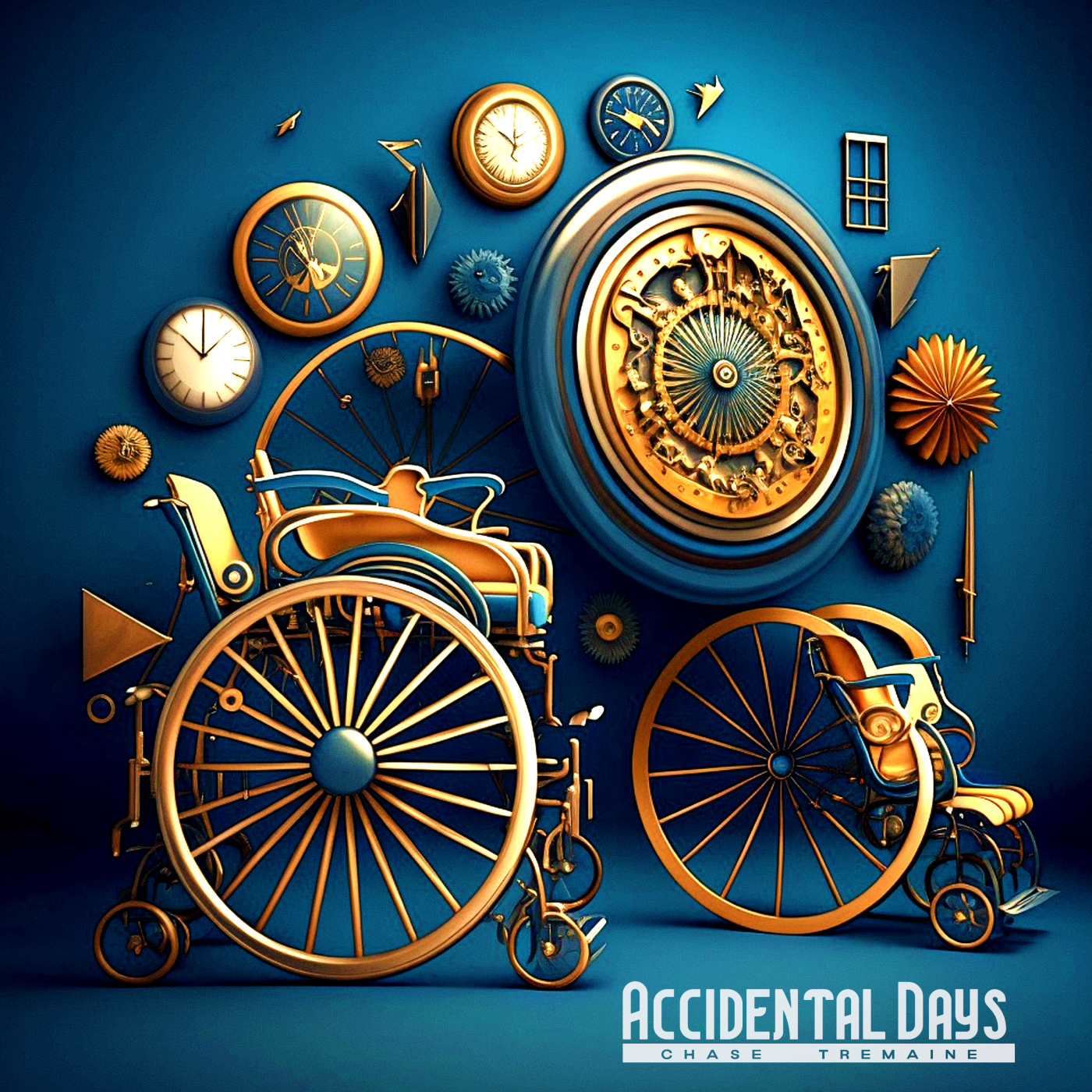 Nashville songsmith Chase Tremaine has not slowed down one bit over the past few years, from releasing his debut record to releasing (and re-releasing, to incredible effort) his sophomore album in a short span of less than three years  (as well as a stripped-back album). This is an all-the-more impressive effort given Tremaine finds time to juggle all vocal and instrumental responsibilities while also working full-time and being (mostly) newly-married. Now, in partnership with Post Emo Records, he has unveiled his third album, Accidental Days.
One of the most immediate things listeners will notice is that this record is a bit shorter than its almost-hour-long predecessor. Accidental Days is arguably a more concise, singular effort in some ways. Tremaine borrows heavily from the playbook of early 00s pop punk and emo bands like Jimmy Eat World. But even more noteworthy is the change in lyrical tone – these songs hide nothing when it comes to grace, truth, and redemption. The album seems to trace a line of want and expectation versus the reality of God's will. This manifests in questioning the purpose of tiresome work, being spiritually-prepared for marriage, the nuances of communication, and the gradual understanding of finding contentment. There are nods to previous songs (you might do a doubletake when you mistake "Tired Side of Content" for "Wired Side of Content, for instance).
There's quite a history behind this album, one that hearkens back to one summer a decade ago where Tremaine had hopes of creating an album about the every-day experience. And while that album never quite materialized, it was a critical moment for him realizing he seemed to have a natural gift toward songwriting.
The album kicks off with an early highlight – "One Day" roars with a chorus of "Sufficient for the day is its own trouble / No kidding, man," a sentiment that I'm sure many of us can relate to. It's a sentiment that could easily feel trite, but Tremaine pairs it with a certain level of energy that brings the weariness to life. The song echoes with the speaker of Ecclesiastes and reminds of us how often our lives feel cyclical and dull, and it's certainly not the last time the theme appears on the record.
"God keeps breaking my heart before I can give it you," Tremaine laments on "Distracted." At its core, it's a song about divided allegiance, be it zealous fervor, romantic passion, or some mix of the two. In the end, he admits that Christ is his fulfillment, even if marriage is still a very powerful gift. Musically, the track is pretty upbeat and the chorus helps cement a feeling of youthful innocence of coming-of-age crossroads.
"Tired Side of Content" was released as a single, and it's definitely one of the most adventurous tracks on the instrumental side. In particular, the change-up during the bridge with staccato guitar stands out. Lyrically, the song talks about the downfalls of comfort and boredom as a trap to keep us from caring for others.
Three tracks deep, the album is already stacked with plenty of highlight moments, and it's easy to see some of the lyrical themes build up. Arguably, this is some of Tremaine's most consistent work yet.
"Middle of My Words" is admittedly one of the spottier tracks as a whole, but the chorus is confessional and earnest and the lyrics as a whole speak to how easily we misinterpret one another. Take this line from the bridge:
What do you see in the middle of my words? Can I speak a blessing, yet you hear a curse?
While the context specifically seems to be related to his wife, the concept certainly translates to any number of other relationships.
"Settled in the Unsettled" definitely shakes things up on the musical end, opting for a more acoustic approach with glockenspiel that almost gives it a slight lullaby feeling. However, the piano build here is impressive, and while we've seen piano on Tremaine's previous albums, it's definitely one of the better-kept secrets this time around. Lyrically, this is an easy highlight that looks at how we try to find stability in things that are fundamentally transient:
I wouldn't bet my savings on a roll of the dice

I wouldn't build a house on top of a sheet of ice

So why do I try to get settled in the unsettled?
Elsewhere, he notes:
Why do I do it

When I always knew it would fail me?
It's the type of song that takes our misplaced hopes and fears and puts them under a magnifying glass.
All this considered, the album builds toward its closer, "New Creation Gray", a sort of looking-back-at-life song that sees the culmination of everything before it. It echoes "To live is Christ, to die is gain," but here, Tremaine has committed to live – and not simply that, but to live in a way that even the unexpected mishaps, the fleeting distractions, and the trials of married life are not wasted but are instead a portrait of the redemptive story. He acknowledges there are things about grace that can only be understood by endurance. And this looking-forward approach seems like a closing end to an album that begins in medias res of some sort of momentary affliction.
Musically, this is very much an "era" type album, and while Tremaine toys with hints of jazz, indie, and folk-adjacent arrangements, there's no denying where his heart is. For the most part, this formula works well, and hearing hints of post-hardcore and math rock slipped in with more conventional song structures has the sort of technical-poppy duality highlighted in acts like Tiny Moving Parts. By and large, Tremaine's songs lean a bit lighter here but have bigger hooks. Admittedly, some of the romantic concepts do start to get tiring toward the end and result in some of the weaker songs as well (albeit it seems wrong to tell an artist to not write about things that matter to him). Some of the lyrics feel a bit simplistic at times, but this is not a heady concept album where you'll need a dictionary. The tone is, centrally, one of an ordinary life – and its language and themes read as such.
Accidental Days is not as hefty as its immediate predecessor, nor is it quite as musically adventurous. It is a more solidified effort with a focused lyrical and musical premise, and this limitation largely results in more immediate payoff for the listener. Tremaine's faith is woven through the most ordinary of circumstances, and we're reminded that, to quote Andy Squyres, "either nothing is wasted or everything is."
Accidental Days is live on Bandcamp and hits streaming services this Friday.