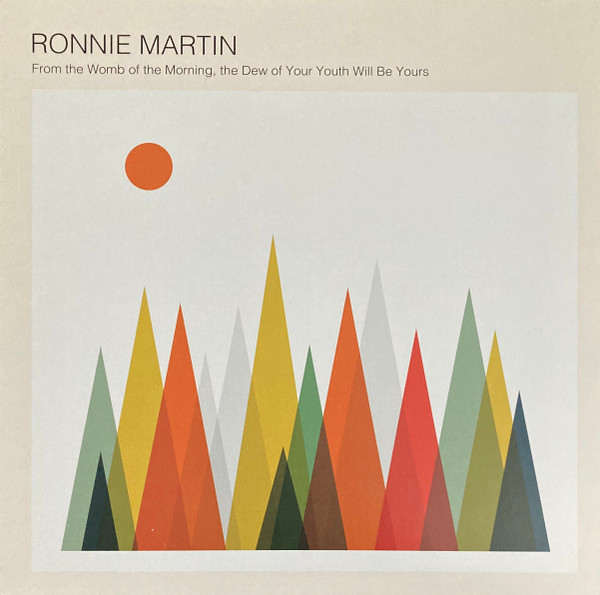 Most of you will know that Ronnie Martin has been making music since the late 80s (at least) with Morella's Forest 1988, Dance House Children, and most famously Joy Electric, not to mention a host of side projects like Ronald of Orange, The Foxglove Hunt, The Brothers Martin, and so forth. While there's a lot of history with Martin's expertise in making quirky, electronic pop music, in a sense none of that matters. Not that the history isn't respectable–but what we really want to know is, is this record going to be good?
The production is super clean, but not in any kind of distracting way. Let's be honest, you're not going to be hearing these songs on commercial radio. The quirkiness we've come to expect from Ronnie, through the offbeat tunes by Dance House Children, which were all taken up a notch with Joy Electric–it's still here, but there is a slightly more serious side to the music and lyrics this time. He's no longer writing about candy canes, fairies, and sugar plums in an effort to make subtle points about Christianity. This time the pristine–and I do mean, truly pristine–take on synth-pop is infused with loads of biblical references, more than I remember ever hearing from previous projects.
Perhaps it's due to Ronnie's recent years pastoring a church that have brought home the need to be more straight-forward. Six out of the seven songs on this mini-album have song titles that are direct biblical references–mostly from the Psalms, and one from Ecclesiastes. And yet, there's no preaching on the album, just lots of reflections on life in light of God's grace.
I'm going to go out on a limb here and say that this mini-album is some of the best music Martin has ever made. I've actually been sitting on this review for quite a while, listening to the album over and over. How does one write about an album that's this good? From the opening seconds of "Sing Among the Branches," you know you're in for something special. "For What Vanity" would fit nicely on a Pet Shop Boys track with its ethereal melody. "There Go the Ships, Then Leviathan" (interestingly, the only non directly biblical referenced song title) starts with an intro that is the most reminiscent of Joy Electric among these songs, but then hits harder on the verses than just about anything they've ever released. Consequently it's my favorite track on the album.
Truth be told, this is a truly fantastic recording. The only reason I'm giving it a 4 instead of 5-star review, is that there are moments when one song bleeds into the next in an ever-so-slightly too similar segue. Translation: 1 or 2 songs sounds a little too like one another. But when the music is this good, that's a very minor complaint.
For ordering info, see the links below.