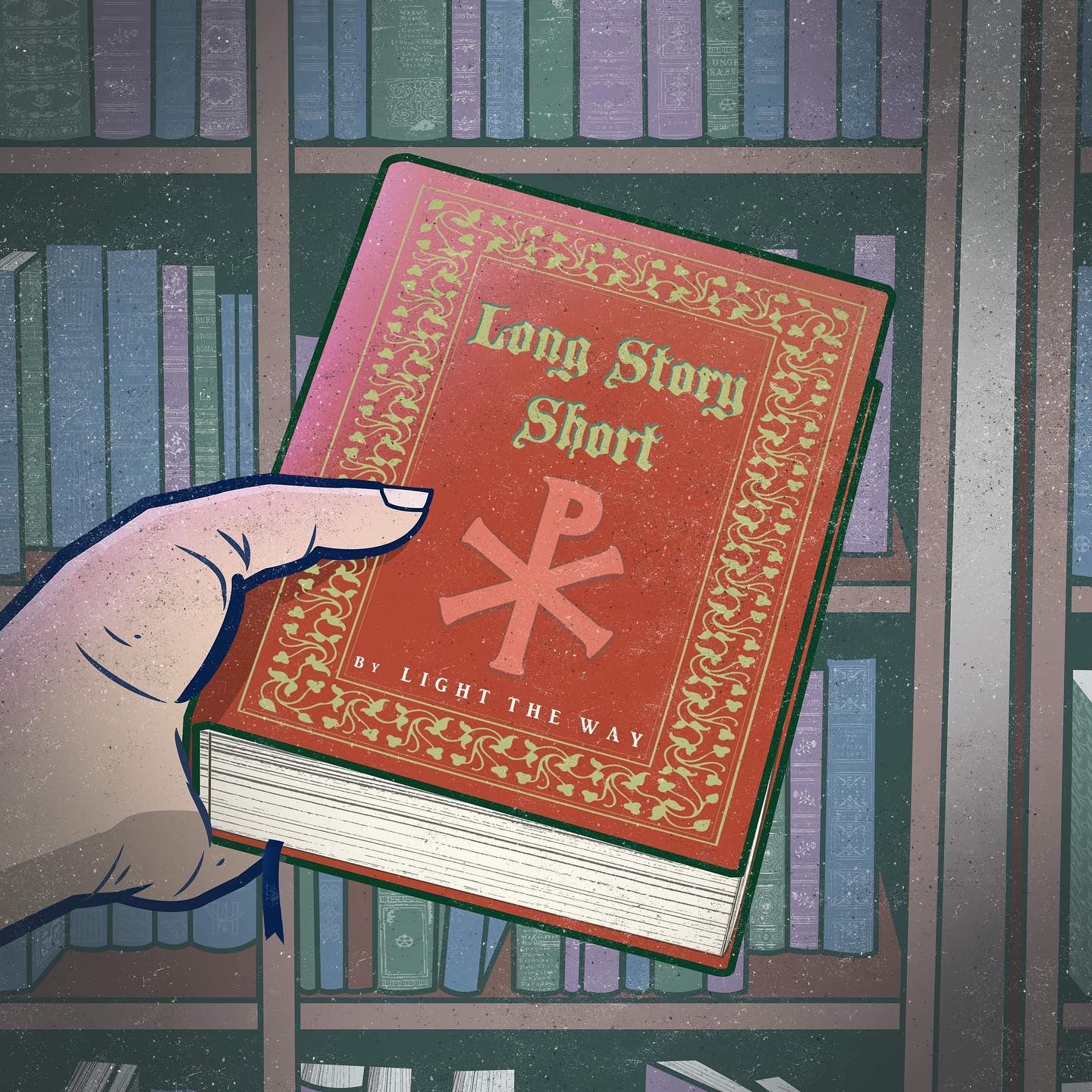 Light The Way began in 2016 and started off releasing their fantastic debut ep, "Grace". They followed that up in the following 3 years with – "Dude, Lame" (EP) in 2017, "False Memory Syndrome" in 2018, and "Dad Gang" (EP) in 2019. I'm proud to say I had the most excellent opportunity to be involved in the album release process for all of those releases. I will forever be grateful for the chance to live out my dreams releasing positive, faith-centered, pop-punk music with a strong message about hope, love, grace, and peppered generously with fun and witty lyrics. They are one of a kind, they've always been one of a kind, period. There is something special that you can't help but absorb upon listening to each and every Light The Way song and that is to walk away entertained and with a bright smile across the face. "Long Story Short" is all of the above and even more so now here in 2022. If you don't love this album, then I don't love you and I do not understand your music choices. Do not pass go and do not collect $200! Away from me, I never knew you!
This album begins with the absolute most anthemic, heart pumping, adrenaline fueled, "plastered smile across the face" song that I've heard in 2022. If there is ever that one perfect introduction to an album, it is, without a doubt – "Goofball". I absolutely adore this song. I love the self-deprecating humor, the unshakeable truth about growing old and trying to maintain a certain semblance of fun in life despite what curveballs are thrown your way. The song matched with that clever lyric video some of you have seen, was just plain perfect (Andrew, job well done!). It's just an all-around solid pop-punk jam, perfect for those long drives in the sweltering heat of California.
"THESE ARE THE GOLDEN YEARS!"
"Burt Macklin, FBI" is the 2nd track on this album and is just as good as the prior. My veins are literally pumping hard from increased blood flow due to this upbeat, catchy song. Adrenaline is inspiring me in ways I can't explain. Maybe it's my mind? Or maybe this is just an undoubedtly good time. I didn't know who Burt Macklin was so I had to look it up (sorry Parks and Rec fans). Chris Pratt is cool so this title surely fits. This song is a great representation of the dueling vocals this time around between Andrew Carlin and Christian Moore. I love that they branched out this time and included more BGVs and Christian's voice fits perfect on this song as well as the album. Swift Punk rock drum beats, dueling vocals, and even a slow down moment near the end right before an epic chorus.
Self-analyzing and feeling unworthy leading to unwanted anxiety, that's the take away. Something I'm sure many of us have dealt with at times, including myself. Never feeling good enough but knowing there is an all loving God who is just waiting for us to make that reach. An inspiring concept in and of itself.
These butterflies
Inside of my
Chest and my mind are
Eating me alive
Overanalyze
Tons of staring eyes
Wanna run and hide
Inside of my own walls

Overthinking
Everything
I hold myself back
More than anything
I know there's great things
In my reach
If I only don't trip
Over my own feet
[I've always been more of an Office fan myself, sorry Andy Dwyer/Parks and Rec fans 😉 ]
"Chameleon Eyes" hits hard. Bringing modern day issues and feelings of apathy, under the lens of good vs evil and ultimately finding that unmistakable solace in God. It's a great song and even features a little guitar solo action alongside sweet bgv harmonies.
These days now more than ever
I can't be changing like the weather
I should stress less and take a deep breath
Leave the lights on, I'm not home yet
God is there to remind us of what's most important, leading us to seek him in the dark void that sometimes surrounds us. Pop-Punk with a strong message like this, has not been heard in years. This is solid stuff.
I can hear my Father's voice
Like a light in the dead of night
Cut through the noise
Finds me inside the void
"Guts" comes fast right out of the gates with a sound that one could consider a cross between Blink-182, MxPx, Stretch Arm Strong, and even Comeback Kid. It's a unique combo and the hardcore-yell-out like BGVs near the end will bring a smile to anyone's face looking for that extra oomph. Lyrically the song cuts through the noise of self-doubt, showing a broken (BRKN) man in deep conflict with himself, turning only to Jesus to redeem oneself.
If left to my own devices
My choices are not the wisest
This path twists and turns
Into absolute destruction
I feel the conflict in my soul
About where my heart is leading
I can feel it in my guts
And it's a sinking feeling

I'm broken
But I am
Made new through the blood of the Lamb
"They Will Let You Down" is a song that switches things up in ways you haven't heard from Light The Way. No it's not SKA but it is mandolin led, acoustic oriented punk rock. This is a song built around a story, one told from Andrew's perspective about youth, growing up and finding himself through the bands he played in and Faith he holds dear. It's a really fun song and is certainly not some sort of joke song thrown together to fill space. This is without a doubt a sound I hope to hear the band include with each album in the future. It really fills out the sound found on "Long Story Short" and makes the solid plugged in guitars with heavy distortion lighten up a bit. Mood wise, this is an uplifting track with a beginning, middle, and end found in redemption and positivity. It is a hopeful song and one shared to express somewhat of an identity crisis of sorts while at the same time finding hope in the Lord.
It's not about me
It's not my glory
I'm not the main character
In my story
Lord, I can't see
It all come together
My plans felt good
But Yours are always better
The next song on this already fantastic new album is "Han Shot First", an obvious ode to the Star Wars franchise (duh!). Christian Moore takes the lead on this song and his voice matched alongside Andrew's is so freakin' magical that you can't help but sing along with with an intense urgency throughout the song.
I love these words below…
Too much information
I'm scared to turn the other page
But I know that everything works
For the good of those in Christ
Sometimes I feel stuck in this quicksand
Between streaming and Facebook rants
Five minutes turns into half a day
Between all the ads and clickbait
For you long time Light The Way fans, "Scatterbrained" is an obvious, and familiar tip of the hat to their past. It was originally in acoustic format on the debut EP – "Grace". This time the track is amped up with a full band, electrifying the sounds, giving depth and power to them. The words ring true and the familiarity felt through this pop-punk sound, is totally killer! Dealing with anxiety and stress in these modern times is something I think many of us can identify with. With Politics, COVID, Politics, War, Disease, Famine, Death, Violence, War, Misery, and more Politics, is enough to drive any man or woman insane. If you deal with these emotions and feelings, you're not alone and you never will be.
I'm not sad
I'm not sad
I'm learning to be
content with where I am
with who I am
let tomorrow stress itself out
"Long Division" is track 8 and again, a really solid song. Another great track with Christian and Andrew trading vocals with on another. A sort of sarcastic, sort of humorous, and clever look at life through lens of growing up with the drama of your school years. Just a fun track and not all that different from, um, school?
"Worrywart" is the 9th track and was the band's first single released. I feel as through this one had a slightly different sound compared with the past. That was until I heard the song within the context of this full length. It really blends well and offers some variety matched against tracks like "They Will Let You Down" and "2AM". This song really grew on me and I am such a fan now of this track as well as the complete album. The song is a message to believers and those running from their roots. It's a message of love for the ones who've turned their back on a loving God for whatever reason but in turn, offering that glimmer of hope that "The King is coming back again…". Indeed, he is.
Do we believe in the same God?
Did we even read the same book?
Why's this line in the sand and
Why am I on the other side?

I get you're scared
But don't lose heart
'Cause in the end
The knees will bend
The King is coming back again
The next song on this record changes things up again. It's called "2AM" and is a love song toward parents and children the world over. It's acoustic and piano based but it isn't all some kind of Coldplay, Snow Patrol, and Radiohead snooze fest. This is acoustic pop-punk with a beautiful and inspiring message, that may or may not cause a tear to be shed. I can neither confirm nor deny the presence of said tears.
The next little segway to the final track is "In Our Time Rules". Ok, little flashback here. There was a young pop-punk band by the name of "In Our Time" that pre-dates Light The Way a few years and had a couple of the same members. They were fun to listen to and I believe I even had a song or two from them on various IVM compilations in the past. That band fizzled out and thankfully we have the maturity of the collected band member's ages tied into Light The Way, to remind us all that eache and every band has their start somewhere. Anyone notice the Goonies reference? 52 seconds and this song is done!
Final song on this album is "Steering Clear". The song starts off with some pop-punk beats. Influence can be heard from your favorite 00's pop-punk bands at the level of those bands but more underground if that makes sense. It's a song about broken hearts, fractured relationships, and steering clear of things that drag us down. Song ends with some piano and a voice, ending an explosive set of songs in the most calming, self reflecting manner available. It's a solid end to this already fun-filled collection of songs.
"Long Story Short" is a special kind of album. It's a big love letter to the scene, Christians, and those into punk rock. There is a significant amount of early 00's pop-punk flavor but matched with something extremely current and modern. There may be a certain familiarity from the sounds of Light The Way to what comes out of your stereo at any given time but it's an entirely original take and something I'm ecstatic about. "You like Adele? Well then try Light The Way!" Ok, so not to that extreme but I would like to think that it's a slight possibility? "Long Story Short" consists of sounds unlike most of the stuff found in the whole (Lame) Christian hard rock scene. The amount of self reflection and heavenward gazing within the projected words found in these songs, is something truly extraordinary. As much as I loved "False Memory Syndrome" and the songs from their 3 EPs, I feel as through this is a band in their prime, finding a solid footing, and excelling beyond words. If you want a quote, unquote – "Christian" album that doesn't smell like a "Christian" album, then this is the release for you. If you're searching for something new to latch on to that isn't a copy of everything else out there or some kind of a forced attempt at being relevant, then Light The Way is the band for you. If you're seeking positivity and hopeful lyrics that wont sound stale, covered in eyeliner, reeking of numetal, and covered in "recommended if you like" stickers, then I strongly recommend this album.
Thank you Small Step Records for taking that giant leap and starting what I have already named one of my new favorite indie labels. It will be much better than IVM ever was and I can't wait to see what Paul & Co. do next. Check out the label, the bands (Homeplate, Grandpa Loves Rhinos, and Light The Way), and maybe buy some merch at the link below.
"Long Story Short" is available now through Small Step Records!
*Disclaimer: Brandon Jones is responsible for the content of this review. Any mentions of "Lame" or "Trying to Stay Relevant" in the context of "Christian" music is in no way meant as shade being tossed at any one band in particular or solo artist. I'd like to think I have the freedom to say and do as I will with Indie Vision Music. If one chooses to disagree with me, that's fine, I'm sure there are a gazillion other websites and clickbait social media accounts to follow. [end rant]*