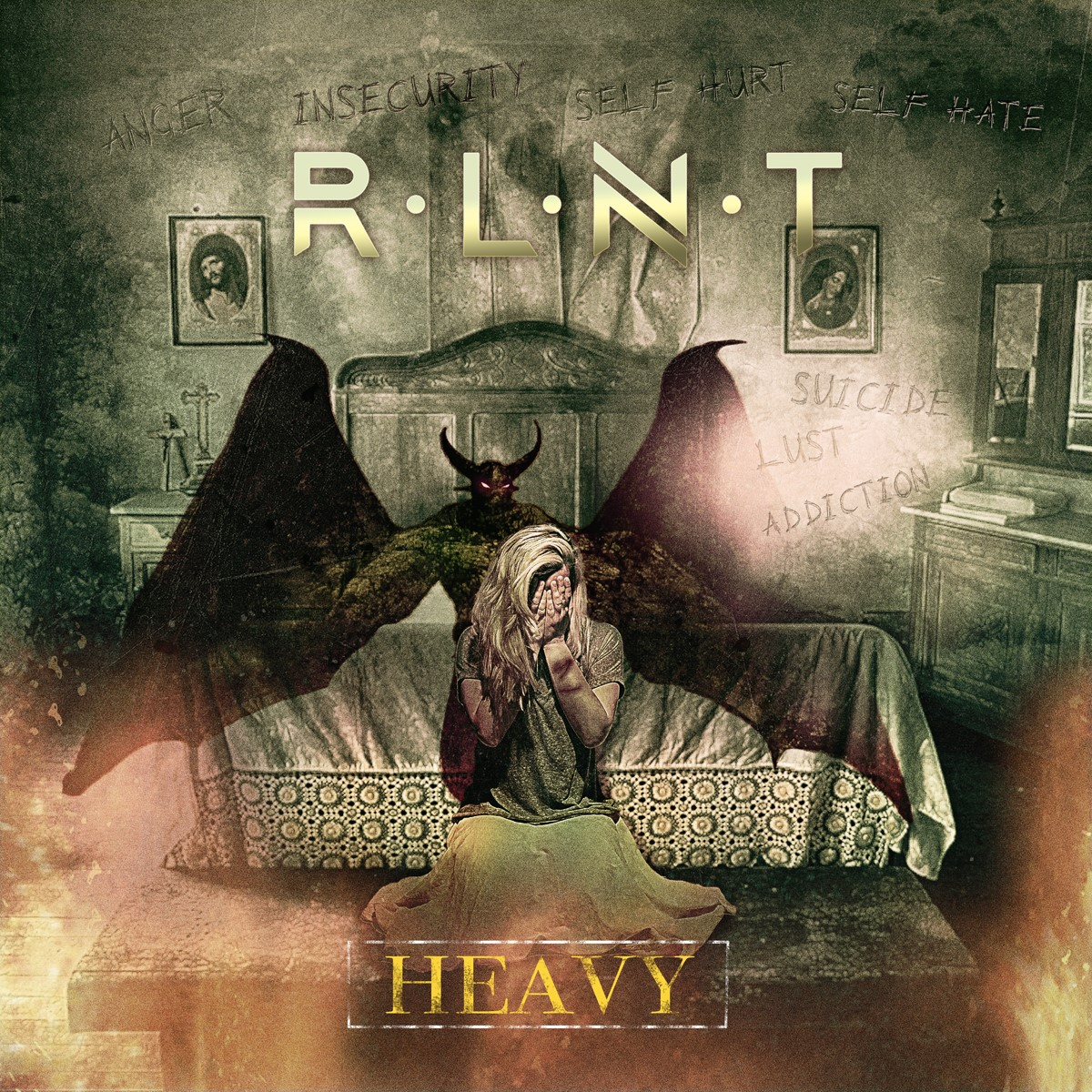 Relent has been around and making music longer than most realize; most likely myself included. A 2 song ep in 2016, the Heart Attack ep (2019), the re-release of the Heart Attack ep (2020), with 2 new tracks, and now a full length, aptly titled, "Heavy". And yes. Yes, it is.
From the first listen to these guys a number of yrs ago, I was hooked. I'm a sucker for downtuned guitars with well constructed grooves, thunderous drums, and a mix of rapped/sung/screamed vocals. So this band has really checked all the boxes for me since day 1. In fact, in 2019, their "Heart Attack" ep came in at number 3 on my "Best of" list that year. Despite the 2 new tracks that appeared on the re-release when the band signed with Rockfest Records, I was still especially eager for that first full length. Now, here I sit, tapping out this review, listening to "Heavy" for probably the 5th or 6th time today. At least. Worth the wait? Read on.
"Heavy" covers a lot of ground both in song composition and lyrics. When we're talking about the lyrics, the album touches on a myriad of important issues facing everyone at one point or another; depression, addiction, fakes/hypocrisy, the day and age we're in, the loss of a friend, and then some.
Musically? Relent may be a newer band, but their songwriting and overall execution of their music would give anyone listening cause to think they were veterans with many more years under their belt. Everything sounds top notch.
"Heavy" is full of scathing guitars blasting out crushing riffs, a low end you can feel in your bones, and thunderous drums. The vocals sound great and Miggy has done a killer job putting a variety of vocal styles in just the right parts. Everything here sounds great.
With the band being branded with genres like "hard rock" and "nu metal" (which are fairly accurate), you may think you know exactly what you're getting from an album bearing those monikers. But Relent seems intent on challenging all those preconceived ideas on "Heavy". Yes, it's hard rock. Yes, it's nu metal. But it's the extra nuances that Relent brings in their songwriting, that personal touch that provides a great deal of diversity across the board.
That diversity of sounds isn't just from track to track, but there's often also a bit of variety within each track. A lot of these changes really breathe life to the tracks found on the album. A perfect example of this is found on the track "Ghost". The song is hard rock/nu metal, and so you get the heavy hard hitting riffs throughout the song as you'd expect. Then, right at the end, you find yourself hit with a perfectly placed, drum & bass track. Completely unexpected, but such a perfect fit.
The title track, "Heavy" kicks off with heavy riffs and pounding drums, but after that intro, the guys totally change it up on you, and you suddenly get a bit of a strong hip hop type of feel to it. And I'll say this freely…while I tend to hate intentional effects on vocals, especially that auto tune effect, it actually sounds really good here and serves the song well. Miggy asks, "Why do I feel so heavy?" A sentiment many of us can relate to as we too, find ourselves buried under pressure from time to time.
Then there's "Memories", a pretty laid back, melodic tune that talks about the loss of a friend, memories of times past, and a strong longing to change things. The song does have its heavier moments in the choruses, but I feel like Miggy's vocals shine on this track particularly and fit in really well with the feel of the song.
A musician myself, I listen to each part contributing to the whole of a song often, and so I really enjoyed the track "Danger", which hits hard, but has these heavy, chunky guitar parts in the verses, that sound so good. Sometimes some parts just really stand out to you, and that happened to be the case for me there.
I have so much I could say about this release and I could go on and on about it, easily. There's just so much to discuss and so much to enjoy here. You want heavy, hard hitting riffs? Check. You want nu metal grooves? Check. Breakdowns (don't get me started…)? Well placed samples and sounds? Raps? Screams? Smooth vocals? It's all here and all done masterfully.
The newest release from Relent, "Heavy", is set to drop Oct 1st on Rockfest Records. It's a release that fans of hard rock shouldn't miss out on and I'm betting becomes an instant favorite.
Be sure to check the guys out at the links below and be sure to show them some support by grabbing some merch.