Album Review :
The O.C. Supertones - For the Glory
By Brandon J. in Reviews | Comments closed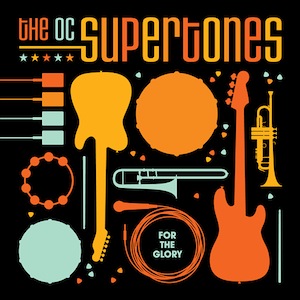 Band: The O.C. Supertones
Album: For the Glory
Label: BEC Recordings
Release Date: November 6th 2012
Reviewed by: Brandon Jones
Tracklisting:
1. All the Way Alive
2. For the Glory
3. Hey Hey Hey
4. Far More Beautiful
5. Down to the River
6. All Glory
7. It's a Good Day to Be From California
8. Warmth of the Sun
9. On the Downbeat
10. Fight On
11. Pretty Little Lie
12. The Wise and the Fool
Not knowing what to expect after an 8 year absence from the music scene, I approached the new album with just small amount of hesitation. Hearing that 4 founding core members were back in the suits and prepared to take the world by storm had me definitely intrigued especially considering that "On the Downbeat" was such a stellar "comeback" song. So with that "slight" hesitation, I began to listen to "For the Glory" and what followed was nothing short of extraordinary. Yes I am a Supertones fan-boy but don't let that "bias" discourage you from truly checking this album out on its own fantastic merits. "For the Glory" is everything you wished a "comeback" album would be, and more. "For the Glory" combines all The OC Supertones finest moments as a band and blows it through the roof, electrifying the very stereo blasting these tunes and making for one heck of an extraordinary listen. I couldn't have asked for a better album from these gentlemen and the fact that they are once again composing their signature ska music is enough to entice me into supporting these guys again. This, my friends is The OC Supertones and this is their comeback record.
The album begins with "All the Way Alive" which features some "Whoa's" before dropping into that signature ska beat. This song is a total Supertones track, similar to something you might have found on "Chase the Sun". This is a song for the people and is indicative of the band's brazen message, which is sharing the Gospel of Jesus Christ with a whole generation of people. "we do it for the love, we do it for the Lord….come on inside and get all the way alive"….
The band's single "For the Glory" is track #2 and is one of my favorites on the album. I have listened to it a dozen times and love it. The song is composed in typical punk-charged like Supertones direction complete with ska beats blending in with the distortion. Do we call this "third wave ska" still? Well its like that. It's an electrifying message meant to encourage fellow believers and remind them that "and what I thought important it doesn't seem to matter…our purpose our mission is to say this is for the glory of God". A message to critics that it doesn't matter what judgments they pass or negativity spewed, the band is here to share the good news of God. "and I'll speak until I'm breathless…" sort of sums it up. My (almost) 3 year old twins love this song and our son Everett even jumps up and down dancing to the tune which puts a firm smile on my face. We are exposing the next generation to the music of The OC Supertones, yep.
"Hey Hey Hey" (Track #3) is a classic ska tune led by horns and a dancey chorus of "hey hey hey". Matt's vocal rapping style really keeps this song interesting and prevents this band from falling into generic territory like so many other "ska" bands fall victim to.
The OC Supertones kick things back a bit and bring down the volume for their acoustic centered reggae jam track "Far More Beautiful". The song is a message to women- mothers, sisters, daughters, girls of Faith the world over. "You're beautiful far more beautiful anything the world will ever know keep your eyes on the king cherish all of your tomorrows". A song meant to inspire women and encourage them to recognize their worth and beauty within. This one has a breezy summertime like jam session feel to it. A kind of Sublime like feel.
"Down to the River" is track# 5 and a hymn like song. Kind of like The OC Supertones ska style meets O Brother Where Art Though soundtrack. Another song that bears a striking resemblance to songs found on "Chase the Sun". Matt's rhyming voice leads this song to the edge and then brings it back for the hymn like Chorus. A definite "Ska" worthy song, no distortion, just straight upbeats and horns infused to make a rocksteady dancehall dream worship song. "Come down to the river, walk down to the shore, living water to quench your thirsty soul, come drink from the water, thirst no more."
Track# 6 "All Glory" is up next. Starting with heavy guitar and a blasting horn section then immediately leaping into Matt's rapping like vocal delivery. The song is a charging anthem, led by the talented horn section and Josh Auer's distortion heavy guitar. Some of the other "ska" tracks lack that "punk" edge, but this song certainly fills that void and brings an overabundance of pure energy soaked "adrenaline". The breakdown hushed chorus part of the song when most of the instruments drop out leaving just Matt's voice is especially chill inducing. "To you oh God we give ourselves be lifted high above all else. Unto our God we lay it down. Before the throne, before the crown, to you oh God we give ourselves be lifted high above all else…." "All glory all power, Hallelujah". This is a definite favorite track of mine.
"It's a Good Day to Be From California" is track #7 and another favorite of mine. It has a slight dancehall type influence mixed with a tiny bit of Surf guitar and horn driven chorus. This song is especially close to my heart because I have been a California native my whole life, living in Orange County the entirety of my upbringing and adulthood. I am feeling everything Matt is singing about and was right there with them at those "first shows" they played here as The OC Supertones (I was even at the show(s) where they announced their name change from "Saved"). This song sounds a tiny bit like The OC Supertones joined up with No Doubt on their "Rocksteady" album, if you can imagine that. "It's a good day to be from California, shout three cheers for the golden state". It's just a feel good song perfect for that ending to a long hot summer/fall and a celebration of all things "California". Guitar solo is sweet too 😉
Track# 8, "Warmth of the Sun" is an acoustic centered track "I feel your love in the warmth of the sun…" I hear a slight 60's folk vibe mixed in with the summertime, flavor of the islands. I even hear some mandolin which gives it a cool vibe. This is definitely a relaxing tune, perfect for that reflection after a long day, sitting on the porch.
The song that started/reenergized this whole reunion comeback, "On the Downbeat", is up next. It has been retooled a bit from the original version with only subtle differences the discerning ear would pick up. Personally, I preferred the original version but that' just me. This song for those that haven't heard it, combines Matt's Beastie Boys like rhyming delivery accented perfectly by the horn section and organ making an explosive "Ska" inspired tune.
"Fight On" is track # 10. "Fight On" is done in that OC Supertones punk influenced and ska accented style the band has been so remarkably remembered for. For some odd reason I even hear a little bit of The Dingees ala' the "Armageddon Massive" album in this tune. I don't know why but I just do. This is a great song.
"Pretty Little Lie" is track #11 and it's one of the most revealing songs of the entire Supertones career. It's basically about coming to terms with the instant success of the band, trying to find solace in the arms of God when the lights stopped flashing, the music ended, and the money dried up. It's about finding true happiness through all the trials of life, hitting rock bottom and just finding that simple joy in God. The words of this song really resonate and makes me appreciate what I have. That guitar solo is killer by the way and really amplifies the energy found in the song.
"The Wise Man and the Fool" is the last song on the record and is another acoustic centered song. It's a mellow yet satisfying, a great ending to a terrific album.
The OC Supertones have done it again. They have created 12 songs that truly captivate my attention and keep me entertained throughout the length of the album. Entertainment is what this is all about besides just sharing a completely honest, thought provoking, and spiritually engaging message, right? Was this the return we all hoped for? Well yes and no. Yes in that there is so much diversity on this record that it'll please both longtime fans of the band and newcomers alike. No, in that we hope this isn't just a short lived comeback and then the band will slowly fade back into obscurity again. A band doesn't have to "Tour" to exist this day and age. We just want these bands to record something new every few years and to keep their message prevalent in today's world. So often these band "reunions" are plagued by instability and complications that it makes them seem short lived. I hope in the case of this band, that this isn't the case. Only time will tell.
Back to the album, this is everything I wanted to hear and more. It has that perfect balance of melody, rhyme, guitar distortion (Punk edge), and ska beats complimented by a talented horn section. Signature OC Supertones, plain and simple. People expecting a prog-rock like length of song accented by 'core breakdowns and whiny singing are barking up the wrong tree. This is SKA, straight and to the point. This isn't stare at your shoe like personal introspection and mood-building theatrics, this is just a ska band looking to impact your soul with a spiritually on-fire message and a beat that would make grandma dance. Dance, have we forgotten what that word even means this day and age? I would expect these songs to cause some sort of movement at live gatherings of Supertones fans and not some "hands in the pocket", nervous head nodding like concert experience. You can't hide in the back at a OC Supertones show, it's movement they want and movement they'll get, even if your fellow concert goer has to shake it out of you. "We're a dance band from the southland" says it straight up! I love the energy and excitement from these 12 songs. They exude a certain confidence and comfort that most bands these days lack. The nice thing about a Supertones album is that when you listen to it, you know exactly what you're going to get. It's not like you're waiting for this experiment phase to end so they can get back to their "original sound" like so many youth harp these days on newer bands. These guys have always been that fun party dance band that brings about a sense of worship and praise for God through their crowd involvement. "For the Glory" is that "perfect" album in my opinion. An album worthy of a "5" on our grading scale because 1) I love it 2) I own the site and can give out any score I feel like and 3) SKA, SKA, SKA!
Overall: Stellar production and songwriting make this a truly engaging OC Supertones album. Taking a slight influence from prior albums like "Chase the Sun", "Supertones Strike Back", "Loud and Clear" and even "Hi Fi Revival", The OC Supertones have found their definite balance between melody, rhyme, and reason. If you loved The OC Supertones of the past yet you're older (or younger for many of you), wiser, and ready for some change, let "For the Glory" bring you a strong sense of joy. "For the Glory" is sure to please fans both new and old across the globe with its infectious sing-a-longs and crowd anthems. "For the Glory" is not intended to cure cancer or solve world hunger but it will inflict a sense of "fun" across your body and cause you to engage in random public dancing for no apparent reason. Don't approach this album like you're expecting the next Brand New (the band)-like rock opera yet rather an album that will get your toes tapping and your voice singing. After all, isn't this the purpose of music, to entertain and encourage you to sing-a-long with the band at full volume? "For the Glory" did just that for me and really helped bring back that sense of nostalgia that will soothe the winter time blues and widen my outlook for a better tomorrow. Music has power and The OC Supertones have taken full advantage of that aspect. Leaving the door open for tomorrow, only The OC Supertones can answer that question but it's my hope that they will. If this is any indication of the future sounds of The OC Supertones, then count me firmly in line as a fan and follower of this band.
Recommended if you Like: Sublime, The Mighty Mighty Bosstones, Beastie Boys, The Specials, (old) No Doubt, Ska