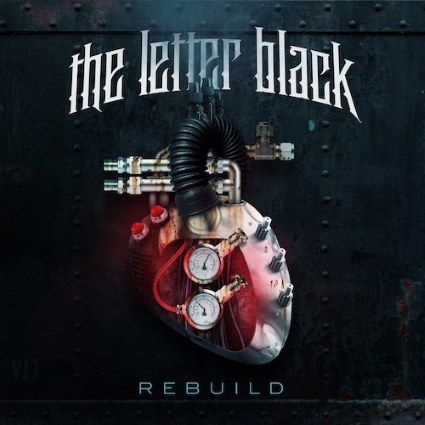 Artist: The Letter Black
Album: Rebuild
Label: Tooth and Nail Records
Release Date: 11.12.13
Reviewer: Lee Brown
Track Listing:
Sick Charade

Breakout
Pain Killer
Found
Outside Looking In
Up From the Ashes
Rebuild
Smothering Walls
Shattered
Devil
Branded
In my teenage years my "dream" band was a female fronted heavy rock/metal act that loved Jesus like crazy. For one reason or another, I have always had an affinity for hard rock groups fronted by female vocalists and at the time Kitty or Courtney Love were the closest thing that could be found. The "Christian" market was stocked full of acts like Rebecca St. James and Stacie Orrico, but for as great as those acts are in their own right, that simply wasn't scratching the itch I had. For better or worse, the Christian market was simply too afraid to take a big risk on the unproven genre of female fronted rock.
Fast forward a few years, and suddenly that same Christian market is being overtaken once Evanescence's "Bring Me to Life," some would say mistakenly, got thrown in the mix. A few short weeks later Christian chains pulled Fallen from the shelves and then began frantically looking for someone to fill the gap they didn't even know existed just weeks before it was released. During that time, the female fronted hard rock act became something of a white whale pursuit. In the years before Fallen, faith-based female fronted rock was simply a gamble labels were seemingly unwilling to take. After, however, a string of acts began springing up and aping the "Evanescence formula" until something of a trend was created and really standout acts like Flyleaf had to fight through the sudden influx of noise. I say all of this to paint a picture and give some background. By the time The Letter Black first stepped onto Tooth & Nail's roster there was an interesting mix created by these circumstances of expectations to both stand out and live up to a pre-set mold if you were a "chick rock" band.
Unfortunately, Hanging on By a Thread would see that mold being followed in cookie-cutter fashion, not taking advantage of either Sarah Anthony's powerful vocals nor her true dynamic range as a musician. Though a few tracks proved to stand out, most seemed to fade into a vacuum of white noise. The album did meet with positive enough reception for the band to release a remix album, however, a while later. In my review of Hanging on by a Remix, I noted that though I was disappointed by their T&N debut, Remix took risks and chances that made me hopeful for the direction of the band. In fact, I was pleasantly surprised to find that I actually liked many of the tracks on the remix project much more than on their original album due to a combination of genre experimentation (not uncommon for a remix project) and the fact that Sarah Anthony was given a chance to really stretch her vocal range. The epitome of this was the band's cover of Aerosmith's nearly impossible to emulate "Dream On," which Sarah not only lived up to, but made her own (wisely deciding not to emulate the iconic final vocal progression).
But, were those hopeful expectations warranted as TLB returned this week with Rebuild? I'm happy to say they were, indeed, warranted. Where Hanging on By a Thread featured two really stand-out songs with the rest fading into the "too much of the same" noise created by an influx of female fronted faith-based rock bands, Rebuild (ahem) builds at least subtly on what made the remix experience worth a listen. Only a few tracks feel like they are still trying to emulate the gap left by Evanescence's departure from the "Christian" market that seemed to fuel so many of the last decade's albums, and the band seems to bring a greater range of diversity. This was especially needed as label mates Icon For Hire came out of the box swinging with their T&N debut, bringing range and diversity in spades.
Rebuild is an overall solid hard rock experience no matter the gender of the vocalist and Sarah's vocals prove strong enough to eclipse any sexist slant against the band due to this. In fact, TLB becomes something of an anti-Skillet on this album with Sarah bringing the sizzle and her husband Mark complementing her as needed. The incorporation of screams (even a little fry screaming), whisper vocals, and improved writing all help Rebuild become something greater than the album(s) that precede it and prove that TLB can hold their own against any rock group, not just with female vocalists. Still, Rebuild is not a perfect experience and where growth is found some bland and "more of the same" moments are present, as well. Those moments do not, however, overshadow the musical growth and range the band now commands.
The album begins strong with "Sick Charade," which catches your ear with a good riff right from the start. Sarah's vocals are diverse (with background vocals frequently working as muted screams) and include some almost fry-screaming qualities near the end of the track that haven't really been done much since Lacey (formerly) of Flyleaf started toning things down. The lyrics relate a common tale of someone being fake and include lines like "if you don't know what we're fighting for, then I won't follow anymore." In this, "Sick Charade" works to give a rocking start to the album, but also highlights the fact that while much ground has been covered, there is still a little to go in places, lyrically.
"Breakout" begins with some industrial sounds that bleed into a strong track with a strong and anthemic message. As Sarah croons "I'm right here, I'm facing my fears. It's right now, it's gonna all turn around… I'll never walk away… this is the choice I make. You'll never see me run away. Stand up, it's about time, it's about what's inside. Sometimes you've got to let it all out," the listener is drawn into an engaging experience that proves relatable to pretty much anyone. Overall, "Breakout" is one of the better tracks on the album. It is familiar in what it covers, but handles it in a fresh enough way to draw the listener in and make them want to hear more.
"Pain Killer," while a good track all around, unfortunately falls back into the Evanescence mold in many ways. Don't get me wrong, the song is still enough of it's own animal that it doesn't feel like a direct copy, but of all the tracks on the album this one sounds the most like the "Evanescence-mold" that the influence is hard to ignore. The main lyric, "I'm killing pain in the name of love" is a unique twist, however, and gives a nice veiled reference to the hope found in Christ. Check the track out for yourself:
This hope in Christ is most prominently displayed in "Found." Working as a power ballad, "Found" paints the picture of a person broken by the weight of the world who "break(s) down and starts to pray," reassuring them that "when you've lost your mind, feel like no one is on your side, and you're lost in this lonely world… when you've lost all hope, just know… you can always be found." In terms of album flow, "Found" is a good pace breaker from the heavier tracks that precede, but is heavy enough that it doesn't feel completely random. As a power ballad, "Found" gives more than a glimmer of hope and will be healing for many listeners. I just wish this track had closed the album out… more on that later.
The slower pace and theme of brokenness of "Found" carry over into "Outside Looking In" and the two tracks work together to tell a tale of restoration and hope. Where "Found" states hope that restoration is possible, "Outside Looking In" begins to lay claim to it. "This world is not my home… I'm on the outside looking in, bring me back to life again, I see heaven in Your eyes… in a world of broken dreams, You give me something to believe… and I don't want to live on the outside looking in." While still veiled a bit, "Outside Looking In" does give a great picture of God's hope, love, and redemption, and the track works well following the pace set by "Found." The song also highlights Sarah's pure vocal talent and ability to handle sublime and hopeful moments with ease.
Fittingly, "Up From The Ashes" kicks the tempo back up a notch and returns to a more anthemic track with the chant of "I'm ready, I'm ready to fight… rise up, rise up from the ashes." Once again Sarah's vocals move from angelic to that of an angel with black fingernail paint and tattoos adorning a fist raised in the air. "Up From the Ashes" also highlights the talent of the band, with some great riffs and a standout moment on the guitar that is not quite a solo, but is just almost. The choice to include some crowd vocals/chants also help give the song a fitting feel.
The title track follows and continues to slowly amp things back up. Beginning with an almost 90's progressive rock or Alice in Chains feeling musically, and a Tracey Chapman like moment on the vocals, "Rebuild" brings a slow simmering rock that really does stand out. Sarah continues to prove her range as she tackles another "sound" or inflection on her vocals that the previous tracks haven't yet displayed. While the track is a little formulaic at points, it is executed in grand fashion and proves that TLB can hang with bands like Flyleaf, Skillet, or anything "mainstream" rock is producing.
"Smothering Walls" steps back into the brokenness and despair of the world, only to quickly proclaim "I can hear Your call, breaking down these smothering walls." At this point it would be apt to mention how Mark's vocals work well in-tandem with his wife's. The choice to use him only sparingly is wise, given Sarah's power, but when Mark shows up on this album he adds and does not detract from the overall sound. Once again, the guitar work is solid with another killer riff thrown in around the 2:15 mark that just smokes.
As the album works towards its conclusion, the band brings another more somber experience with "Shattered," which examines the aftermath of a broken relationship. "Shattered" is notable that it features Mark taking the reigns for a longer stretch and proving that he could carry the band himself in a different scenario. As mentioned above, both Mark and Sarah complement each other well, featuring a distinctly "worn" sound in both of their voices, but this is the first track that sees Sarah work the background vocals predominantly.
"Devil" returns the album to a more high impact rock style and features some experimentation with more whisper vocals that lead into harsher toned almost-screams that are fitting to the "devil" idea. The song features a nice dichotomy as Sarah gives some angelic "aaaahhhhss" in the background with some almost screeching moments in the forefront. In terms of album progression, it is a little strange to see the lyrical/spiritual content take a turn back to the problem after examining the hopeful solution earlier on. In this, I might have liked "Devil" to land earlier in the record.
The album closes with "Branded." "You've buried your past, so don't come dig up mine… go ahead and label me without a second look. You've tried so hard to keep me branded." Lyrically, the song focuses on the skeptical detractor. Ironically, the message of fighting being branded or pigeon-holed is the very thing their first album caused and this album fights against in so many ways. In terms of a closing song, I would have liked to end on a more hopeful moment. As with "Devil" it might have fit more in the middle of the pack with one of the more hope-filled or anthemic tracks closing. This would have left a more upbeat final impression as the listener walks away from the album and would only require a little shuffling.
Musicianship: The level of musicianship has really been amped up from their T&N debut. In several places there are some really striking guitar riffs and everything is more varied and unafraid of branching out when compared with their directly together. The incorporation of more industrial and progressive rock sounds sparingly throughout are also a nice touch. This go-round the band doesn't sound like every other female fronted rock band (musically), but has really honed in on simply a solid rock sound that they have made their own.
Lyrical/Spiritual Content: While the spiritual content is intentionally veiled with Rebuild, it is apparent. Though "God" is rarely directly referenced, the hope of heaven is clearly and passionately pointed to. The album does not venture into uncharted waters lyrically, but does cover very relatable topics and engages them nicely. In all, there is some real growth from their past work.
Lasting Value: While I did not review Hanging on by a Thread, I can confidently say I would have had it in the 2-3 range and say without hypocrisy that though I purchased the album, it didn't take long for it to move into the wastelands of my iTunes library, never to be seen again. With Rebuild, I can confidently say that I'm already ready for another listen. This album is more diverse and more engaging by far than the band's first, and is worthy of entering into rotation.
Overall: With the aptly titled Rebuild, The Letter Black all but erases the mediocre taste of their Tooth and Nail debut. Though the album has a track or two that I'll likely skip past moving forward, on the whole I found it to be a top-notch rock album, no matter what gender the lead singer is. However, having such a talented female rocker paving the way serves to add that X-factor most bands would kill for. Sarah's vocals are simply sublime whether screaming or crooning and they are always befitting true rock stardom. Rebuild is ahead of the pack, not just in female-fronted rock (or "chick rock"), but as a rock album in general. If you wrote TLB off after their debut, it's time to rethink that and give them another go.
Before I end, I have to point out just how much the album artwork resembles that of Lil' Dre's Under Construction. See for yourself the similarity.
RIYL: Gretchen, Icon For Hire, Evanescence, Flyleaf, Eowyn, Alice in Chains
Related Links: 
IVM's review of Hanging on by a Thread.
IVM's review of Hanging on by a Remix.