Album Review :
Five Iron Frenzy - Engine of a Million Plots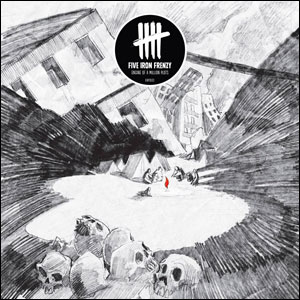 Artist: Five Iron Frenzy
Album: Engine of a Million Plots
Label: Independent (Kickstarter backed)
Release Date: 11.26.13
Reviewer: Lee Brown
Track Listing: 
Against a Sea of Troubles
So Far
Zen and the Art of Xenophobia
We Own the Skies
Someone Else's Problem
I am Jack's Smirking Revenge
To Start a Fire
Battle Dancing Unicorns (with Glitter)
Into Your Veins
It Was a Dark and Stormy Night
I've Seen the Sun
Blizzards and Bygones
In case you missed it, Five Iron Frenzy is a record setting sensation. No, they don't hold the most of any shiny statue, be it Grammy, Razzie, or Dove, but FIF does hold a record they can certainly brag about. You see, in 2003 amidst the sloping decline in popularity for ska music and the ever increasing reality of peer to peer song sharing, Five Iron Frenzy called it quits, "ending" their career with two aptly titled final offerings. The first of these was an album titled The End Is Near, which was initially only available on the second of the two, the "Winners Never Quit Tour: Five Iron Frenzy Calls it Quits."
Even though bands come and go at breakneck speed in the music industry, FIF somehow made their "passing" an event. Relient K released a then vinyl-only song entitled "Five Iron Frenzy is Either Dead or Dying," and the band themselves both lamented their departure through some angst ridden tracks on The End is Here (which included both the tour only The End is Near and a second disc of their final performance) and hinted at the future through a cryptic final drawing within the book for that album.
A testament to their greatness, in the decade that followed fans never gave up on seeing FIF come back together (and they're still trying to get them on Conan O'Brien). Still, could a once failed ska band rise from the ashes and become a self-proclaimed "undead" band? Here's where the record setting part comes in. Utilizing a still somewhat unproven service called Kickstarter, Five Iron reached out to fans and offered them a chance to bring the band back from the grave. The response was, in every sense of the word, record setting. Five Iron asked for $30,000 to record, promote, and sell an album that they hadn't even really started working in full on. They got that goal in under one hour. Fifty-five minutes to be exact. Their Kickstarter campaign would go on to raise $207,980 by its January 21st end date. Not only was that a huge milestone for the service, it also served as a wake up call to other bands whether dormant or active.
But, it's been a very long time since that Kickstarter record was set. "It was a Dark and Stormy Night" was released in 2011, but fans who backed the album had to wait until just a week or so ago to receive their copy of the album. So, the question that matters more than anything becomes, is Engine of a Million Plots worth the long wait from "death" to "undeath" to album release?
Unfortunately, the answer to that question is more complex than a simple "yes" or "no" warrants. The album is definitely a good one, but it also isn't what long-time fans would expect. For starters, this isn't a distinctly "ska" album. Our site owner Brandon Jones may have said it best when he described it as "rock with horns." While FIF have ventured into those waters at times before (Electric Bugaloo seemed to have a few more tracks like that if memory serves me), Engine… is certainly among their least "ska" influenced albums.
Secondly, Five Iron were known for their lyrical shenanigans. Even though they could bring you to tears with songs like "A New Hope," "Dandelions," or "Every New Day," there were far more tracks like "Phantom Mullet," "My Evil Plan to Save the World," the "Pants Rock Opera," or the amazingly silly "When I Go Out." Here again, Engine… is the least silly Five Iron record to date. Only "Battle Dancing Unicorns (with Glitter)" is truly and classically FIF-silly, with "I've Seen the Sun" and a couple others providing a silly line or piece of imagery here or there. Because of this "Battle Dancing Unicorns" sticks out like a sore thumb.
So, if you are an "old school" Five Iron fan, you may walk away with an odd taste in your mouth initially and bemoan "what once was." On the other hand, if you are a youngling who is experiencing FIF for the first time, the band subtly makes fun of you in a way only they could get away with(once again in "Battle Dancing Unicorns"). Therefore, it may take a few listens before the preconceived notions slip away and you can accept this album for what it is. It is a return from extinction.
That said, while this isn't "comeback album of the century," and it may be a little divisive with some fans, Engine of a Million Plots actually is a pretty good album. Once you allow yourself to sink into the more melancholy palate of colors (even reflected by the album artwork being all black and white with a tiny red flame in the midst), you find that while this may not have been the comeback album some expected, it is the rebirth we deserve (Dark Knight imagery intentional).
Depending on if you backed the band on Kickstarter, the album either begins with a special introduction or the sublime "Against a Sea of Troubles." Now, normally I would not spend any time dealing with the Kickstarter introduction, but since my review copy had it and it really does give some healthy insight, I thought I'd at least mention it. After a brief attempt at some levity, lead singer Reese Roper not-so-subtly explains to fans why the band had to go away in the first place. "Remember that last time when we were together, and everybody was in High School and they just copied it and gave it to their friends, and then we had to break up. That was crazy. Don't do it again…" He then threatens to smother the listener with a pillow while they sleep. The reference to "when we were all in high school" shows that FIF's target audience is their fan base, primarily. And, perhaps sets the tone for a band that has matured, which is reflected in the tracks to come.
"Against a Sea of Troubles" starts with a slowly simmering riff before stepping into some of the more ska-centric horns of the album and the listener's first experience of Reese's more melancholy vocal patters. The song uses some grave imagery contrasted with a glimmer of hope in stating "my only hope is that you cannot not be real." Once the chorus hits near the 2:40 mark, that glimmer of hope begins to shine through and sets the tone for "So Far."
"So Far" has a distinctly alt-rock feel to it that builds the message of "Against a Sea of Troubles" and realizes its hope. "So far, there's nothing that You and I can't do." As a one-two punch, these tracks start the album off on extremely solid footing. "So Far" feels like it could be both a highlight track for this album and a possible radio contender. However it is the next track, "Zen and the Art of Xenophobia," that has become the first single off this record. More "classic Five Iron" in sound, "Zen…" tackles the American idolatrous image of Jesus and the religious slant that mis-representation sometimes bring. As some of our readers have pointed out, the lyrics are purposely cheesy and at times cringe worthy. "get your guns… because Jesus was American."
"We Own The Skies" returns to the hope-filled resurrection theme of the first two tracks. In this, I would have liked to see "We Own the Skies" placed before "Zen and the Art of Xenophobia" on the album, as it would have fit a little more with the first two tracks tonally and would also have served as a more complete first movement of the record. "Zen…" could have opened the next and been paired with tracks like "I've Seen the Sun" for a little more effectiveness. The message of "We Own the Skies" is pretty straightforward as Reese repeatedly proclaims "tonight we own the skies" with a rising passion.
The album then takes a turn back to a more melancholy note with "Someone Else's Problem." Despite the downturn, the track feels perhaps the most like the "old" Five Iron with the horns leading the guitars and playing in the forefront of the mix. As with the last track, the theme of this song is exactly what the title says. It is about someone who refuses to own up to their mistakes and says "all of this is someone else's problem." The dominance of horns prevails in "I am Jack's Smirking Revenge," as well. "Jack's…" has one of the most memorable choruses on the album because of the perfect way in which Reese's vocals play across the instruments. As with "We Own the Skies," "I am Jack's Smirking Revenge" has moments where there is almost a Neon Horse (Mark Solomon) sound/style added in subtly to Reese's more typical vocals. Perhaps it would be better to compare it to a Depeche Mode influence? Though, admittedly, I've never spent that much time with Depeche Mode.
"To Start a Fire" returns to the upbeat sound of a few of tracks above and nicely draws on the little fire image shown on the cover. The lyrics "something to believe in, to only start a fire" serve as a nice uplifting moment, but also point to FIF's career resurrection as a whole. Just as fire starts from a small ember, the band seems to be pointing to their own career and looking at the new ember that has been lit with hopeful eyes. "To Start a Fire" is one of the most solid all around tracks on the album, and is one you should check out if you're "sampling" the album.
And then there is "Battle Dancing Unicorns (with Glitter)." As I mentioned, this is not just the silliest track on this album, but one of Five Iron's silliest ever. The point of the song goes back to the "target audience" idea I posed in the Kickstarter introduction track analysis. The entire song is a parody of FIF's own silliness when projected upon a Jr. High and High School audience ten years removed from the band's prime. When they ask "are we cool?," they seem to be asking it rhetorically to someone who may have never heard of the band. Their answer, "laser beams" does little to answer the question, but gives a nice distraction of "ooohhh" and "aaahhhh." Which, of course, is exactly what "I'm battle dancing unicorns, with glitter!" (the chorus) is all about. In this regard, "Battle Dancing Unicorns" is the immature offspring of "At Least I'm Not Like All Those Other Old Guys."
"Into Your Veins" tells the listener to "shoot these words into your veins, sing until you can't feel pain" and thus returns to the more melancholy side of the album, even though the beat and pacing are much more up-tempo. Though FIF have never been one to shy away from gritty topics (see "A New Hope," for example), this may be some of the more graphic imagery the band has used. The robotic synth'd vocals in the background near the last third of the song provide some fun in the mix, however. Released almost two years ago now, "It was a Dark and Stormy Night" was the first glimmer of hope on the horizon for FIF returning as a band. Because of this, most fans will have worn the track out through repeated play long ago. The lyrics, "I've been waiting in half-hearted sleep, for a promise I have meant to keep… wipe the sleep out of our sleeping eyes," were very meta when the track was originally released, and still prove to be today. As with "To Start a Fire" "…Stormy Night' works as a stand-alone song, and as a meta statement about the status of the band itself.
The album's penultimate track, "I've Seen the Sun," returns to some silly lyrics ("I fight tsunami's with an umbrella…") that are nicely discordant with the hope-filled and otherwise straight-laced message of the song. The track nicely blends the zany with the beautiful promise of rising hope. It is both melancholy and utterly hopeful in the same breath, which really serves to describe the album as a whole in so many words.
The final song on the album is "Blizzards and Bygones." As the album closer, "Blizzards…" works rather well. It blends the various elements of the album nicely together in one place. In this one track you have the many balancing acts of the record; horns set against a more subtle rock, melancholy overtones with dichotomously upbeat undertones, and the tightrope balance between zaniness and seriousness (with a decided slant towards the more serious) all come into play.
Musicianship: Fans of FIF in their original run may be disappointed to find that the "Combat Chuck" or even "Superpowers" days of their ska sound are long in the rear-view mirror. Instead the listener is presented with a "rock with horns" sound that FIF themselves and contemporaries such as the O.C. Supertones experimented with at various poitns in their respective careers. Still, once the listener allows "Combat Chuck" to rest in the grave, they'll find a sublime rock album that adds horns for some added flare.
Lyrical/Spiritual Content: The album concocts an interesting brew between somber and sublime. A few tracks, especially "Battle Dancing Unicorns," are outright silly and juvenile while "Into Your Veins" provides some of the most mature and edgy imagery FIF has produced. All in all, there is a great balance with a simmering ember of hopes shinning through the melancholy.
Lasting Value: Never count Five Iron out. Fans who have been with the band since the beginning will hold this album with requisite esteem, while new fans will find a well rounded album that features nicely layered horns into the mix. While I don't think this album is at the top of the band's overall discography, it is certainly a strong album. Only time will tell how highly fans esteem this album ten years from now… but most of us didn't stop listening to the band in the past ten years, and there's certainly something to be said about that.
Overall: Five Iron Frenzy is certainly back from the grave. Engine of a Million Plots marks ten full years since the band's last album and FIF has certainly matured in that time. Gone is the full "ska core" style of Upbeats and Beatdowns. This is a rock album with horns layered in. In terms of tone, this is one of the more melancholy albums FIF has every produced, but that does fell fitting considering their rise from the grave. Having set a Kickstarter record to begin the process that this album serves as the pinnacle of, fans will be happy to know that it was money well spent. While Engine of a Million Plots isn't as strong an offering as a few of the albums on their discography, it is still a really strong album. And, at the end of the day, all that really matters is that Five Iron is truly "undead."
RIYL: The O.C. Supertones, Less Than Jake, Guerrilla Rodeo, Showbread