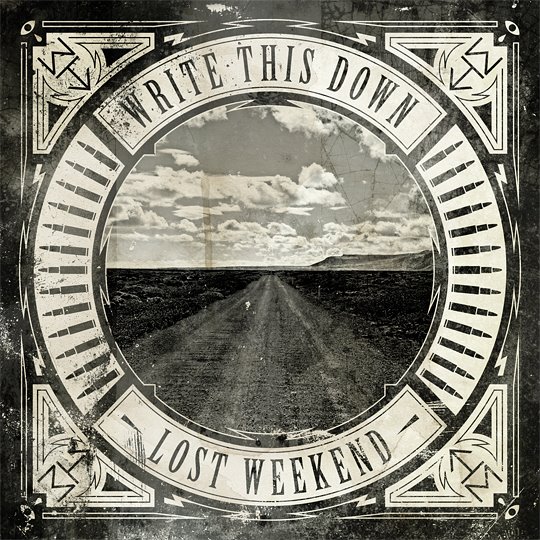 Artist: Write This Down
Title: Lost Weekend
Label: Tooth & Nail
Release Date: 06/05/2012
Reviewer: Sara Walz
Tracklisting:

The Older I Get, The Better I Was
See Ya Never
I'll Make You Famous
Red 7
Crash and Burn
Don't Speak
Cheap Affairs
The Florida Range
Lost Weekend
Touch and Go
Minnesota Interlude
Song and Dance
Hailing from the frozen tundra of Minnesota, Write This Down's sophomore release, Lost Weekend, is sure to warm the hearts of rowdy-rock fans everywhere. The quartet serves up a release chalk full of raucous songs just in time to usher in summer.
Lost Weekend cranks it up a notch in the muscle department, gone are pop-rock anthems like "Center of Attention" and "We Shot the Moon" being replaced with heavy guitars, raspy vocals and minor chords. Bells and whistles need not apply, Write This Down reminds us what rock was like before synth and polished string ensembles became the norm. Right out the gate, "The Older I Get, The Better I Was" sets the tone for the whole album; it's loud, it's big, and it's in your face. "Red 7" has that signature gang screaming that I have come to associate with Write This Down and just enough double-bass to keep it interesting. Even their cover of No Doubt's, "Don't Speak" is Write This Down-ified to the point where it's recognizable to the original but has enough added grit that it feels like a different song. Matt MacDonald, lead singer of The Classic Crime and former labelmate to Write This Down, makes a guest vocal appearance on "Touch and Go" that gives the song a two-sided feel, like he's coming at it from a different perspective which adds depth to the song. The only two tracks that stray from the unruly rock are "Cheap Affairs" and "Minnesota Interlude." Both of these tracks rely heavily on an acoustic guitar and smooth vocals which create a stark contrast from the rest of the album, a stunning dichotomy.
The music isn't the only thing that has taken a gritty approach, the songwriting on Lost Weekend seems to have taken on a heart-on-sleeve mentality where honesty is more than read between the lines. The title track sings, "We are the dirty, rotten, cheap, and confused. Caught in a lost weekend, a lost weekend. Holy rollers and jokers, the fantasy's over so return as prodigals," grappling with how easy it is to stray from what you believe. "Crash and Burn" echos this same sentiment crying out, "I gotta get back to the things that I once loved, back to what I know." The final track on the album, "Song and Dance," is one of the most blatantly honest songs I have heard in awhile, "No one knew it but midnight on Lake St. were constant concepts with backwards progress. But it never failed we showed up on Sunday morning feeling nervous, and hopeless, and stranded with double-standards like nothing mattered. Like we had enough when there is salvation in the silence." The entire album seems to be about learning from the past, being honest about what you've done, and coming back to truth.
Overall: Lost Weekend is raw. It's fast and loud and honest to a fault. It is a diamond with just enough dirt that if you don't listen close enough you might miss the fact that you're holding a gem.
RIYL: The Wedding, The Classic Crime, Spoken