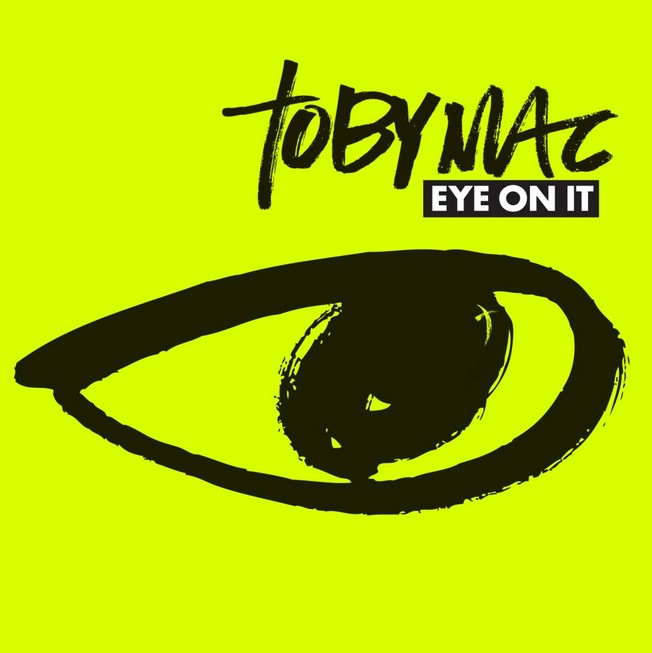 Artist: TobyMac
Title: Eye On It
Label: Forefront Records
Release Date: 8/28/12
Reviewer: Jonathan Andre
Tracklisting:
Me Without You
Steal My Show
Eye on It
Forgiveness (feat. Lecrae)
Speak Life
Unstoppable (feat. Blanca Callahan)
Lose Myself
Family
Thankful for You
Made for Me
Mac Daddy (Tru's Reality)
Favourite Song (feat. Jamie Grace)
Me Without You (Capital Kings Remix)
Steal My Show (Jack Shocklee Remix)
Lose Myself (Capital Kings Remix)
Family (Jamie Moore Remix)
Loud N' Clear (Telemitry Remix)
Me Without You (Telemitry Remix)
TobyMac is one of Christian music's most popular artists in the Christian music industry right now, alongside veterans like Chris Tomlin, Third Day, Steven Curtis Chapman and Casting Crowns; as well as relative newcomers Francesca Battistelli, Tenth Avenue North and Kerrie Roberts. With many hit songs topping the Christian Songs charts like 'Made to Love', 'City On Our Knees', 'Irene', 'Atmosphere' and 'Get Back Up', Toby's mixture of hip hop, rap, pop and rock have made him one of the most prolific and respected Christian music artists, highlighting his versatility in musical styles, from his dc Talk days through til the new millennia. With his new album Eye on It releasing August 28th, this is an album full of hope and wonder, life and learning, healing and worship as listeners soak in the reflective and motivational 'Speak Life', groove towards 'Thankful For You', or turn the music up loud to listen to rocker 'Eye On It'. Also featuring 8 remixes, providing unique twists on some of Toby's favourite songs from the album, this 18 track lineup is sure to bring the best that Toby has to offer, plenty of musical ingeniousness, and a whole lot of heart as he points to the One who has impacted his heart enough to proclaim that '…if You wanna steal my show, I'll sit back and watch You go, if You've got something to say, c'mon and take it away…' ('Steal My Show').
'Me Without You' is the first single from the album, and as Toby gives listeners a story behind the song, '…the verse starts out talking about going through something hard…I'm fighting through this thing trying to man-handle it…I realise how desperately I need God…' we understand that this song is about how we would be without God. With a guitar riff undertone and a looping percussion, Toby sets off to proclaim is dependence for Christ, reminding himself and listeners included that '…where would I be without you, I'd be packing my bags when I need to stay, I'd be chasing every breeze that blows my way, I'd be building my kingdom just to watch it fade away, it's true…' With a melody that reassures us of God's sacrifice and our continual reliance and love for Him, we are met with a hope full of electronics and drum kicks as Toby passionate cries out his devotion, God's love, and our predicament when we're apart from Him. With 2 remixes also on the album, 'Me Without You' is given 2 different reinventions with both Capital Kings and Telemitry giving their recreations of this hit song. Though not really a fan of the Capital Kings mix (with this remix alternating the music dramatically!), both versions are still interesting re-imaginings, great additions to a deluxe album full of promise and hope, placing Eye on It as one of Toby's best throughout his 11 year solo career.
Toby has always performed with others on some of his greatly renowned tracks, the most popular being 'Lose My Soul', with gospel artist Kirk Franklin and contemporary singer Mandisa. Now releasing his newest album in Eye on It, it is Toby's collaborative songs, 'Forgiveness' w/ Lecrae and 'Favourite Song' w/ Jamie Grace that have been able to resonate with me a fair bit lately, with these songs each highlights on an album that firmly lets listeners understand and realise our eternal journey, placing our eyes on Christ the Saviour and Friend as we run this race of life. 'Favourite Song', the last track on Eye On It (Regular), features Dove Award winner Jamie Grace in this duet where Toby proclaims that '…like a lyric to my favourite song, You stick with me all night long and when I reach the end, I wanna hear it again…' If our life is a song, we ought to want God as the verse, the chorus, even the bridge and the instrumentals, as we fully give up our lives for Him. Fresh from her 'New Artist of the Year' award at the Doves this year, Jamie also shines on this track as she highlights the importance of letting God take over in our lives as we immerse ourselves in the truth that '…You sing to me and my heart comes to life…' With a piano riff reminiscent of Caribbean tempos and musical leanings, 'Favourite Song' is certainly one of my favourites. 'Forgiveness', not to be confused with Matthew West's radio single of the same name, also talks about how we ought to let our bitterness go by the wayside as Toby and guest vocalist Lecrae sing amidst all the piano and electronics that '…we all make mistakes sometimes, and we've all stepped across that line, but nothing sweeter than the day we find forgiveness…' Similar to Matthew West's melody in how we need to be forgiving to other people, Lecrae gives some of the most poignant lyrical moments of the album. As listeners receive hope that '…but those that are given much, shouldn't be quick to give it…so when the stones fly and they're aimed at you, just say 'forgive them Father, they know not what they do'…', we are able to understand that life, though complex with hurt and anger and sometimes even bitterness, isn't meant to be lived with void of forgiveness, and sometimes even the toughest of situations, we ought to hand over our lives to Christ, even if we many not see when healing is going to come.
With the central theme of the album focused upon how we ought to live our lives from Christ, running straight to Jesus as well as showing Christ's love to everyone we meet, Eye on It is able to feature a myriad of musical genres through a variety of songs, each speaking about perseverance and direction as we live our lives with Christ as the centre. Both 'Unstoppable' (w/ Blanca from G1C) and the title track each emphasise the urgency at keeping our eyes fixed on God, with Toby proclaiming that '…I got my eye on it…' ('Eye on It'), reminiscent of Hebrews 1:2, where the writer asserts our responsibility as Christians to continue on our journey '…with perseverance the race marked out for us, fixing our eyes on Jesus, the pioneer and perfecter of faith…' The most musically 'busy' filled with electronics, drums and a 30 second Britt Nicole guest vocal, the title track merges thematically into 'Unstoppable', with Blanca from Group 1 Crew providing great harmonies as Toby reminds us of the power that we have when we have Christ in our lives, that '…we are, we are, we are unstoppable…' Based upon Romans 12:2 where we know of our alienation and that as Christians, we ought not to conform to the world but be transformed by Christ; 'Unstoppable' provides us with an adrenaline rush filled with car noises and drums; creating such an exciting and motivational track about just that.
Both 'Speak Life' and 'Steal My Show' are the pop-radio hits that are sure to hit the radio after 'Me Without You', with 'Speak Life' reminding us about showing Christ's love to those around us, speaking '…life to the dead and darkest night…look into the eyes of the broken hearted, watch them come alive as soon as you speak hope…you speak life…'; and 'Steal My Show' an offering to God to let Him take complete control of our lives, offering the humble words that '…if you got something to say c'mon and take it away…' Both these songs are musically focused on percussion loops and handclaps, with 'Steal My Show' producing a sleek, dance remix (Steal My Show- Jack Shocklee Remix), and certainly more energising than the original. 'Thankful For You' is a song for the fans and for Christ, with Toby showing his appreciation for the ones and the One who have been with him on the road through his 10 year career. With a guitar riff instrumental intro, this is one to groove as we see Toby's heart as he declares that '…I'm thankful for my friends around me, I'm thankful for You…' Lastly is one of my favourites, 'Lose Myself'. A dance melody that allows listeners to get lost in the lyrical moments as we immerse ourselves in the truth that God is longing for every part of us, Toby prays a simple prayer, one we should all grasp and pray ourselves- '…take all that what's me, and shape it to be reflecting You solely…' The extended 6 minute remix repeats the phrases '…I wanna lose myself…to find You…', giving great reminder of how when we surrender everything of ourselves to Christ, we will find the peace that God provides in transforming our hearts to become like His- pure in thought and deed. What an excellent remix to a track that has become one of my favourites on Eye on It!
Overall: Toby's heart is evident throughout the album, improving his musical craft as he creates one of my favourite albums from Toby throughout his 10 year solo career. With heartfelt melodies like 'Lose Myself' and 'Forgiveness' and quality guest vocalists in Britt Nicole, Blanca Callahan, Lecrae and Jamie Grace; Eye on It excels in giving a determined message of hope and perseverance as we run the race Christ has set out for us. With Toby certainly not showing signs of 'retiring' from this Christian music industry any time soon, his ability to continually reinvent himself by creating relevant and musically ingenious melodies that speak to young people everywhere; has led him to still be one of Christian music's premier artists currently, alongside Chris Tomlin, Francesca Battistelli, MercyMe and Tenth Avenue North, among others. 'Me Without You', though not my favourite musically on the record, paves the way for the theme of living a life with Christ beside us, that together '…we are unstoppable, that's what we are…' ('Unstoppable'). Well done Toby for such an enjoyable musical experience!
RIYL: Group 1 Crew, Beckah Shae, Britt Nicole, Kutless
Buy the Album: iTunes/Amazon mp3