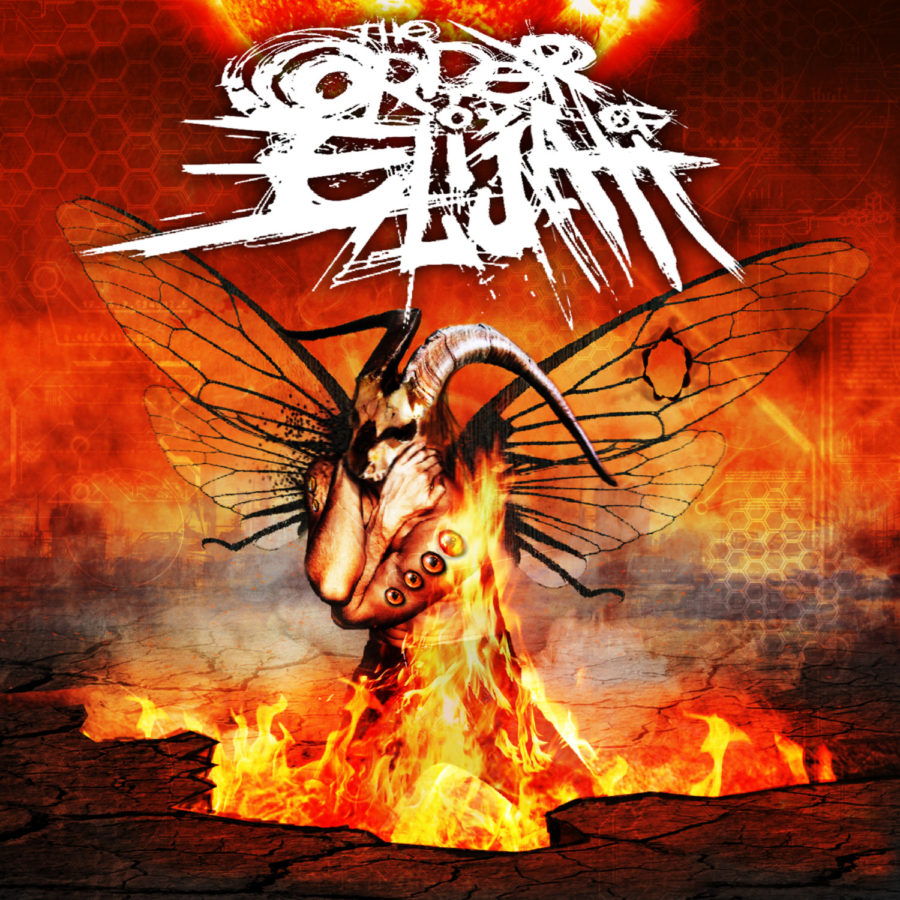 Artist: The Order of Elijah
Album: Dethrone
Label: Rottweiler Records
Release Date: 07.16.13
Reviewer: John Magelssen
Tracklisting:
Intro
New Line of Defense
Bringing Down Hell
David's Frozen Sword
The Reclaimer
Stitches
Greed Machine
Nails Over Duct Tape
Conquer
Starscream Symphony
Ballad of Jimmy Baker
Dethrone, releasing tomorrow on Tuesday, July 16, 2013 is The Order of Elijah's second full length record and a great addition to their musical career with Rottweiler Records. The album is very influenced by deathcore and metal. With heavy melodic metal guitar riffs, pounding drums that make your head nod in tempo with the beat, and vocals (both high and low) that are very raw in sound, The Order of Elijah has come out with this eleven track album. Not holding anything back, their lyrics are very in your face and to the point. Another thing about this album which made my day is the amount of clips from movies and one from a video game they have. I will leave them up to you to find them and let me know which ones you find.
"Intro" starts off with a tornado siren, some gun shots, and a sound clip from Pulp Fiction of Samuel L. Jackson quoting scripture. That is the one and only clip that I will tell you about. You will have to find the rest. Although not a lot happens in this introduction, it is a great lead in for the next track.
"New Line of Defense" begins with an A Plea For Purging sound on the guitar with some heavy double peddling from the drums which lead into a heavy breakdown that cuts into a half-time breakdown. After a small break, this track kicks off into overdrive with some Upon A Burning Body guitar riffs that make one want to break things in the room. One of the best parts of this song is the Attila sounding fast rap scream. Not many people have done it yet and it still sounds fresh and new. This track also has lyrical ferocity by stating,
Now watch me as I burn this world down
Into reality where the sinners are the saints.
At least we have the balls to fess up,
Rather than complain.
No worries over here,
You see my sins are paid with pain.
Sorry if it offends you,
But I speak with no restraint.
Showing how blunt they are about the subject is just a part of who they are as musicians and Christians. After this, a heavy breakdown with a nice slower metal sounding guitar solo blast off to end the song. Here is the lyric video in case you want to see what I meant about the Attila part.
"David's Frozen Sword" starts off with some high fry vocals which lead into a very electronic metal breakdown which reminds me a lot of old battle music from video games. After the unique sound from the guitars and a synth, the blast beats from the drums begin with very high fry vocals that bring the breakdown right into play. Although the breakdown sounds very simple, the way they do it is not generic and is really pleasant once you realize how different it is. Continuing on, the vocals get lower as the song goes on and remind me a lot of The Goodnight Horizon. Not relenting once, this track continues to punch into the lower vocals in the background. Although it is very average to have a techno breakdown in today's music, The Order of Elijah do one that sounds kind of like The Word Alive and leads into a sweet metal solo which will make you forget about the techno aspect of the breakdown.
"The Reclaimer" has a softer introduction which leads into a soft synth pad which goes nicely with the melody from the guitars. The song gets heavier very quickly, but does not go into an ultra-brutal sound. Instead it stays in a fun fast paced trot that leads into a nice melodic hardcore two-step chant. The song follows the same format for a while until about three fourths of the way through where they let the guitars resonate while the drums build up and the vocals make a build up as well repeating "now, we'll set the record straight" with variations as it gets louder. This builds into a death metal double pedal from the drums with some heavy chugging from the guitars. The guitars stay with the chugs as the drums move to a breakdown as the vocals scream "Witness the awakening!" which brings us to the guitars going into a melodic metalcore sound to end the song as the vocals get lower.
"Greed Machine" is a fun song that starts off with a heavy chugging breakdown. After the faster breakdown, the guitars get very fast and a bit technical with their deathcore sound and remind me a lot of old As Blood Runs Black and Upon A Burning Body with how heavy, but melodic they are. The drums are phenomenal as well and the double pedals stick with the guitars perfectly. This is one of the shorter tracks on this album, but it is heavy and fast. It is definitely one that I would recommend.
"Nails Over Duct Tape" is an odd song in the fact that The Order of Elijah uses a sound from a scratch record like you would hear in an old 80's rap song. It reminded me a lot of what P.O.D. used to do and as weird as it is, it works fairly well for the song itself. The vocals in this song are some of my favorite on the album with how he breaks up his sentences and with how low he gets his guttural sounds. There are also a lot of tremolo guitars and double peddling in this track worth listening to.
"Ballad of Jimmy Baker starts off with a dual guitar solo and then takes off with just one guitar keeping the solo going as the rest of the band enters and builds up the song. There is a great guitar solo breakdown that lasts for a while. I really liked that they did not cut it off short because so many bands only give you a small sample of a solo and then cut into another completely different sound. The drums give a little snare roll and then lead into a very fast paced almost grindcore sounding guitar part while the drums blast on very quickly. After a little bit another guitar solo, very similar to the first one happens. A very fast death metal part jumps out of nowhere which brings in a great trot-like breakdown with great use of a caesura (a full stop) for the instruments as the vocals continue and the instruments jump back in. The drums start to go from a trot into a solid double pedal and continue until all the instruments go into a faster tempo and get faster. The best part of this song is the end where the breakdown brings a little techno feeling into it, but the vocals get really low and they use a kind of voice modulator with the vocals to make it sound almost robotic while he forces out "we will prevail until we die"
Overall: Dethrone is a great contribution to Rottweiler Records and would also be one for any music collection. Having the ferocity and talent to push beyond the average, The Order of Elijah will be a great band to keep a watch on in the future and will continue to show just how creative and blunt they are. Mixing in sounds from several different genres and continuously surprising the listener, there are very few albums like this. Remember to listen for the sound clips and let me know what you find.
RIYL: Attila, The Word Alive, Upon A Burning Body, As Blood Runs Black, Miss May I