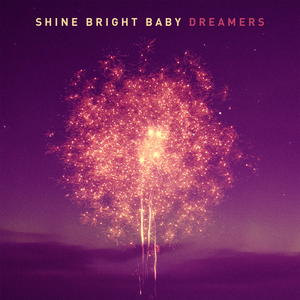 Artist: Shine Bright Baby
Title: Dreamers
Label: BEC Recordings
Release Date: 7/23/13
Reviewer: Jonathan Andre
Tracklisting:
Made To Glow
Overcome
Beautiful Love
Love Restores
The Difference
Lumineux
Beautiful To You
The Brave Ones (feat. Kevin Young of Disciple)
Never Too Far
Dreamers
'…a lot of songs today have so many negative undertones, and rather than writing a bunch of songs that wallow in struggles and hurt, we want to have these songs be lights to shine in the darkness…the purpose of this album is to help other people with a message of God's forgiveness and redemption that they'll hopefully find optimistic, inspiring, and relatable…' As we are reminded through lead singer Emily Irene of her heart behind what she wants the album to convey, Shine Bright Baby are readying to release their debut label album Dreamers, on July 23rd via BEC Recordings. Now sharing the artist roster with other prominent artists like Jeremy Camp, Manafest, KJ-52, Kutless and Seventh Day Slumber; Shine Bright Baby's future within the pop-CCM music industry is all but assured, after their radio hit 'Beautiful Love' continues to impact many listeners, including myself. With the band, alongside Capital Kings and Finding Favour, being my picks for favourite new artists of 2013 so far; lead vocalist Emily and the rest of Shine Bright Baby have given us 10 tracks full of power pop goodness, and while it is a tad on the short side (10 tracks for only around half and hour); what it lacks in length it makes up for in enthusiasm and charisma. Full of moments of heartfelt praise coupled with dance elements and other moments of pop and electronics, the collision of genres and different paced music is something that will draw in a variety of listeners. Fans of similar music from artists like Superchick, BarlowGirl, Fireflight or even pop-worship group Addison Road will definitely love the new music from Shine Bright Baby. Releasing in the same month as other prominent artists like Hillsong LIVE (Glorious Ruins- July 2nd), Everfound (Everfound– July 16th) and Aaron Shust (Morning Rises– July 16th); we are invited to journey with the band through 10 songs to uplift and motivate the heart through pop sensibilities and magical moments of heartfelt honesty and poignant words of encouragement. From the first single to the title track, each of these 10 moments remind us that dreams come from God, and that '…you can't put a limit on what a dream is and you can't put it in a box…we wanted to release a record that would empower our fans and inspire them to follow their God given dreams and pursue God and His plan for their lives…'
'Beautiful Love' is the first radio single from Dreamers, and from the first note that brings to the fore the pop-dance instrumentation that has been the anchor and backbone musically throughout the entire album; lead singer Emily Irene gives us a song of declaration and hope as we sink our souls into the truth that Christ's love is indeed beautiful and covers over everything we have ever done, or everything that we will do that won't be pleasing to Him or even ourselves. As I reflect upon the Bible verse with a similar theme, that in Christ we are a new creation and that everything we have done is past, and the new is still to come (2 Corinthians 5:17); we are invited into a 3 minute moment of fun and energetic enthusiasm as light electric guitars and electronic keyboards pave the way for a radio single to impact listeners from around the country and around the globe. Already being played on both Air 1 and K-Love, 'Beautiful Love' is a great reminder of our own worth in Christ as we come to terms with the fact that '…You're not looking and where I've been, You're not looking at what I've done, You're taking me as I am, it's a beautiful love…' With a bright coloured powerful music video with paint, white rooms and stop motion accompanying the equally powerful song, Shine Bright Baby's first song to be released under a label is certainly going to be a great catalyst for them moving forward in the CCM/pop music industry. Well done Emily and the band for creating such a powerful and identity affirming single that describes of how '…the same one who paints the clouds is the One who's turned my life around…'
'Made To Glow', the first song on the album and possible second radio single if it were up to me; is one of the most catchiest and enjoyable songs on the album (aside from 'Beautiful Love'), with Emily declaring our worth in the words of how '…we were made to glow, illuminate the whole world…' Starting off the song with electronics and a keyboard riff, Emily's distorted vocals at the beginning ought to draw many listeners in who are a fan of electronic music, with the song giving us a clear reminder of our purpose to shine for Jesus. As we understand that it is when we let go and shine as Christ has intended that we can fully live without limits placed upon us either by ourselves or others, 'Made to Glow' is an encouragement to everyone that they each have a story to be told, shared so that listeners can be encouraged and motivated, or they can help others going through similar things they themselves went through. Whether it is a testimony of God's faithfulness, or some pearl of wisdom; we are each inspired to be a beacon of light in a world ravaged in moments of despair and uncertainty. 'The Difference' is another upbeat melody of encouragement full of hand claps and layered vocals to create a sense of a gang choir as Emily introduces the notion of us being the love of Christ wherever we are. With light electronics a la Capital Kings carefully choreographed in the background, we are met with the daring yet also motivational words of how we can '…love right now, give the world the hope we found, and you will start to see the difference we can be…' Many people often struggle with what they themselves can do to make a difference in a world that can often be declared by many to be too far-gone. This song however challenges this thinking, and I'm sure as we all listen to this just-under-3-minute song, we can start to live like we can change the world with what we decide to pursue and undertake.
Tied to this theme and thought is the last song 'Dreamers', and what the heart behind the album really is. As we are reminded through this lightly acoustic heavy electronic song that '…we are the dreamers, hoping for thing that we can't see, sooner or later, we're gonna see the unseen…', it is a call to everyone, Christian or non-Christian alike, to not settle for whatever the world tells us, but rather to dream bigger and dare to embark and pursue even the most humanly impossible tasks. An encouragement to not let our abilities or what people say about us inhibit us in any way, Emily and the rest of Shine Bright Baby has inspired myself to take some risks and leaps of faith as I move forward with my own life. Dreams are what keep us moving forward (and Christ as well), and is a central part to Shine Bright Baby's debut album. 'Beautiful To You' remind us of our beautifulness in Christ's eyes, and certainly ties nicely with 'Dreamers', as I'm reminded through both of these tracks that even if my own dreams are faulty and uncertain, I am still beautiful and worthy in the eyes of my Saviour. With electronic stringed instruments starting off the melody in an anthemic fashion, Emily gives us a motivation to feel good about ourselves, as we discover in the chorus that '…I'm a work of art in Your eyes, and there's nothing that I need to hide, no matter what I go through, I'm beautiful to You…' Something that we all need to hear so that we can believe what God declares over us, Shine Bright Baby also let us know that we are never far from God's reach in 'Never Too Far', a ballad full of strings and heartfelt vocals as Emily encourages us all that God's grace reaches us where we are, yet also urges us out of love to move forward from that. A song that'll destined to impact many people during their live shows, we are invited to dwell on the fact that '…in the arms of grace, in the hands that save, you're never too far gone…' Well done guys for 'Dreamers', 'Never Too Far' and 'Beautiful To You', each great songs and reminders that as we dream, God dreams with us too, and sends us encouragements and help along the way on our journey of life!
'Brave Ones' features heavy electric guitar rock and Kevin Young of Disciple performing a duet with Emily as we are reminded that though we are fragile, unsure and often hesitant, we are to be called brave and walk in that authority as we claim the confidence given to us by Christ to live our moments and days for Him, while the oddly titled 'Lumineux' is another gutsy electric guitar performance as the 2 minute 55 second song speaks about the concept of light and brightness, and how when an individual is confronted with such a moment of clarity, we can declare alongside Emily that '…one look and I'm reckless, one glance leaves me breathless for You…so stunned by this perfection, I wanna mirror this reflection…' 'Overcome', an EDM song that is musically reminiscent of Kerrie Roberts' 'Sing' and lyrically similar to Mandisa's 'Overcomer', showcases some strong vocals from Emily as the message of thankfulness and remembering the trials and tribulations we have overcome with Christ assisting us is the central message behind this fast-paced song, while it is the potential radio single 'Love Restores' that is one of my personal favourites from the album, and also one of the songs that I'm certain will gain quite a fan following as the song speaks to the heart of God healing and restoring what is broken, often the things that man deem unfixable. Written in the wake and aftermath of a high school shooting in the band's hometown, we are met with a piano ballad that calls us all to unite and reconcile towards love, the love Christ has for us and the love we have for each other, and draw from that to be our healing and encouragement as we continue to move forward amidst tragedies both close to home and overseas. A song that '…proposes how the Lord's love can renew even the most broken circumstances…', 'Love Restores' is a standout on Dreamers, alongside 'Beautiful to You', 'Made to Glow' and 'Beautiful Love'. Well done Shine Bright Baby for such a poignant and poetically crafted melody that will hopefully bring healing and restoration to listeners who need it the most!
Overall: Shine Bright Baby is yet another artist to debut their album this year, and alongside new artists Everfound, Finding Favour, Citizens, Capital Kings and Christine D'Clario; Shine Bright Baby join the group of my favourite new artists of 2013 so far. While the album is a tad short, the energetic nature of each song and the electronic musical backdrop more than make up for the fact that more than half the songs on the album are less than three minutes each. While many diehard fans of this once independent band may at times feel frustrated with the overall CCM-pop leaning Dreamers has, I myself have quite enjoyed this album, and is definitely recommended to those who have enjoyed similar artists like Superchick, BarlowGirl, Britt Nicole and Fireflight. A great tactic to release an album on a date where there's virtually no other artist to 'compete' with, Emily and the rest of the band have delivered a solid release that's certainly one of my album highlights in July along with Everfound's debut album an Aaron Shust's worship album. Well done guys for an enjoyable and poignantly delivered album, and one to savour in weeks and months to come!
RIYL: Britt Nicole, Superchick, Fireflight, BarlowGirl
Buy the Album: iTunes/Amazon mp3