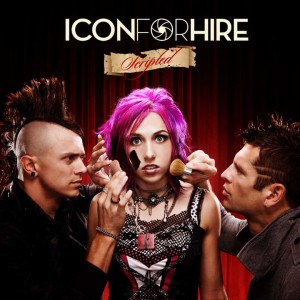 Band: Icon For Hire
Title: Scripted
Label: Tooth & Nail
Release Date: August 23rd, 2011
Reviewer: Shawn H.
Tracklisting
Overture
Theater
Make A Move
Get Well
The Grey
Off With Her Head
Fight
Up In Flames
Iodine
Only A Memory
Pieces
Female fronted bands are not something that's new or will be going away anytime soon. With Paramore's recent rise to fame, any artist with mere resemblances has been compared to Hayley Williams. Out of respect for Icon For Hire, I will give them an unbiased review that isn't compared to the former. I've been interested in this American hard rock oufit hailing from Decatur, Illinois since their early beginnings in 2007. Vocalist Ariel Bloomer brings a one-two punch of up in your face lyrical content with every change of track. Some may say her vocal style is reminiscent of labelmate The Letter Black vocalist Sarah Anthony, but with a less overdone vocal sound. It's a relief to see an artist who is upfront & honest with their lyrics.
We are welcomed with a quick opening intro "Overture", filled with instruments & beginning the overall theatrical vibe found within the album. I must say I was slightly dissapointed with the introduction to the first track "Theater", as it seems very similar to a certain track from Thousand Foot Krutch, but that disappointment was short lived. We then move on the album's first single "Make A Move", a great track to check out for those who want an overall feel for what this album has to offer. As if they wanted to continue the emotions found within the previous track, the band's 2nd single "Get Well" is the next track to blast through your speakers. Slowing things down, we are serenaded with a piano-driven track "The Grey", filled with raw emotional lyrics:
In your deepest pain
In your weakest hour
In you darkest night
You are lovely
I was surprised to find out that this was an old track from their previous EP, with an altered arrangements & new lyrical content. But what is even more surprising was the fact that "Off With Her Head" & "Only A Memory" (previously known as "Pernilla") were also re-released tracks.
Overall:
Like i mentioned in my introduction, there is an overload of female fronted bands in the industry right now. Icon For Hire is one of the surprising few acts that doesn't fall under the cookie cutter/copycat namesake, especially coming from a record label that often copies the popularity of the mainstream genres. This album does show hints of similarity with acts like Flyleaf & The Letter Black, but at the core this album genuine. It's safe to say we can expect bigger & better things from Icon For Hire within the next year!