Album Review :
for KING AND COUNTRY - Into the Silent Night EP
By Jonathan Andre in Reviews | Comments closed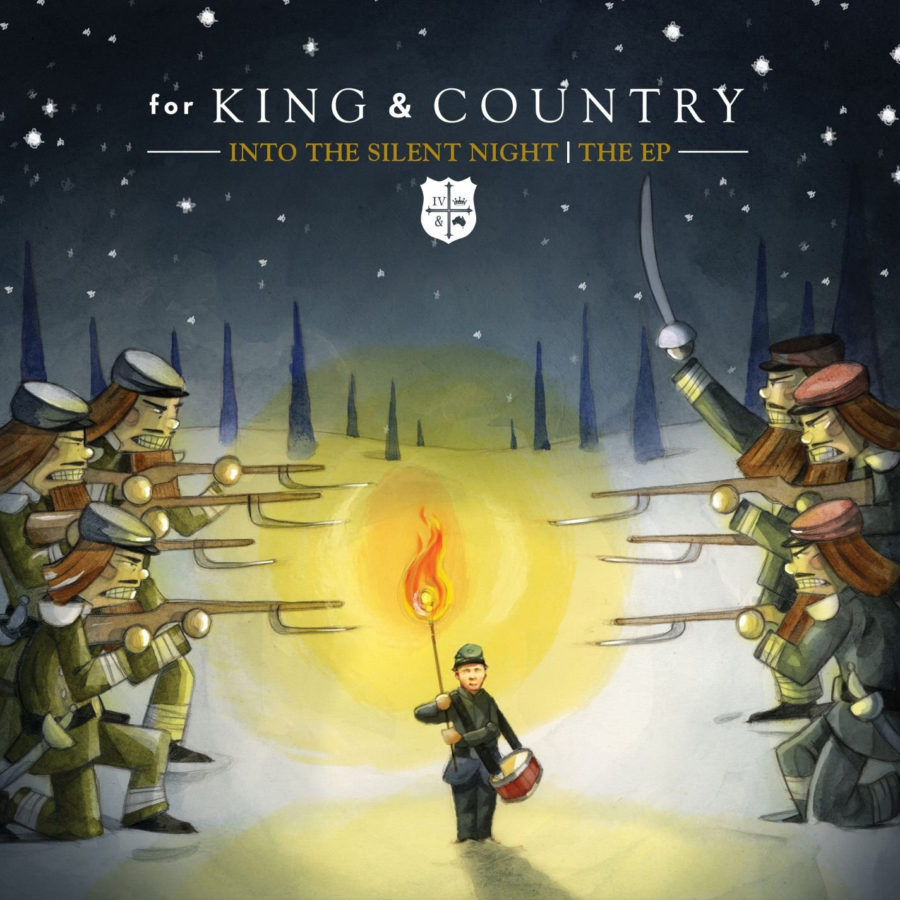 Artist: for KING AND COUNTRY
Title: Into the Silent Night EP
Label: Fervent Records
Release Date: 10/22/13
Reviewer: Jonathan Andre
Tracklisting:
Angels We Have Heard on High
Baby Boy
Into the Silent Night
Little Drummer Boy
Baby Boy (Live)
Two brothers from Australia (and siblings to Christian recording artist Rebecca St. James), for KING AND COUNTRY's popularity and rise to fame has been unparalleled in recent times. Since releasing their debut album Crave to critical and commercial acclaim, as well as their win for Best New Artist of the Year at the 2013 Dove Awards held on October 15th; Joel and Luke Smallbone have continued to go from strength to strength, in their songwriting, vocal delivery, live presence, as well as being a force in both the CCM and mainstream industry, with songs like 'People Change', 'Proof of Your Love', 'Busted Heart' and 'Middle of Your Heart'. Also releasing their first live DVD/CD in September, their next effort to try out a Christmas EP is something truly remarkable, and a joy to listen to regardless if you are a fan of their music or not (I'm sure anyone who hears them will be a fan, especially after hearing 'Busted Heart' or 'Proof of Your Love'). With their Christmas hit of 'Baby Boy' becoming one of my favourite original Christmas songs to be recorded in 2012, the inclusion of that track as well as other renditions of carols like 'Angels We Have Heard on High' and 'Little Drummer Boy' is something that elevates this EP as one of my favourite EP's (of any kind, Christmas or otherwise) since The Sonflowerz's Love Walked In.
'Baby Boy' is a great anthem of praise, and one of my favourite songs, not just on this EP, but out of all the original Christmas songs recorded throughout the last few years. Originally on A Very Special Christmas – Bringing Peace to Earth, this melody of poetic poignancy is a great reminder of Jesus' role in the redemption story of bringing creation back into relationship with the creator, and how '…endless hope, relentless joy started with a baby boy…' Easter is of great importance to Christians, yet its high significance would not have been if not for Christ's birth in the manger. 'Baby Boy' is a continual, timely and ever-present reminder that the war between good and evil, Christ and the devil, our old lives and the new, has been conquered by a baby, and listening to this song makes me ever grateful for this. The live version recently recorded and released on a live DVD/CD captures a beautiful moment, and with bells, big drums and both Joel and Luke singing, we are reminded of our hope in Christ. Framed as a worship song as well, 'Baby Boy' is also a favourite Christmas song of mine to be played even during the rest of the year rather than just Christmas (alongside other greats like Third Day's 'Born in Bethlehem' and Lincoln Brewster's 'Miraculum' and 'Our God').
Throughout the rest of the EP, both Joel and Luke provide us with powerful renditions of Christmas carol classics, with their own musical twist on them to catapult these versions of the songs, and the artists themselves, to greater amounts of respect as listeners hear the tracks. The first track on the album, 'Angels We Have Heard on High' starts off with an electronic organ-like keyboard as Luke declares right from the outset the powerful words of what the angels were saying during Jesus's birth. With a big drum beat, glockenspiels, and a powerful vocal, Luke transforms this often reflective and slow track into an upbeat anthem, and one of my favourite versions of this Christmas carol known to both Christians and non-Christians alike. Also recorded especially for this EP (and placed on this year's WOW Christmas Blue), 'Little Drummer Boy' invites us to join in with the brothers in exaltation, exalting the King just like how the persona (drummer) in the song declares out in the chorus of how '…I have no gifts to bring, that's fit to give a King, so to honour Him, on my drum…' With powerful drum beats, unique vocal effects and electronic looping to create a big and grand sound that elevates this version of the track as the most impressive and uniquely choreographed out of all the versions I've heard (yes, this version is even better than Jars of Clay's renowned version of 'Little Drummer Boy'); these two brothers from Australia have outdone themselves to deliver a uniquely crafted track and my favourite covered Christmas carol that I've heard all year! Also giving us one more original melody in title track 'Into the Silent Night'; a rhythmic melody with a slight reflective and acoustic atmosphere about it as both Joel and Luke portray to us the enormity of how God came to us, into the silent night of our own existence, and dug deeper to find us fumbling and longing for a Saviour of our own. With Jesus being it by being born, living and dying, to rise again for our own atonement, it is both 'Into the Silent Night' and 'Baby Boy' that remind us of the sacrifice, urgency, hopefulness and thankfulness we all ought to feel when we respond to Christ. The profound chorus of how '…into the silent night, with you by my side, joy in an awesome world, for this boy and girl, angels celebrate as we stand face to face with God's gift tonight…' is something that will be still ringing in my ears as next year rings around. Well done to both Joel and Luke for such satisfying original tracks, and some of my favourite songs (inclusive of both Christmas and all-year round songs) of the year so far!
Overall: If you haven't heard of this Aussie duo, then for KING AND COUNTRY is a band I'd encourage you to listen to. With hopeful melodies, and a great fan base across both Christian and mainstream music circles, fans and critics alike have been touting this band as being the next big thing (they already are) in the next few years. One of my favourite new bands of 2012/13 (alongside Love and The Outcome, 1 Girl Nation and City Harbor); this Fervent Records-signed band continue to marvel and amaze whoever listens to them, and this Christmas EP is no different. From 'Baby Boy' to 'Little Drummer Boy'; Fervent Records have signed a band that's certain to be an anchor of their label, as well as an anchor to the whole CCM industry in general, as the months and years progress. Well done guys for this fabulous Christmas EP and one that I'll certainly treasure in the upcoming years!
RIYL: Kutless, The City Harmonic, Jars of Clay, Sanctus Real, Downhere
Buy the Album: iTunes/Amazon mp3