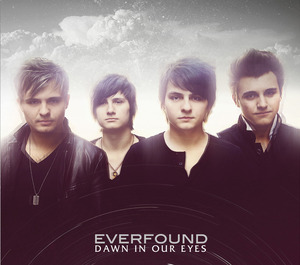 Band: Everfound
Title: Dawn In Our Eyes
Label: None
Release Date: July 26th 2011
Order Album Here
Reviewer: Joshua Clark
Tracklisting:
Disappear
She Said
Someone
To Die For
Are You With Me Now
Everfound is a four-piece pop/rock band out of Arvada, Colorado. The band also happens to be made up of all brothers. They have previously released two EPs and a full-length album title Colorful Alibis And Scandalous Smiles.
Now I have been listening to Everfound on and off since 2009. When I first heard them I honestly was not very interested in their music. When I started to listen to it more there were some great songs on it and I found the album to be creative and rather unique compared to a lot of other bands. Then I had heard them lead worship at a youth camp and I was rather impressed. I still wasn't completely in love with their original music but I thought they did an amazing job leading worship.
So I really didn't know what to expect with this EP. I had heard a few new songs live and thought they sounded promising. I was hoping those would be on this EP. Well let's just say each of those where on this EP and I was pleasantly surprised by the outcome.
The EP starts off with the very catchy "Disappear." That pulls you in with its entrancing melodies and hooks. This song is mainly piano driven( like most of the songs on this album,) but is backed up by a solid rhythm with both the guitar and drums.
Next up is a track featured on the band's full length called "She Said." The band has completely revamped the song and I think overall made the track even better. "She Said" was already one of the strong tracks off Colorful Alibis And Scandalous Smiles, but I think the vocals sound a lot better and overall this is just a stronger version of this track. The song is about charm and how it can be deceptive.
"Someone" is the one laid back track on this album. I think this song has a very powerful message and works perfectly as an emotion filled ballad. It talks about that there is always someone out there for you to run to when life is going the complete opposite of how you want it to. In this case Jesus, being the one you can run to. I think the lyrics for this chorus are great:
There's always going to be someone /that's going lead you to the sun /when there's no where for you to run /and the world is crashing down around you, your losing faith and anything is more than you can take/ the dark will dawn, there's always going to be someone
"To Die For" is probably my favorite song on the EP. The song is driven with some beautiful piano melodies and has some great hooks. This song reminds me of the time when you accepted Christ into your life and that amazing love that went into your life from that point on. This song talks about that powerful love that is worth dying for.
"Are You With Me Now" is probably the most upbeat track on this EP. Like the other songs on this album, this is another enjoyable track. I think the guitar and piano fuse really well in this song. The chorus on this song is catchy and gets stuck in your head easily. I first heard this song live and absolutely loved it. The energy the band put into this song live transfers nicely onto the EP.
The vocalist for Everfound, Nikita has a strong and unique voice. It may take some time to get use to at first because for the most part his voice is rather high. But there are not many vocalists that sound like him, so it is a refreshing change.
Overall: While their first album wasn't my favorite, I really enjoyed this EP. These five songs are all very enjoyable and display some great piano pop/rock that is very accessible. While each song is mainly piano driven, none of the songs sound the same. The music on here is well done and filled with great melodies. With the well-crafted songs and unique vocals, Everfound stands out from a lot of other bands. The band is made up of some very nice guys, who have a heart for Christ and clearly display that in their songs. If you have never checked out this band, this EP is a great place to start. Everfound has a lot of talent and as a young band still has a lot of time to make a big impact. Fans of piano driven pop/rock will definitely want to pick this up.