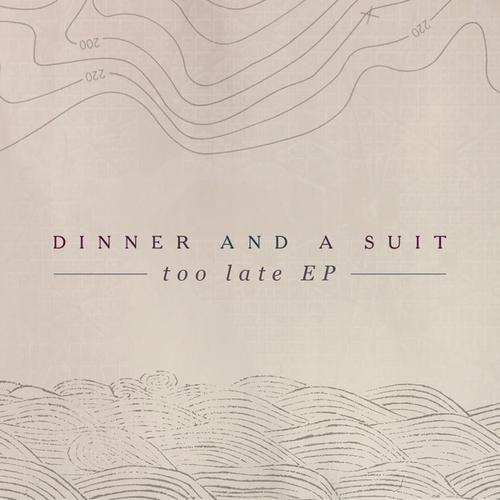 Artist: Dinner and a Suit
Title: Too Late EP
Label: Hype Music
Release Date: 5/7/13
Reviewer: Cimarron Hatch
Buy The Album: iTunes / AmazonMP3
Tracklisting:

Too Late
Heartbreak
Ghosts
Enough
Too Late – Acoustic
Ghosts – Acoustic
Dinner and a Suit is a four-piece pop/rock band comprised of Jonathan Capeci, Joey Beretta, Anthony Genca, and Drew Scheuer, based in Nashville, TN. This record, Too Late, is a "bonus" digital EP to go along with their latest full-length release, Since Our Departure. Both their full-length album and this EP are gaining national attention for the band, including song placements on TV shows and features in magazines.
The title track, "Too Late," is up first with a nice piano intro leading into the song. I interpreted the lyrics to be about telling someone it's not too late to change their wayward actions: "It's not too late / to walk away." Next is Dinner and a Suit's current single, "Heartbreak." I recently saw the band live, and when they performed this song it was obvious that there is a lot of true emotion behind it. The song includes a lot of synths in the background, and excellent lyrics like: "Don't let me go / Don't wanna be out here on my own." "Ghosts" begins with another piano intro. The lyrics plead with a significant other to stop chasing a lifestyle that will only get them into trouble. Though they want that person to change for the better, at the same time they just want to let go of them: "Oh, wont you let me go / Burn my heart / So new love can grow."
"Enough" is a slow acoustic song with beautiful strings. It was previously on the band's 2009 album Safe to Say, and was rerecorded for this EP. The lyrics continue the theme of a person running away from something in their life. Next is an acoustic version of "Too Late." The song works really well with the simple arrangement, and further showcases Jonathan's vocal ability. Finally, "Ghosts," is performed acoustic, and includes a bit of piano along with the guitar.
Overall: Dinner and a Suit is an exceptional band that deserves to be recognized. This EP is incredibly polished, and I can say from experience that the band is capable of the same great sound live. Every song has well-written lyrics that have meaning and can be related to, and the instrumentation accompanies them perfectly. I believe that Dinner and a Suit has a bright future ahead of them, and I encourage all music fans to give them a listen.
RIYL: Everfound, Mae, The Rocket Summer, Death Cab for Cutie.