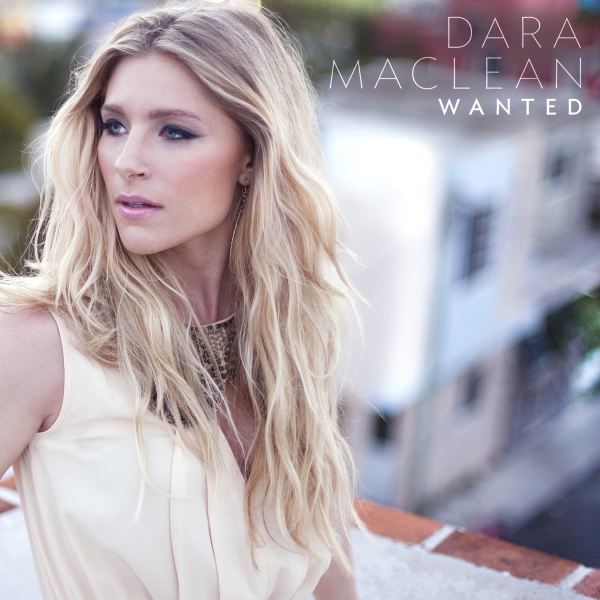 Artist: Dara Maclean
Title: Wanted
Label: Fervent Records
Release Date: 9/24/13
Reviewer: Jonathan Andre
Tracklisting:
Wanted
Our Only Hope
Set My People Free
Love Is
Good Enough
Step into the Light
Blameless
You are All I Need
Nobody But You
I Am Blessed
Made
Find Rest
'…[Wanted is] a reminder that through the gift of God's grace, you're truly blessed, forgiven, good enough, that you can stop fighting and find peace, as you rest in the knowledge of God's opinion of you and letting it be the only one that matters. The fact that He sees you through the sacrifice of His son and that sacrifice was enough to eternally cleanse and redeem, no matter what the story. God's love is our guarantee and when we allow His thoughts towards us to be the only voice that speaks, daily, it begins to change our lives…' From her success with the 2011 album You Got My Attention, soul-pop singer/songwriter Dara Maclean's popularity from the get-go has been quite exponential, with comparisons between her and fellow CCM artist Francesca Battistelli, as well as her and mainstream recording artist Adele quite evident, through her vocals and style of music employed through each of her tracks. With her second album on Fervent Records Wanted being an overall message of love, acceptance, hope and encouragement as we hear Dara declare to individuals of their worth in the eyes of Christ; the soul-infused pop elements of the album shine through, and are a must-purchase if you enjoy artists with similar styles, like newworldson, Francesca Battistelli or Jimmy Needham. Produced by Hillsong ex-drummer and current One Sonic Society drummer Paul Mabury; Dara's emphasis on lyrically sound and prominent tracks as opposed to a much more musical flair and diversity on her debut album is able to be seen on this album (which is not necessarily a bad thing), providing listeners with a more uplifting Hillsong-esque album atmosphere, while still keeping her soul-pop musical influence and her distinct vocals that shine through, not only on her radio single 'Wanted' but throughout each of the 12 tracks. From the title track to the jazz influenced 'Nobody But You' and the ballad 'Blameless'; Dara's music and lyrics on Wanted portray a great amount of maturity, enthusiasm and passion, with her second album being a standout release in September 2013. Releasing on the same day as Phil Wickham's The Ascension and the ever-popular yet equally criticised WOW Hits 2014; Dara's album is sure to gain much interest and acclaim, both on its release day, as well as weeks and months ahead.
The first song as well as the first radio single from the album, 'Wanted' is a clever reminder and heartfelt promise to individuals of their own self-worth, and worth in Christ. We are all loved, treasured and wanted by our Father and God, and as Dara shares through the poignant words that '…you are wanted, to every broken heart, He stands with open arms…', her powerful vocals that declare the truth of the unconditional love showered over us shines through in a song that's one of my favourite of the year so far. Presented in an acoustic music frame with a light drum beat; Dara's heart to convey this message of identity is further explored in the accompanying music video for the song which debuted on myspace mid-year. With Dara filming the video on location on the small Mexican island of Isla Mujeres; we are invited into a beautiful picturesque landscape of the places she was at, all the while immersing ourselves in a song that'll hopefully build up the spirits of listeners when they hear it. As Dara unveils her hopes for the song, in that it '…is calling out to the outcast and saying, 'You're not unlovable. You're never too far gone – in your worst moment, in your loneliest moment, you are still wanted, just as much as the person that seemingly has it all together, is loved by everyone and looks to have this perfect life.'…' we are given an album starter that paves the way thematically across the entire twelve tracks. While I was surprised that Dara's song wasn't on WOW Hits 2014 (expect this to be a no-brainer on WOW Hits 2015 next year…); the song nevertheless is a catalyst for us to experience a great identity transformation that'll hopefully encourage us to receive and walk in the unconditional love we should already know. Well done Dara, for such a compelling and emotional first radio single, and possibly one of my favourites on Wanted, and one of my favourite songs to be released in September 2013!
Dara's strength is always her reflective ballad-like material, which on Wanted is a great amount compared to more of an upbeat sound from her debut project. Through songs like 'Our Only Hope', 'Good Enough', 'Blameless' and 'I Am Blessed', listeners are given a great assurance and similar theme running through each song, reminding us of God's goodness and faithfulness regardless of us and whatever we do. Possibly one of my favourites alongside 'Wanted', 'Blameless' starts off with a powerful vocal from Dara to declare out one of the most vulnerable and heartfelt lyric lines throughout the entire album. As she unveils her thoughts, understanding that '…[I'm] blameless, You call me Holy, I've been forgiven, You call me righteous and free…', we are given somewhat an epiphany, knowledge colliding with truth and faith in the understanding and accepting, even trusting that God calls us blameless even in the moments when we think we are. A piano prominent melody with light percussion, I can see 'Blameless' being a radio single in the future. Relatable and hopefully cataclysmic in terms of transformation and identity building; Dara lets us understand that it is when we surrender into God's grace that we can truly understand and bask in the hope and freedom Christ gives. 'Good Enough' continues this identity, proving, striving and grace theme that run through the entire album as we witness an acoustic/folk melody presented with Dara's passion and heartfelt enthusiasm running through this track and each of the others on the album. With 'Good Enough' being a comforting track in that we can and never will be good enough for the Lord, freeing us from the performance mentality to rest in the assurance that '…I won't spend my whole life paying my own price, tryin' to be good enough…I'm believing Your grace is enough for me…', it's also sobering to know that God never looks at performance in the first place.
'I Am Blessed' is an acknowledgement to God with thankfulness oozing from every corner of the track as Dara presents to us a keyboard hook infused throughout the track. Pouring out her heart and knowing that '…I don't need to know what happens next to know that I'm forever blessed…', Dara's message of us accepting the gifts and blessings God has given to us can be more difficult than we think, with ourselves often downplaying God's involvement in blessings, and at times, we may act like we don't deserve it, or just bypass or look the other way when God hands us blessings right from His hand. Still, this is a melody that declares this truth, hopefully allowing us to declare this without shame, guilt or anything that the devil tries to mess us up with. Finally, 'Our Only Hope' is the last reflective track with a similar theme to the other three, and is one of two story-songs on the album. Presenting to us two scenarios of a man and woman both in desperate need and help in various circumstances, the chorus of the melody is placed in direct contrast to the somewhat hopeless verses as Dara declares out to God that '…You're healer to the broken, shepherd to the lost, Father to the orphan, adopted by the cross…' A joyous occasion and hopefully a moment where listeners of the song can collectively and individually declare this chorus alongside Dara, the message remains- that our hope is Jesus. A similar theme to Third Day's 'My Hope is You'; this light electric guitar track presenting to us a half reflective/half upbeat song is a great moment on the album, with the song being great as track No. 2 on Wanted. Well done Dara for such a compelling and powerful collection of identity building songs!
The title of 'Set My People Free' brings great allusions of the story of Moses with it, and how he was chosen by God to lead His people out of Egypt, away from the tyrannous ruler of Egypt. While the title of the third track reminds us of the great things God did during our history for us to be where we are today, the song also gives us a clear reminder of our role as Christians, needing to set the people of today free from all the bondage that they are under. A call-to-action, just as Jesus called His disciples to spread the gospel to every corner of the Earth, this anthem, complete with big resounding drums, violins, strong percussion and a soaring vocal; delivers a big and grandiose musical element, as well as a message we all need to hear from God to '…set My people free, go into the world, every boy and girl deserves to know a life far beyond the fight and reach where there's no light or hope…' Also widening and expanding on musical genres, from the bass heavy and percussion prominent 'Love Is' (discussing about how all we ever need is God's love, citing 1 Corinthians 13:4-7 as the bridge), to the acoustic and keyboard prominent 'Step into the Light', paying homage to the swinging music of the 1960s through this Cindy Morgan co-written song about stepping from the dark into the light as we are enveloped with God's great grace and mercy; Dara's venture into different and unique places musically is greater enhanced in Wanted, giving listeners a better sense at her own target audience and what her strengths are musically and lyrically as well.
'Nobody But You' continues to stretch us musically as the start of the melody gives us a violin as a melody is played that reminds me so much like 'When You Wish Upon A Star' it's not even funny- bringing me back to the days when I was a kid watching all kinds of Walt Disney cartoons. Continuing the nostalgia with going straight from the Disney themed violin solo to the vocals of Dara declaring '…look what You did…', sung with effects that make the vocals sound like they were recorded using vinyl or some other older apparatus, complete with crackles, pops and a muted sound; 'Nobody But You' goes into full swing with hand claps, acoustic guitars and us jiving along, reminding ourselves of something the clubs in the 50s would play. As Dara emphasises in the song that '…nobody but You can do what You do, who could love me better, lives forever making all things new…', we are reminded that it is Christ that can do everything, and us in turn also everything as Christ lives and moves within us. Ending the album with the piano and cello only 'Made', written for her husband as Dara vulnerably proclaims out that '…love, this is the start, where we belong, can't get enough of each other…'; and the hymn like piano prominent 3 minute 24 second track 'Find Rest', with Dara unveiling a theme of us finding rest in Jesus's presence as we surrender to Him everything we have and are so that we can discover the '…fount of mercy new, God of love unchanging…'; it is in these piano songs where Dara's vocals truly shine, with both 'Find Rest' and 'Made' being perfect endings to an album that provides to us expansive and diverse music and lyrical moments of praise, wonder, hope and identity. Well done Dara for such poignant tracks that further provide comfort to those who may need to find rest, physically and spiritually, in the arms of Christ Jesus our Lord and Saviour.
Overall: Dara's second album Wanted is just as good, possibly if not better, than her debut project You Got My Attention, released in 2011. With Dara fast becoming one of the most prominent and popular Christian artists to have debuted their albums in 2011 (alongside Jamie Grace, Anthem Lights and Royal Tailor); this is an album you ought to purchase if you have enjoyed Dara's previous albums, as well as some of her contemporaries like Francesca Battistelli, Jimmy Needham and Chris August. From the title track, to 'Blameless', 'Nobody But You', 'Find Rest' and 'Set My People Free', this album (which releases on the same day as albums from Phil Wickham, WOW Hits and new band The Neverclaim) is able to stand tall amidst all of these releases, possibly being one of my favourite pop-soul albums of the year, alongside Jimmy Needham's The Hymn Sessions and Shawn McDonald's The Analogue Sessions. Possessing a universal appeal with the album alluding to themes of identity and self-worth; Dara's sense of poignant and poetic songwriting and heartfelt singing already sets this album to be a standout amongst releases in the back half of 2013. Well done Dara for such a great second album, just as good as the first!
RIYL: Chris August, Jimmy Needham, Francesca Battistelli, Kerrie Roberts
Buy the Album: iTunes/Amazon mp3