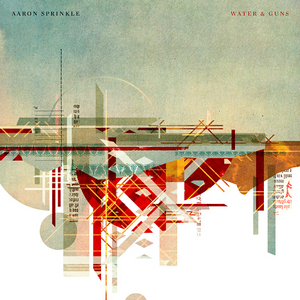 Artist: Aaron Sprinkle
Title: Water & Guns
Label: Tooth and Nail
Release Date: 08/30/13
Reviewer: Josh Hamm
Tracklisting:
Heatstroke
Alright
Whisper Something
Can't Last Forever
Later on
River of Lead
Turn Around
Giving Up The Gun
I've Missed You
Washboard Road
There are some names in music circles which are sure to grab attention and spark interest. Aaron Sprinkle is one such name in Christian rock circles. You may not even know the name, but you know that you've heard it before. He's produced albums by Anberlin, Falling Up, Kutless, Demon Hunter, Thousand Foot Krutch, Dead Poetic, Project 86, Copeland, Aaron Gillespie, Emery, Starflyer 59, and many more. If you've listened to any records from Tooth and Nail within the last decade or so, you've listened to something with his name on it.
Apart from that, he's also made music of his own since 1990. He was a part of alternative rock darling Poor Old Lu, which paved the way for many other 90s rock bands by experimenting with genres and writing lyrics soaked in philosophy and metaphor. He also released solo albums in a singer/songwriter vein, and founded the indie rock band Fair.
Now Aaron Sprinkle has turned his impressive talents to a new genre: pop.
Is it a good direction for him? Yes and no. He brings a high level of production quality and songwriting to the genre which I find refreshing, but while it's musically superb and unique in his discography, the lyrics do suffer a drop in-depth – or maybe I'm just not on the right wavelength.
"Heatstroke" is a mediocre opener. The chorus falls flat, although the bridge is fantastic: the best part of the song, it conveys a real sense of urgency and sincerity with just a keyboard and percussion in the background. But it, like the album, falls into a problem which plagues a lot of pop songs; it relies solely on catchiness to hook the listener, and it over relies on the chorus – as a result the song sounds very monotonous. Furthermore, I'm not sure what the song is about, it has rather vague lyrics which have a sort of piecemeal meaning without a solid context.
"Alight" is the obvious radio single, and is very simply done. It also features the ever annoying "ohhhh, ohhh, ohhh" which I find very hard to stop myself from face palming every time I hear it. Again though, like "Heatstroke" the bridge is a high point, and it's here that the lyrics compound upon the message that's been looping for most of the song: "when it seems like the pain is inevitable/when you can't see the light/ it'll be alright/when your life rips at the seams/when it seems like the worst is really happening/when you can't see the light/it'll be alright."
Then we get "Whisper Something," complete with a great piano pop intro, joined by his smooth voice and a handclap percussion giving nice foundation to the song.  This is simply a superbly enjoyable pop song – the verses and chorus are executed flawlessly, and without being boring, but the lyrics still haven't reached far enough or deep enough in my opinion.
Almost like dripping water echoing in a cavern, his voice shines again on "Can't Last Forever," but the lyrics are about a failing relationship – hardly plumbing the depths of the human condition.  The song does a good job of creating an atmosphere that feels like something fading out of focus. It leads into "Later On," a song which elaborates on themes of relationship found in the previous song, but I think that this is almost a turning point of the album, where a deeper sense of the lyrics can be properly sensed, but it just falls short.
One of these songs which seems too optimistic for its subject matter, I can't help but like "River of Lead." I like how it deals with themes of disappointment and realization of the weakness of human nature, all the while petitioning in prayer. The piano and percussion are stand outs here, creating a very vivid and intense atmosphere, rising and falling to make a dynamic sound.  Then comes the very solid "Turn Around," as the album doesn't let up, delivering an energetic and thematically similar song to the previous one.
"Giving Up the Gun" is a definite high point of the album – this is a near perfect pop song. It's another catchy song, but with a strong emotional pull through the synth throughout, and a focus on overcoming difficulty in a relationship. The phrase "giving up the gun" is not an endorsement of pacifism, although there are undertones of that, but of giving up the fight for a relationship. In that way it's a sad song, but the last verse has some hope to it: "I will follow the Son/ and find my way home." And the chorus has an emotional punch that manages to hit home without relying on manipulating the listener.
"I've Missed You" is a frantic song driven by a simple percussion section, and while it's hard not to like it, the song doesn't quite hold up to scrutiny. It's yet another song about an estranged relationship, and the feelings therewithal. Forgive me if I sound heartless or jaded, but I've heard enough songs on this album about broken relationships, and many of them use the same language and motifs. I expect more from Aaron Sprinkle, because I hold him to higher standards.
The album ends on a good note with "Washboard Road." It's got a sparse production compared to the rest of the songs, and has a slowed down mood that tends to linger and smoulder slowly – it's a song that piques my interest; even if I'm not entirely sold on it, I want to find out more.
Overall: My first ten or so run throughs of the album convinced me this was a truly great record. It certainly helped that I had Relient K's latest pop album to compare it with, and Water & Guns favourably loomed over the lamentable Collapsible Lung. But I soon discovered that the album really lacks replayability due to a lack of diversity and frantic pacing. That being said, it's still a fantastically fun record, and I'm glad that Aaron chose to go in a new direction and experiment with his style. There's something to be said for an album which unabashedly and excitedly embraces its style and subject.
RIYL:  Fair, Acceptance, Daft Punk, Telekinesis, Owl City
Buy the album: iTunes/Amazon