Album Review :
Various Artists - Jesus Firm Foundation: Hymns of Worship
By Jonathan Andre in Reviews | Comments closed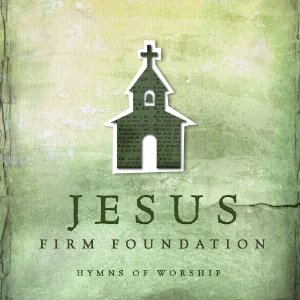 Artist: Various Artists
Title: Jesus Firm Foundation: Hymns of Worship
Label: Provident Label Group
Release Date: 3/5/13
Reviewer: Jonathan Andre
Tracklisting:
Jesus, Firm Foundation (Mike Donehey, Mandisa, Steven Curtis Chapman, Mark Hall)
Turn Your Eyes Upon Jesus (Look Up) (Nichole Nordeman)
All Hail the Power of Jesus Name (Crown Him) (Michael W. Smith)
I Surrender (All To Jesus) (Casting Crowns)
Holy, Holy, Holy (God is With Us) (Matt Maher)
Be Still, My Soul (In You I Rest) (Kari Jobe)
My Jesus, I Love Thee (Your Holy Name) (Building 429)
Jesus Paid It All (Newsboys)
Blessed Assurance (My King is Coming) (Matthew West)
Nothing But the Blood (Andy Cherry)
Cornerstone (The Solid Rock) (Hillsong)
It Is Well (Oh My Soul) (Brandon Heath)
Hymns have always been a special part of Christian music history, forever embedded into it's rich and humble beginnings many years ago as simple yet poetically and poignantly profound lyrics and ingeniously set music made their way into people's hearts and minds and stayed with them for many years and centuries to come. With many artists currently in the CCM industry reworking, retooling, and sometimes adding their own twist (either a chorus, verse or bridge) to beloved hymns to create a sense of something fresh, invigorating and new (like how Chris Tomlin added a chorus onto his radio hit 'Amazing Grace (My Chains are Gone)' or how Matt Redman wrote his own version of 'The Wonderful Cross'). With hymns being the centrepiece and 'father' of much music we listen to today, it is a certain joy, honour and privilege to be reviewing Jesus: Firm Foundation- Hymns of Worship, released via a Jesusfreakhideout.com stream ahead of its release date on the first Tuesday in March 2013 (March 5th). Celebrating the power of how hymns (with an added melody or chorus here and there) can change the spiritual atmosphere and create a moment of worship and praise like no other, we are met with twelve known and not necessarily well known tracks full of wonder and awe as we hear some of today's CCM and worship artists sing songs that have been with many of us throughout our whole Christian walk, from early childhood to even now as we hear these hymns revisited. From well known artists like Hillsong, Nichole Nordeman, Casting Crowns, Newsboys and Matthew West, to the lesser known Andy Cherry; Jesus: Firm Foundation is perhaps my favourite album of the year, and though it's mainly full of songs I may have already known before listening to this album, the musical arrangement and enthusiastic passion all these artists display when singing these tracks is definitely infectious, as I bask in what the Lord is trying to let me hear through these life-changing songs. From the rock anthem 'Jesus Paid it All' to the musically altered 'I Surrender (All To Jesus)' and the ever-challenging 'Turn Your Eyes Upon Jesus (Look Up)' by one of my favourite songwriters in Christian music history, we are met with honest portrayals of worship, struggles and everything in between as we have a glimpse into the Christian life through the eyes of the writers all these years ago.
With the song being released to radio around February time, 'Jesus, Firm Foundation' is the title track on the album and is also one of my favourites on this album that is able to showcase a wide variety of artists singing their all on songs known to humanity as such that has inspired many artists on their own musical journeys and career. Featuring Steven Curtis Chapman, Mike Donehey of Tenth Avenue North (one of the bands that are impacted the CCM listener audience at the moment), Mark Hall of Casting Crowns and American Idol contestant and CCM artist Mandisa, we are given a song that declares Jesus as our firm foundation on which we stand. With added choruses and bridges written by one of my favourite songwriters of all time Jason Ingram and with SCC and Mike trading vocals in the verses, it is Mark Hall's declaratory voice that sings out the chorus with great passion that is a highlight in the song. While the song is a lesser known hymn written in such a way that I can't recognise the hymn-ness at first (I had to google the song to find out that the verses were stanzas of a hymn and the chorus was written for the project), this is a great introduction to an album that does a great job in meshing together the timeless and the contemporary. With an acoustic and looping percussion undertone to accentuate the lyrics and meaning of the melody, this song gives props and pays homage to other melodies gone before it, namely 'The Solid Rock' which also declares a similar theme, that our faith in Christ is like a man building his house on the rock instead of the ever-alluring sand. Reminded that '…how firm our foundation, how sure our salvation, and we will not be shaken, Jesus, firm foundation…', this modern hymn that's certain to gain a similar status to the ever popular 'In Christ Alone' is one to cherish in years to come. Well done guys for such a standout song and one of the best ways to introduce an album to its listeners.
With a wide variety of musical artists lending their voices to popular hymns and hymns redone, it is a great album if you enjoy plenty of CCM and worship music (like myself), with veteran singers like Steven Curtis Chapman and the Newsboys on the same album as relative newcomer Andy Cherry. As we are taken into a glimpse of each artist's version of a hymn, I am reminded of how a simple song such as a hymn can take on such a great effect- much has to do with the artist and the musical arrangement. One of my favourite hymns of late 'Turn Your Eyes Upon Jesus' (covered by the Newsboys on their 1992 album Not Ashamed and one of my favourite renditions of the song) is covered by one of my favourite female Christian artists ever, Nichole Nordeman. Recently awarded for her part in creating my favourite album of all time Music Inspired By: The Story, Nichole offers us a stirring rendition of a beloved song, creating her own version with newly written and recorded verses and an altered chorus too. With an electric guitar introduction that leads Nichole into declaring '…oh weary mind, oh troubled soul, all the broken pieces that You hold, turn them over, give them up and then watch what Jesus does…', we are given an encouragement to let go of the things we carry close to us and give them to Christ. Turning our eyes towards Jesus on a daily basis is a conscious choice we must carefully and wholeheartedly choose to do each day, and this song is a nice and gentle reminder, that sometimes a tired old hymn, by definition, can still have so much vibrancy and life within it and with the right musical rearrangement- inclusive of a poignant bridge that lets us know to '…look up, this is a song about the morning after the long night…'; it can speak and minister to our souls and stand out on an album that is a perfect gift for the hymn lover. Well done Nichole for my favourite rendition of the song, and an nice teaser to a hopefully potential new studio album later in the year!
While many recognisable and unrecognisable tracks are on this 12 song album full of hope for the listener, the album as a whole flows quite well and each artist complements the next as we hear an album from start to finish symbolising a moment of reflection and reminiscing on the hymns that we have learnt in the past. Newsboys offer up a stirring rock anthem Tait style, with their version of 'Jesus Paid it All', complete with the Kristian Stanfill penned bridge '…oh praise the one who paid my debt and raised this life up from the dead…', almost destined to be on their new studio album, yet I'm sure it wouldn't have been so out of place if they released the song on a deluxe version of God's Not Dead, with the song seemingly fitting to be part of their 2011 worship project. Australian global worship movement Hillsong are added to the album with their modern take on 'The Solid Rock', offering a song called 'Cornerstone', which describes Christ as being the cornerstone of our lives along with the very rock in which we build our faith upon. Lead singer David Ware's passionate vocal delivery and an acoustical music undertone presents the highlight and one of my favourite songs from Hillsong's original 2012 album in which the song was originally on, Cornerstone. 'Nothing But the Blood' was taken from Andy Cherry's debut album Nothing to Fear, and is given a country-southern gospel music twist as we witness a man with a vocal similarity to both Bear Rineheart from needtobreathe and Aaron Morgan from Seabird present to us a song full of life and vibrancy as we hear the added bridge of '…it's the blood of Jesus that's enough for me…' Featuring slider guitars an the unmistakable hand claps that are in so many country melodies, 'Nothing But the Blood' is a great song, also inspiring Matt Redman's hit song in 2004, also by the same name. And while Casting Crowns' rendition of 'I Surrender All' is nothing like the original song (a whole overhaul musically leaving the song unrecognisable and possibly even a turn-off for some die-hard hymn fans), Mark Hall does leave us with some powerful moments of raw emotion and reflection as we ponder how we can truly declare that '…at Your feet I lay me down, all my scars and all my crowns, Jesus I surrender all, no more having my own way…' A new song musically, Casting Crowns' interesting arrangement of one of the oldest hymns in the world is unique, yet also different in a good way. Well done guys for taking a risk and offering an out-of-the-box arrangement that's going to be a certain highlight amongst many Casting Crowns fans.
Starting off the song in an acoustic fashion, Matt Maher's version of 'Holy, Holy, Holy' is equally as powerful and enjoyable as Steven Curtis Chapman's rendition of the classic hymn on the 2011 compilation album WOW Hymns. Featuring a strong base line, we are reminded of God's holiness as Matt also adds in his own chorus of poetic and passionate poignancy. Reminding us that '…from the cradle to the cross, God with us…for this broken heart and home, God with us…' we are met with God the humble servant as we fully understand His sacrifice in this classic hymn that I'm sure will stay timeless for years to come. Jesus Firm Foundation also boasts an amazing rendition of both 'It is Well' and 'Blessed Assurance' sung by Brandon Heath and Matthew West respectively (some of my all-time favourite hymns), both written with additional choruses to create a sense of originality to both. While Brandon Heath's version of the song is reminiscent of some of Brandon's slower keyboard and acoustic guitar prominent melodies on some of his other albums, we are still given a great rendition of a song given a rock anthem treatment by Kutless on their 2009 worship album. Toned down to infuse a more reflective listening style, Brandon adds a chorus, declaring that '…it is well with my soul, here's my heart, make it whole, for You I live, in You I dwell, oh my soul it is well…' and is a perfect end to an album full of heart and hope as we see classic hymns done in a modern way.
Matthew West's recording of 'Blessed Assurance' is one of the best I've ever heard, and while it could've sufficed to place Matthew's rendition of 'The Wonderful Cross' on the album and I would've been cool with it, the fact that we went out of his way to record another hymn just for this project gains a great respect as an artist for me personally. This anthem of praise feels the least disjointed (not that any other song is disjointed but the new chorus on this song seems the most flowing) as Matthew reminds us that '…my king is coming soon, He will roll the clouds away, light of heaven bursting through, oh what a glorious day…' With the added chorus written by Matthew and songwriter Pete Kipley, we are reminded of Christ's coming in this certain radio single destined to hit the airwaves (I hope) later on this year. Ever-reliant Michael W. Smith returns with 'All Hail the Power of Jesus' Name (Crown Him)' and while I'm unaware of the original melody and how it goes, it is clear that Michael's passion and enthusiasm is not less than infectious and ingenious, and especially for a 55 year old, his vocals are just as good (even with autotune) than they were years ago. Full of electric guitars and a strikingly powerful bridge that declares for everyone to '…shout in universal song and crown Him Lord of all, we're gonna join the everlasting song…', we are invited into a celebration and one of the most rousing and stirring anthems on the album as Michael holds nothing back in the most emotive song he's ever recorded since 'Save Me From Myself'. Well done Michael for a song that's sure to excite fans about a new record (hopefully) late this year!
Overall: This album is almost as flawless as Music Inspired By: The Story, and while it is still not 5 star material (I have yet to find an album just as good if not better than my favourite 2011 album), this is an album destined to be in the history books as the best compilation of hymns in modern CCM history. With a great variety of musical styles and artists and enough for listeners who enjoy the anthems of old-school music veterans like Steven Curtis Chapman and Michael W. Smith, or for anyone who enjoy listening to the reflective poignancy of Kari Jobe or Nichole Nordeman, this album has been a great joy to listen to and if you enjoy classic hymns redone (a la Jadon Lavik or in many songs on WOW Hymns), this is a perfect album to purchase for you. The album is on a stream via JesusFreakHideout, and if you do have time, I would wholeheartedly encourage you to listen to the album before the album release date in March 2013. With this album from left-field in terms of great quality and passionate anthems sure to rouse up the inner child and lover of hymns that has been dormant all these years, Jesus Firm Foundation is sure to receive the Special Event Album of the Year at the 2014 Doves. Well done Provident Label Group for putting together this great compilation that sees hymns and the creation of them done at its finest with the collaboration of great songwriters like Pete Kipley, Chris Stevens and Jason Ingram!
RIYL: Steven Curtis Chapman, Kari Jobe, Newsboys, Michael W. Smith, Casting Crowns
Buy the Album: iTunes/Amazon mp3