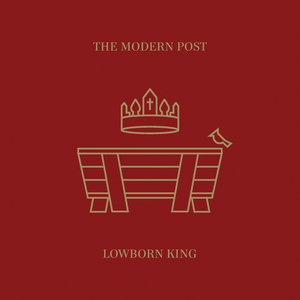 Artist: The Modern Post
Album: Lowborn King
Label: BEC Recordings
Release Date: 11/24/14
Reviewer: Ian Zandi
Track Listing: 
Angels We Have Heard On High
Child of Glory
Let All Mortal Flesh Keep Silence
What Child Is This
This Is War
In my opinion, two of the hardest things to review are Christmas albums and worship albums. Christmas songs are scarcely original and everybody gets sick of them over the course of a few months. On the other hand, worship albums are semi-sacred in the fact that they are sincere love notes to Jesus. How can I say that I hate your praises that you are singing to the God of everything? Certainly not the easiest task ever. From a musical standpoint, worship songs tend not to be very diverse either (G-D-Em-C. Over. And over. And over again.) Now that I am back from my IVM hiatus (no thanks to a laptop thievery that took place over the Summer), I decided to come back with a bang. Why not tackle an album that covers both genres? Enter The Modern Post.
"The Modern Post?" you ask. "Is that a Postal Service cover band?"
No. Owl City already has that field covered. (I kid, I kid)
 "Ohhhh I remember now. It is that Thrice guy's side project isn't it?"
In a way you are correct. This is one of Dustin Kensrue's many side projects. While being the former singer of the rock band Thrice, he has also released a Christmas record and a worship record under his own name. Another full length album of worship songs was also released under The Modern Post banner. On top of all of this, he takes part in a touring musical act with other high-profile vocalists in the scene known as Where's the Band. All of these releases and band titles have caused much confusion with the blurred lines. Dustin himself attempted to clear up the air on his blog. Following his departure from the Mars Hill Church, he has decided to release this Christmas worship EP under the Modern Post name. The EP has gone under the radar for most people. He announced Lowborn King a mere week before releasing it digitally. Even hipsters didn't even get a chance to hear it before it came out.
Two of the tracks are typical church covers of "Angels We Have Heard On High" and "What Child Is This". Not extremely bland, but it definitely isn't anything new. The formula and sound are very similar to those of recent modern worship acts such as The Digital Age and Hillsong United. Youth groups will probably eat it up, but it really isn't my cup of peppermint-flavored tea.
"Child of Glory" and "Let All Mortal Flesh Keep Silence" are both scripture-based songs that are a notch above the carol covers (lAMF is actually a cover adapted from an old hymn of the same name.) Each of these songs mix some solid verses, generic choruses, and a call/response bridge. Fortunately, the generic choruses aren't completely a letdown. Dustin proclaims them with such emotion that you actually feel the praises that he is trying to convey. Only a few Christian artists are really able to get that emotion across (Spoken, Gungor, Switchfoot, David Crowder Band, Jars of Clay). The result is a song that might not be that new but doesn't feel any less true.
The final track on the EP is actually a cover of one of his previously released songs back in 2008. "This is War" starts off with a strong buzz and heavy synths that indicate it as an industrial rock worship song. It is really the most interesting song on the record. With a powerful thrust of lyrical warfare and electronic pulses, it sits on the line of being congregation-friendly and unconventional. I certainly would not mind an entire album of songs similar to this Nine Inch Nails/Linkin Park vibe in the future (the closest thing we have come to it is Kye Kye's Fantasize earlier this year).
Overall: As I indicated earlier, worship and Christmas albums are difficult to review. My personal reaction to most of these songs is very neutral. Nothing amazing but nothing terrible either. The highpoint is most definitely "This is War", but I can't say that I am going to be adding any songs on here to my Christmas playlist. I often play The Modern Post's back catalog, but I don't see myself playing this one more than once a year. Perhaps if you are a diehard Dustin Kensrue fan, you will enjoy this more. As for myself, I am going to pass.
RIYL: Dustin Kensrue, Thrice, The Digital Age, Rend Collective, David Crowder Band, your denim-wearing youth worship pastor who distinctly wears a soul patch and carries a cup of Jamba Juice.