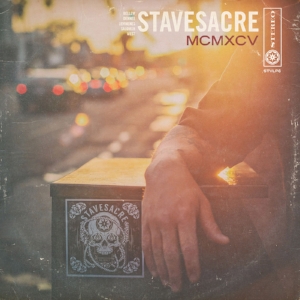 First things first. Have you heard there's a new Stavesacre album out? Yeah? I bet you're wondering who played on it? This is the classic 5-member line-up:
Mark Salomon – vocals
Sam West – drums
Dirk Lemmenes- Bass
Ryan Dennee – guitar
Jeff Bellew – guitar
Besides the Against the Silence EP in 2009, this line-up hasn't made a record together since Speakeasy. Of course, what most readers will be wondering is, "can they still bring it?" Does this album hit as hard as Speakeasy did? Or inspire the way that Friction? This is one of those reviews that is incredibly difficult to write. The band have already achieved a sort of legendary—either because of the 5 albums and nearly the same number of EPs they've released under this name, or because of all the other bands the members had been in prior. The expectations will be high; for some their hopes—or by contrast, their fears—will be high as well. In many ways, the discerning listener will need to try to set all that aside and . . . well, just listen.
I can't put my finger on what it is but . . . this is clearly classic Stavesacre, and yet there is a certain maturity and emotion to the sounds. If you're wondering whether the band would be able to deliver the goods after such a long hiatus, then fear not. It's the same band. They're still playing that unique mix of post-hardcore and . . . well, I'm not sure what you would call it as there aren't too many other bands doing it the way they do it. For this record, they haven't broken a ton of new ground, and yet there are definitely some sounds here I haven't heard them attempt before. "Sideways" toys with indie rock, particularly in the guitar tones and the predominance of melodic bass lines (which curiously remind me of the way Peter Hook played bass—though Stavesacre sounds nothing like Joy Division, nor New Order or any other of Hook's projects).
What stand out the most to me about MCMXCV is this: there is simultaneously a heavy burden in the songs that comes from the years, that is perhaps best described in the way that the waves beat against the reefs and rocks to turn them into sand. And yet that same sand is what we want to walk across barefoot—not the rocks themselves. Meaning, this maturity and heaviness that you can hear coming through the lives of the band members—it results in a lightness, an ethereal quality that is neither novel nor aloof. It's just there.
From the first notes of "The Dead Rejoice" you can tell it's Stavesacre as the Bellew/Dennee twin guitar attack is immediately recognizable. This opening track (not counting the sound collage opener, "Intro") speaks of spiritual death and reawakening and brings hints of the joy the title implies. "Sleepyhead" reminds me of Friction's "At the Moment" in that melodic, quasi-ballad-that-rocks sort of way. "On Being Human" is a straight-forwarded rocker that grab's the attention of any listener in danger of drifting off track. Interestingly, penultimate track "Moonstone" intro could almost pass for a lost SF59 track, and while it shifts when the song kicks in, there is a remarkable similarity (influence?) of later period Starflyer stuff (post-2005 or so). "Breathe Me" is incredibly emotional and atmospheric in a way I haven't heard them do before, which drives the point made above about the band's maturity during their lengthy silence.
Repeated listens yield satisfying results.