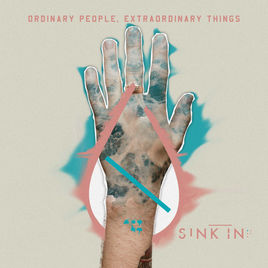 I first learned of Sink In through long-time tourmates American Arson. The two bands first met up in Pennsylvania and continue to join each other on the road. In fact, American Arson's Evan Baker even makes an appearance on Sink In's newest release.
Apart from 2015's "Wide Eyes" EP and a handful of singles predating it, the band's discography is fairly shallow. Thus, "Ordinary People, Extraordinary Things" seems to be the perfect answer to long-time fans: it's an ambitious eleven-track release (with two bonus tracks) that sits at 43 minutes in length.
Stylistically, Sink In mixes a sultry blend of pop-punk, indie, and post-hardcore. It's a strange medium between Good Luck Varsity, Icarus the Owl, and We Came as Romans. They're unashamedly pop-friendly, but they don't neglect an appreciation for their art, either. OPET is littered with strong grooves, faux breakdowns, and vocals reminiscent of Chasing Victory. Basically, it's a fun album.
O.P.E.T opens the album with an instrumental base and a recording of a speech that relays the album's main theme: Ordinary people do extraordinary things.
Ultimately, the first track bleeds directly into Higher, an explosive opener that calls the audience to long for more. It's a satisfying introduction for first time-listeners to see what Sink In is all about. It's a groovy, high-energy track that tackles deeper topics without sacrificing the listening experience. Add in some "woah"s and you get a pop-punk classic.
The lyrical theme continues on Get Out!, this time tackling the topic of pursuing your dreams in light of opposition. The damage of complacency is also highlighted. Instrumentally, it's not incredibly interesting – but the album has more than enough strong moments to make up for this.
Up There is a Sleep for Sleepers-esque track with plenty of four-chord action, hopeful lyrics, and tight rhythms. It'd be a great summer jam had it come out only a few weeks sooner.
Love / Lust is one of the strongest tracks on the album. If you've read my reviews in the past, you know I have a penchant for songs with lots of variety – and there's no lack of variety on this track. Groovy guitar lines paired with occasional falsetto are juxtaposed against Evan Baker's guest portion. Barker's grit is the "bad cop" answer to vocalist Tighe Eshleman's smooth voice. To complement the more aggressive vocals, instrumentation also takes a darker, heavier turn. The song makes one more drastic stylistic change before tapering off.
The next track, On the Radio, includes another guest appearance, though this time it's electronic artist DAVIII who employs his sensibilities for dance music alongside the band's pop-punk leanings for a track that is definitely radio-friendly but seems to have a bit too much fun.
Sink In reclaims my attention in Tell The Kids, a piano-based ballad that begins with a child's spoken word portion. Ambient, airy guitars join the mix. Lyrics are heavy, concerning a family that's torn apart by what appears to be drug abuse. It's an unexpected treat for listeners.
Off the Deep End is another more traditional pop-punk track that mixes in a fair share of alternative elements as well. There are some pretty nice subtle lead guitar lines in the background at times that remind me a bit of Sleep for Sleepers. A furious solo brings the song to a close.
Alongside Love / Lust, Absolute is another standout track. The opening is bound to grab your attention, and the chorus is recognizably pop-punk without relying on breakdown elements. Instead, there's a stronger focus on lead guitar here. However, I'd be remiss if I didn't point out the drums and bass. Sink In's ability to craft strong rhythms is definitely one of the largest parts of what makes OPET a great album.
Here & Now is a typical anthemic pop-punk jam. There's not too much else to say.
The album's official closing track, Glory Follows, is a strong closing song. It begins with an acoustic guitar base, giving more focus on the lyrics. Thematically, it's a song about finding peace in the midst of failure and struggles. Strings and percussion join near the end. It reminds me quite a bit of Medic, which is certainly not a bad thing. Layered contrasting vocal lines create for a busy ending that manages to not be overwhelming. There are a few moments of vocals over sparse guitar chords which completes the album.
The two bonus tracks are previous singles. Since they don't fit the narrative of the album, I've chosen to not include them in the review (though you should still take a listen).
Overall, OPET is a strong debut album that has been a long time coming. Thankful, the wait has been worth it. There's plenty to like: diverse instrumentation, high-energy vocals, strong grooves, and guest features all make for a great listening experience. The weak moments are few are far between but are largely related to the poppier moments like On the Radio.
However, for the standard fan of the genre seeking a fun album album that translates into a great live performance, OPET should be more than appropriate.
For fans of: Icarus the Owl, Sleep for Sleepers, Chasing Victory, American Arson, Good Luck Varsity