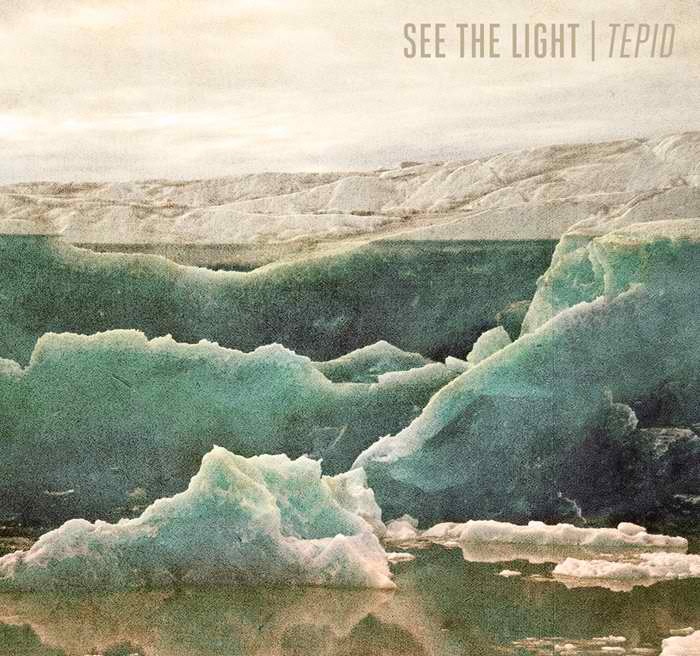 Artist: See The Light
Album: Tepid
Record Label: Come&Live 
Release Date: Feburuary 24th, 2012
Lifeless
Decay
Drench
Disconnect: The Desirable
Malcontent
Rise
Disconnect: Breathe
Vacant
Disconnect: The Outcry
2012 already seems like the year of new contenders.  All of these newer bands coming out of the wood work releasing albums left and right.  Some rookies, others sophomores, trying to battle their way to the top of their genre's tier.  One of these contenders resides in Paso Robles, California.  A city that is known for being the fatest growing city in the San Luis Opisopo county, unleashes See The Light to the world. A band that has one release prior, Maranatha, brings forth their latest album, Tepid, to be released on February 28th. Tepid features brutal blood curling screams from front man Barrett Colvin, breakdowns that are so heavy it feels like a cement truck fell on your head, and drums so fluid your heart may stop.
Now to listen to Tepid, you may need to throw away your knowledge of See The Light's previous record, Maranatha.  There are little to no similarities between these records.  It is almost like See The Light saw the light and wrote themselves and album in which all the songs don't last over five to seven minutes long and get stuck in the same monotonous parts over and over. The guitars are better thought out and give Barrett the room to be a fluid screamer and Teddy, drums, a chance to jump out of the pocket once in a while with well placed double kick beats and fills. The tones, riffs and chords remind me a lot of something that A Plea For Purging would do yet See The Light's ryhthm sections are a little more faster and in your face.  Especially on the song "Decay".  Though it is the second track, I would like to think this is the song that kicks everything off.  By the first breakdown :29 seconds into the track, you get drawn in all the way up to the first tough guy section when it is a must to two step even if you are sitting.
Barrett Colvin has always had a beast scream live but was not able to replicate it in the studio up until this record.  Tepid contains the best vocals that See The Light has put out.  At times it seems that Barrett might have been a bit tired but for the most part his ear piercing scream and occasional lows are crisp and emotional. That is one thing that everyone can take from this record even if they are not a fan of the lead screams or screaming in general. There is heart and emotion from beginning to end.  A life of a sinner later to find redemption in Jesus Christ is put forth in such an honesty, it is hard to not be drawn into this record.  You can hear the passion in Barrett's voice and most likely will put this album on repeat for multiple listens.
In all honesty I have seen this band several times throughout California and one thing I have always been impressed with is the drumming.  I firmly believe that Teddy Ramirez will be a household name when talking about modern drummers soon. There are subtle things that go on in this record, and probably subtle because of the use of the "grid" put on the drums throughout, taking away the feel. Now I am not one to put all the weight on a single persons shoulders but I believe what makes Tepid good musically are a lot of what the drums are doing.  Teddy holds the foundation while jumping in and out of the pocket with his fills. There is a section on the song "Drench" where they feature a melodic type vocal part. The drums go off on constant fills while the guitars popping off little quarter note triplet palm muting chugs that, in all honesty may give most listeners an uneasy (I am sure that is the intention). Just constant beats filling your head all the way up to the first "Dissconect:" song
The concept of this album is wrapped around the "Dissconect:" tracks.  These tracks are covered with ambient sounds and the constant cries from frontman Barrett Colvin.  They are a good break from the constant riffs and beats that surround Tepid. These tracks are well put together and serve their purpose being transitional tracks. Lyrically these tracks are very dramatic and passionate. The track "Dissconect: Breathe" paints a picture of a man trapped in the corner of a room asking God to "destroy the shadow" that stands over him.  A demonic presence, that only God can save this man, has taken form and the only way to be destroyed is from Barrett's constant prayers and worship to God.  See The Light has always been about worship but the "Disconnect:" tracks takes this to deeper state of worship. Bringing to light the real life occurances man has with opression in a battle fought in the spirit realm.  A beautiful picture of how we as people need to remember that this battle is not ours but our God's battle alone.
Tepid is a great musical piece however the gripes might be with the production of this record. The guitars and vocals sound great however seeing as how the drums fill this album, one would wish that the drums would be better produced. Everything is heard fine, which is great, however for the most part the drums sound flat and I believe this hurts the record quite a bit. There are also points, like I stated prior, where Barrett Colvin seems to get tired and a bit flat.  It doesn't hurt the record a lot but it brings them down a point from being a perfect album.
Overall: A great sophomore release from See The Light. A plethora of fantastic lyrical ideas wrapping around demoralizing guitar riffs and drums that should cause some musicians to give up.  Tepid is fast paced and in your face at times and in others ambient and heartfelt. This record is going to sedate their fans for the time being until they release their next album, hopefully really soon. I am not going to insinuate this album is an Album of the Year candidate, only because it is February, but you never know. Good album from a good band.