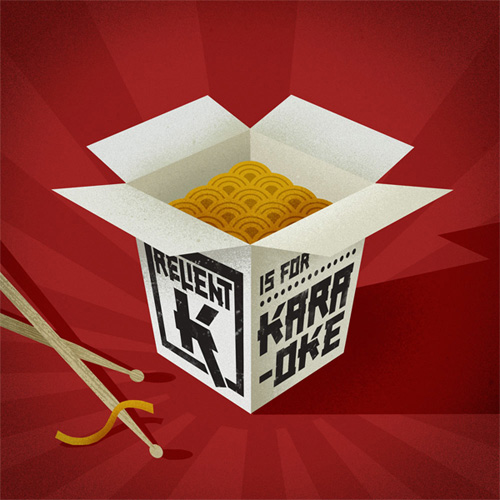 Artist: Relient K
Album: K Is For Karaoke
Label: Gotee Records
Release Date: October 4, 2011
Girls Just Want To Have Fun (Cyndy Lauper)
Baby (Justin Bieber)
One Headlight (Wallflowers)
You're Inspiration (Chicago)
The Distance (Cake)
Crazy (Gnarls Barkley)
Motorcycle Drive By (Third Eye Blind)
Doctor Worm (They Might Be Giants)
Interstate Love Song (Stone Temple Pilots)
Here Comes My Girl (Tom Petty & The Heartbreakers)
Africa (Toto)
Surf Wax America (Weezer)
Inside Of Love (Nada Surf)
Everybody Wants To Rule The World (Tears For Fears)
Evolution is a key thing for a band if they want to stay relevant in what can be a business of redundancy. Relient K has become one of those bands that in a sense has grown up with their fanbase.  What started as a silly joke band from Canton, Ohio turned into serious musicians through out the years.  Singing about pirates and "Charles In Charge" became a band begging for an escape and deathbeds.  Obviously a big part of a Relient K set has always been one, possibly two cover songs during the set.  So it is only natural that eventually they would release a cover album of songs that you can see be covered.  And then again songs that not to many would expect to make any cover album. Especially from a rock and roll act. That is what you get when a band like Relient K makes a cover album.
"K Is For Karaoke" contains fourteen covers spanning songs from the 70's, 80's, 90's, 2000's and even songs released in the last year or so.  With a wide variation of artists like Tom Petty, Justin Bieber, Third Eye Blind etc. What will most likely pop out at the listener first would be the incredible production.  Guitars burst out on the first track "Girls Just Want To Have Fun" and from then on it is hard to lose focus on what is going on.  The drums have a great pop and the mix is virtually perfect. Everything can be heard and there is a clarity between each and every instrument with no empty feeling.
Beautiful harmonies and clean guitar riffs surround this record. Which is no surprise because harmonies are something that Relient K had digested into their sound over the years.  And they have always been a band known for really nice, catchy, and clean guitar riffs.  Best example of the great harmonies is on the last chorus on the song "Africa".  Clean and prescise, this section catches the listener off guard and blasts off into such an open feeling the they feel like they are falling and land onto a beautifully done chorus.
Songs that excited me when I first heard this was happening were songs I knew Relient K would kill. Songs such as "Girls Just Want To Have", "Here Comes My Girl", and "Everybody Wants To Rule The World".  And yes. They killed those songs.  But the song I really wanted to hear that I knew would take the album was "Africa" by Toto.  Obviously coming from a more classic rock background that song would catch my attention. 
Overall: I am sure there will be complaints about how these covers are really close to the original versions. Almost to close. Yeah Relient K  did not stray to far from the originals but these songs are done with great precision and show off the skills of the band musically and vocally. Not a bad purchase especially if you are a Relient K fan.