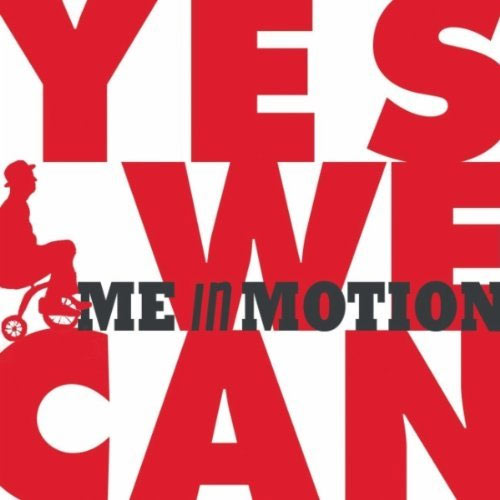 Artist: Me In Motion
Title: Yes We Can EP
Label: Centricity Records
Release Date: 11/1/11
Reviewer: Jonathan Andre
Tracklisting:
Yes We Can
Back 2 Life
Let Mercy Hold You
Eye of the Hurricane
Me in Motion is perhaps one of the bands that not many people know about. Yet everyone knows Seth Mosley; lead singer for Me in Motion, and songwriter, both for the band and for other artists like Newsboys, Manafest and Anthem Lights. Around since 2006 and signed to Centricity Music, Me in Motion have had plenty of radio singles from 'Losers' and 'The God I Know' to 'Eye of the Hurricane', that released early 2011. Now with a brand new EP titled Yes We Can, Seth has created four songs that will certainly strike a chord with many listeners, showing them that together with God, we can do anything. One of my favourite EP's of 2011 along with Karyn Williams' Wake Up EP and Tenth Avenue North's Inside and In Between; Me in Motion have created a musical treat with a positive lyrical message of hope in a world needing a whole lot of it!
The title track and first official single, 'Yes We Can' tackles the issue of overcoming, and how with Jesus by our side, we can claim with full authority that '…yes we can, and it's the reason that we raise our hands…' With massive guitars, drums, and gang vocals; this passionate anthem is an encouragement to those who want to find their direction, that when we fall, we can say 'yes we can'; because of who we are in Christ. With themes reminding me of TobyMac's 'Get Back Up', 'Yes We Can' is the sequel, showing the world that we are overcomers in Christ. The tag '…don't ever say that we're too young…don't ever say that we're too weak…' is a nice touch as we proclaim that our authority is not because of age, but because of our knowledge of our identity in Christ. A fantastic song for the broken as well as the fixed; 'Yes We Can' has certainly make motions in the CCM industry already!
'Eye of the Hurricane' was a single way before 'Yes We Can', and also appears on the album as the closer. With a similar theme to the track opener and how there are certain times in our lives where we feel like we're inside a hurricane, frustrated with how we messed up, why this or that happened, and sometimes we could even be mad at God. However, as we discover through this melody that we are safe '…in the eye of the hurricane…', regardless of whether we believe it in that particular moment. God is right beside us when we feel the pain, and through this guitar driven anthem full of passion as Seth sings out '…the weight of the storm drives me straight to Your arms, You hold me, I know I am safe…', we are reassured that God keeps us safe during the moments of great destruction and havoc. Well done Seth for such a mighty single!
'Back 2 Life' and 'Let Mercy Hold You' are the remaining tracks, and both polar opposites musically. 'Back 2 Life' is a dance track that shows the thematic element of how we need God to continually revive us and '…bring us back to life…' whenever we lose sight of what He has done for us, and will continue to do. During our busy lives, we can become accustomed to be comfortable, complacent and cosy in our walk with Christ, and it is through God's stirring that we find ourselves stretched, as we realise the things that God has been showing us all along. Through massive guitars and a electronic beat undertone, Me in Motion have created an exciting dance track with a positive punch; relaying listeners towards a God that revives even the dead to life! 'Let Mercy Hold You' is piano based, with an electronic reverb as Seth speaks encouragement in our lives, showing that God's mercy holds even the most fragile life in His hands, that nothing is of more importance than the Lord keeping us safe in His arms. Speaking directly to the broken and desperate, Seth speaks hope, that '…every night is holding back the sunrise…i know it's hard but there's nothing that you can do, so let mercy hold you…' When we are at a place of complete brokenness, we must remember the fact that God makes all things new, that '… the Lord is close to the brokenhearted and saves those who are crushed in spirit…' (Psalm 34:18)!
Overall: Me In Motion have created 4 tracks of hopefulness in the midst of life that can sometimes feel hopeless. With the uplifter ('Let Mercy Hold You'), the dance melody ('Back 2 Life'), the encourager ('Yes We Can'), and the real-life motivational moment ('Eye of the Hurricane'); Me in Motion have been able to peel back the layers of the human condition and expose some of the most sealed emotions, providing comfort in the face of adversity. This is a certain purchase for fans of any modern pop/rock, or for anyone who wants to be ministered to by some good solid biblically based music. Well done Me in Motion for creating such a satisfying EP!
RIYL: Newsboys, Peter Furler, Paul Colman, Sanctus Real
Buy the Album: iTunes/Amazon mp3