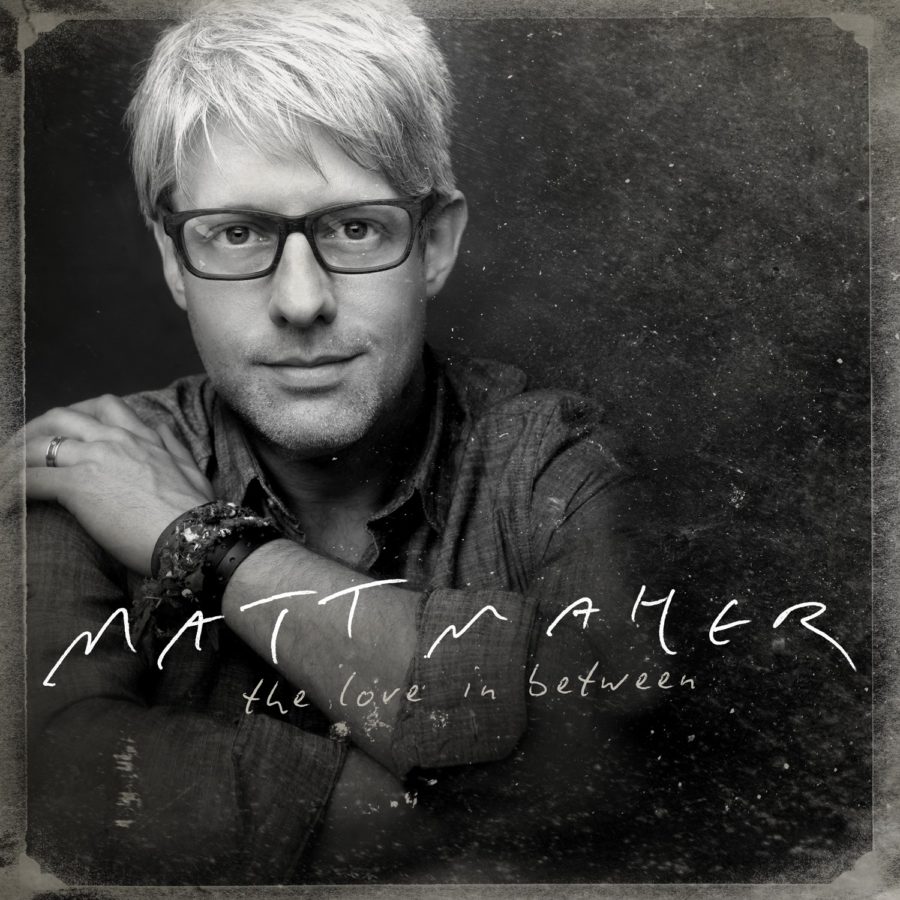 Artist: Matt Maher
Title: The Love in Between
Label: Reunion Records
Release Date: 9/20/11
Reviewer: Jonathan Andre
Tracklisting:
Rise Up
Turn Around
Heaven Help Me
Every Little Prison (Deliver Me)
Woke Up in America
Heaven and Earth
Write Your Love on My Heart
On My Way
New State of Mind
My Only Love
Everything and Nothing
The Spirit and the Bride
Matt Maher has been famous for his hit single 'Your Grace is Enough' which was recorded on Chris Tomlin's 2004 album, Arriving. Following his highly successful debut in 2008 with his radio single 'Your Grace is Enough' as well as 'For Your Glory' and 'Lay It Down'; as well as his follow-up album, Alive Again, released in 2009 with singles 'Christ Is Risen' and 'Hold Us Together'; Matt Maher has released his 3rd album, The Love In Between. As I had a listen to the album as a whole, I can safely say that this is my favourite album from Matt. Featuring a maturity where he is able to strip everything away so that listeners can take a glimpse into his vulnerabilities; Matt offers up 12 songs of redemption and suffering, freedom and hope, all pointing to Christ as he acknowledges the Live Giver in every situation. From soft ballads to rocking tunes, there is a certain country feel to this album as Matt introduces the genre into his music. Writing songs with Hillsong songwriter Mia Fieldes, Jason Ingram, and producer Paul Moak, this is one to not pass by if you're searching for a Christian album with a country twist.
'Turn Around' is the first single, starting with a guitar intro leading to Matt singing in his southern-style country voice '…young man on the side of the road, lost and beat up with nowhere to go, smells like a hangover from days ago, he does what he can to survive…' As we are given a picture that is being painted, we survey the song in a holistic way, realising that it is for the broken, weary, confused and desperate that Matt directs his song to. Through the musical treatments of big drum beats and guitars, Matt relays to us that there is nothing that can get in the way between God's relationship with his creation, that '…if you're looking for a Saviour, all you gotta do is turn around…' As I sit and survey this hopeful musical experience, I am certain to agree with Matt in his assertion that all anyone has to do for their lives to change is to turn around to the Saviour that is beckoning each one of us. The tag at towards the end of the song '…you don't have to take the broken road, you can turn around and come back home…' alludes to the parable of the lost son; how when he was just on the horizon, his father ran to meet him and rejoicing that his son was indeed home. This is a redemptive song for anyone in a hard spot; well done Matt for writing such a poignant melody!
'Rise Up', 'Every Little Prison (Deliver Me)' and 'Everything and Nothing' are all highlights on an album of encouragement and inspiration. Knowing that Matt Maher was a smoker for 12 years before he quit 6 years prior to 2011; and how he was able to focus on the Lord for his solace, redemption and continual rehabilitation and restoration; makes the second single 'Rise Up' even more pertinent. Starting with guitar slider sounds and a big drum, Matt urges the listeners to '…rise up, rise up, when this life has got you down…' As I continue to immerse myself in the knowledge of Christ, I am convinced that God helps, even when we don't even acknowledge it. 'Every Little Prison' is as confronting as it gets as Matt lists fears and insecurities that we all have that he gives over to God, proclaiming for Christ to come and deliver him from '… fear of letting go, from fear of the unknown ahead, from being overlooked and so misunderstood again, from fear of being judged, from rumours of a love that failed…' With a grunge-sounding guitar and light percussion in the background, Matt conveys that God is the answer to break the prison that is guarding our hearts from letting go of all our worries and problems. Similarly, one of the most compelling on the album, 'Everything and Nothing' speaks along the vein of Brandon Heath's 'Leaving Eden', showing us that as we stray from Eden, we are able to realise that God is beckoning us back to Him. Through the use of soft acoustics, the lyrics are highlighted, and as we respond and believe that the difference between the now and the now that is promised by God will certainly come but in God's timing; Matt reveals that '…come let us discover something new, cause we're all pilgrims on a journey to the truth, we're all wanderers relying on a man to help us understand…' Reflecting upon this, I am certain that as we continue to pursue our discoveries of all the facets of Christ, we are able to boldly claim that we are '…lost and found…everything and nothing but Your love…', transformed as Christ continues to perform His great work within us.
From relaying his life story and how he became a singer-songwriter with a love for Christ ('Woke Up in America'), praying to God for Him to show us His love as we become more like Him ('Write Your Love on My Heart') and pouring our his heart with love for his wife ('New State of Mind'), to urging listeners to turn to Christ for their journey through life and into Heaven with Him ('On My Way'); Matt continues to showcase many themes that are relevant to today's society. With the use of harmonicas, acoustic guitars, and gang vocals, Matt employs enough musical experimentation to dabble in the country genre as he continues to incorporate his faith in music. However, it is the two tracks, 'Heaven and Earth', and 'The Spirit and the Bride', that show some of Matt's fine crafting lyrically at songs that speak to heart of individuals. 'Heaven and Earth' utilises soft keyboard synths as backdrops against an electric guitar plucking melody; with Matt declaring that God is everything that we need between heaven and earth, that when we are '… left alone to my own devices, I'm plotting out the end with all my vices…' The last song, 'The Spirit and the Bride', paints a picture of Christ and the church, as we come to Jesus with everything that we have, lay it all down at his feet, and declare, '…come, Lord Jesus, come again…'. A fantastic way to finish off the album, Matt invites '…the thirsty…the hurting souls…the skeptics…the Pharisees…the forgotten…the fatherless looking for approval…' to all come to the river of God. With a simple musical arrangement to enhance the lyrical experience, there can be no better way to end the album than this track!
Overall: The Love In Between is a solid improvement on Matt's first two releases, with a more expansive musical genre and experimentation, giving his musical ability more assertion within a CCM industry that predominately 'plays it safe' musically. Releasing on a day with Leeland's The Great Awakening and needtobreathe's The Reckoning, Matt Maher's album is not unnoticed as he releases an album that serves the purpose of encouragement and raising the questions that need to be asked, about where our identity is in, and what the Lord is showing us as we continue the journey of life in all its wonder and mystery. Kudos to Matt for creating an enjoyable album; a certain purchase for fans of his previous albums as well as Audrey Assad and Chris Tomlin.
RIYL: Audrey Assad, Chris Tomlin, Paul Baloche, Leeland
Buy the Album: iTunes/Amazon mp3