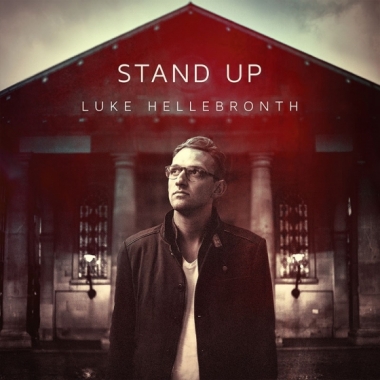 Artist: Luke Hellebronth
Title: Stand Up
Label: Integrity Music
Release Date: 11/12/13
Reviewer: Jonathan Andre
Tracklisting:
Stand Up
Love Like This
Awesome is He
Miracle of Grace
Ready For You
Who You Say You Are
Spirit Break Out
Now is the Time For Us (Live)
Our Generation (Live)
Worship Central, a worship movement targeted toward songs for the church, and birthed out of London; is quite becoming a popular mode of worship as the movement, alongside others like Passion, Bethel, Hillsong and Jesus Culture, have been influencing the world in the worship songs they sing. Formed by Tim Hughes and worship leader friend Al Gordon, this British worship movement is fast becoming one of my favourites, with songs like 'Spirit Break Out', 'At Your Name', 'For Your Glory' and 'Counting On Your Name' being some of my personal highlights from their previous albums. Now with worship leader Luke Hellebronth, a worship leader from Worship Central, releasing his debut EP Stand Up this year, British worship leaders continue to forge their own identity in the worship market. Following the footsteps of artists like Tim Hughes, Bluetree or Matt Redman, Luke's passionate vocals and poignant melodies are such so that Stand Up is one of my favourite worship EP's of the year so far. With the album's message and mission very clear, in that we are able to receive new songs for the church when hearing these 9 tracks (7 studio tracks and 2 live album cuts), Luke's first album effort is sure to be one of many. From the title track 'Stand Up' to the global hit 'Spirit Break Out'; Luke Hellebronth is sure to gain some influence and popularity, not just in Britain, but around the world.
'Spirit Break Out' has become an anthem for a generation of worshippers willing to be able to let down their inhibitions and worship God with abandon. With a message of longing for God's spirit to break out in whatever fashion He wishes amongst the people as the collectively gather to praise Him; we are invited to hear Luke's rendition of a song that's certain to become one of the songs Worship Central will be famous for. After covers from Martin Smith, Soulfire Revolution (with an added rap bridge by TobyMac) and Kim Walker-Smith, Luke's powerful recording is able to stand tall and be just as much a blessing and emotive melody as the other renditions. Starting off the song with a light electric guitar riff, this song, co-written with Tim, moves from a somewhat subdued melody with the odd electric guitar into a rousing anthem, whose rise in popularity is just as poignant, compelling and encouraging as Matt Redman's '10,000 Reasons'. Destined to become, in my opinion, one of the worship songs of the decade; Luke enthusiastically cries out '…King Jesus, You're the name we're lifting high, Your glory shaking up the earth and skies, revival, we want to see Your Kingdom here…'; and with a moment of adoration as we hear the raw moment of abandoned praise, 'Spirit Break Out' is certain to be on my iTunes playlist in years to come.
'Ready for You', the first track from Worship Central's Let it Be Known and a welcomed standout on Luke's album, is one to be introduced into the church sooner rather than later. Full of hope and emotion, coupled with light electric guitars and a powerful beat, as well as a melody that's easily learnt so that the congregation can follow along and declare out the words corporately; the song invites us all to be ready for God, open to what He wants, even if it means inward transformation. As we listen to the honest, hopeful and confronting words directed to our God to '…lead us on, further than we've ever been before, with hands held high, be glorified, our hearts now cry…', Luke offers up a thought-provoking message of worship as we search and see if we can with confidence declare out that '…we are living for the glory of the Lord…' A song to bring comfort as well as hopefully impact and change lives, Luke leads us on to 'Who You Say You Are'; an electric guitar influenced track that is yet another that challenges our thinking and whether we believe that Christ is who He says He is, in the moments when we can't even feel or see His presence working within us. A theme similar to Britt Nicole's 'Who You Say You Are', Luke passionately cries out that '…You are who You say You are, Lord of all creation, God of all, nothing is impossible, You are in control…', a moment of clarity and realisation. A song on the album that affirms God's own identity and our security in Him, the light and not overbearing electric guitars, a striking drum beat, and powerfully delivered vocals, is what highlights this song, even if it is seemingly a little bit Hillsong-esque in terms of vocal delivery and music backdrop. Despite the Hillsong music atmosphere this melody brings forth to listeners; Luke nevertheless gives us a moment of certainty as we understand the centrality of our own trust, and the hope that we can put a trust in a God that is always true. Well done Luke for these two melodies- some of his most unique and different songs on the album so far.
Throughout the rest of the album, Luke continues to deliver some great songs for the church. Title track 'Stand Up' opens the album quite well with a rousing anthem about us looking forward '…with history behind us, and destiny before us, every heart is bowed down…' With a message of us moving forward in Christ as we boldly stand up to declare and proclaim His name, Luke invites us to use this melody as a vertical worship tool at church and as a reminder for us to take a stand for the things that matter in our own lives and not settle for the status quo. Moving into 'Love Like This', a keyboard prominent melody with gang vocals that reminds us musically of something Delirious? or Martin Smith would do (in fact, just replace Luke with Martin's voice, and the song will fit quite well within the songs on either GGDF Step 01 or Step 02); Luke brings us into an upbeat moment of clarity, and that as we declare this melody in both a corporate and individual sense, we can rest assured that the love that Christ has given us is nothing like no other. The stirring truth that we've '…never known a love like this…' is something for us to hold onto regardless of our own circumstances. 'Awesome is He' is a great melody to sing and reminds me, both in voice and music, of something that would definitely fit on Aaron Shust's latest album Morning Rises, and while Luke may not try to sound like Aaron in this melody, he does (and that's a great compliment). A message of lifting God high and declaring about how awesome He is; I'm sure this melody will become a fan favourite in worship services, not only in Britain, but around the world as the months progress. With light electric guitars and a powerful gang vocal to create an anthemic atmosphere; Luke's emotion and intense enthusiasm attached to this song is what makes me relate to it, as well as its simple yet equally profound truth that '…our God, awesome is He, and He reigns, with power and sovereignty…'
Add in the live cuts of Worship Central's 'Now is the Time for Us' and 'Our Generation', each reminding us of how it is in this time where we stand up for the generation of believers as we declare our allegiance to God and His purposes for us; Luke's enthusiastic passion is just as evident live as it is in the studio. While 'Now is the Time for Us' may not necessarily build up musically as other melodies on the 9 track album, the lyrics however are just as powerful, delivering to us a sense of urgency in terms of our own decision-making in our lives as we rely on God for His leading. The electronic music of 'Our Generation' is a nice touch, with the message continuing in urgency as Luke declares the necessary fact that we ought to evangelise in love to our own generation of young people who may not necessarily know the love of Christ in their lives. With these two songs giving us great motivation as the album finishes on a great note; Luke ought to be commended for these two melodies, enhancing the album's effect as Stand Up becomes one of my favourite albums done by a British artist within the last half of 2013!
Overall: Luke's newest EP is something great for the church to get hold of, with melodies like 'Stand Up, 'Spirit Break Out' and 'Awesome is He' highlighting the album as a whole. While Luke's music may not necessarily be the most well-known out there right now, Stand Up is sure to give him a few more fans and much more exposure in the CCM/worship market. A great purchase if you enjoy artists like Tim Hughes, Bluetree or Matt Redman; Luke's introduction into solo worship music is just as enjoyable and exciting as artists like All Sons and Daughters and Bluetree when they were starting out in 2011 and 2007 respectively. Powerful and enthusiastic, this is certainly going to be one of my favourite worship albums of the year, and certainly one of the artists to keep an eye out for in further years, particularly within the worship circle. Well done Luke for such a compelling and enjoyable album!
RIYL: Tim Hughes, Matt Redman, Bluetree, Rend Collective Experiment
Buy the Album: iTunes/Amazon mp3