Album Review :
Jonathan Thulin - Dead Come To Life (Music Video Review)
By Jonathan Andre in Reviews | Comments closed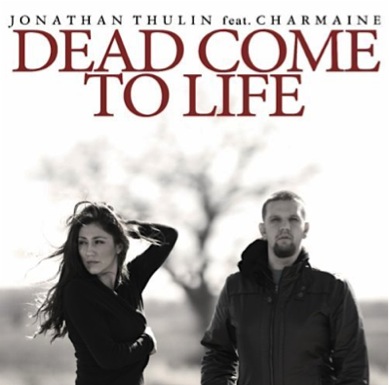 Artist: Jonathan Thulin
Title: Dead Come To Life
Label: Dream Records
Release Date: 6/10/13
Reviewer: Jonathan Andre
Born in Sweden and known for his creative approach to Christian music that involves music recordings reminiscent of movie scores or something done for the theatre, Jonathan Thulin's ingeniousness through both his solo albums The Anatomy of a Heartflow and The White Room has led me to assert my intrigue for his music, with The White Room being one of my favourite albums of 2012. Incorporating strings and electronic keyboard sounds in a vast number of musical offerings, we are invited to experience something unique, different and uplifting each time we hear a song of his. Recently releasing his music video for his 2012 radio single 'Bombs Away' in January 2013, Jonathan's ability to tell a story with a music video rather than present something bland like many other music videos released, is something that I think sets apart Jonathan from even the other Christian artists that release music videos each year. Whether it's shooting a video in a room, or live on tour, or even walking around town, music videos built around these concepts can sometimes seem a little tired and uninteresting after a while, yet this is not the case with both Jonathan's music videos 'Babylon' (released in 2011) and 'Bombs Away' (featuring Rachael Lampa). Now releasing his new music video on the 10th June for his current radio single 'Dead Come to Life' (featuring Australian singer/songwriter Charmaine); we are met again with other story to see as Jonathan provides us with a visual journey like no other in the 9 minute track full of intense lyrical motifs and imagery.
Arguably one of my favourite music videos of the year so far; this is my first review of a music video, and while Indievisionmusic doesn't do reviews of music videos (I don't think any music review site reviews videos from my memory), watching this video that's on the brink of cinematic quality confirms my initial thoughts of again something awesome from Jonathan. As I received a pre-release of the video a few days ago and a request for it to be considered for review; I decided to give this a go, provided that the site gave me the go-ahead. As I watched, reflected, contemplated and let the music and story weave together throughout the entire 9 minutes, both Jonathan and Charmaine's singing and acting ability marvelled myself, and I decided to proceed with the review, and not pass an opportunity like this up.
With the song by itself reminding myself about the story of Ezekiel in the valley of the dry bones and how Christ breathes life within us, Jonathan brings the song to life as we hear a keyboard introduction, light percussion and electronics to present to us a mood of expectancy and intrigue as the uniquely different combination of instruments are able to collide into an interesting musical backdrop for the 9 minute long short film. Jonathan reminds listeners of an inward duel, a tug-of-war if you will, and as Jonathan introduces himself as '…the living dead…' we are reminded of the moments in our own lives where we can feel like less than fully alive. As we understand through this melody that God wants to revive our bones that we can sometimes call dry, weary, tired, lonely and worn, the song presents an outlet for discussion towards the issues of life and death, and God giving it to us freely through His greatest sacrifice. Giving a sense of hope as we ask God to breathe the life back into us that we once had, this resurrection-type song in a spiritual sense was a perfect choice for the music video makeover.
While I don't want to give away any spoilers for the music video, I must say that I do love that Jonathan always tells a story with a moral message through his music videos, rather than playing somewhere for the duration of the audio track, something unimaginative that many artists often succumb to when creating a music video. With animation and narration, Jonathan describes the gospel message in a unique way by delivering a story simultaneously set during an era where I think it could be the 1950s (they even are dressed in costumes from that time period), as well as them placed in a garden-of-eden situation, reminding listeners as they watch the trailer for the video about how Adam and Eve disobeyed God during that moment when sin entered the world. The lighting, costumes, scenery, and parts of the video that were shot in black and white have all been done quite nicely, with Jonathan's older brother David Thulin and Luke Neumann both in charge of creating this masterpiece of epic proportions. As the song is played over the acting by Charmaine and Jonathan in both the 1950s era and the garden situation, it is their great projection of body language that becomes a great highlight of the music video. Like with all of his videos, Jonathan tries to convey our desperate need for God, and the choice we have to either accept Him or turn and live our own life with our warped sense of success and happiness. 'Dead Come to Life' is no exception, and as Jonathan tries to convey a similar message to the viewers of the video, I am amazed at how everything seems to fit together, the animation, the narration, and the juxtapositioning of the characters Charmaine and Jonathan play (let's just say one character is humble and the other is proud without spoiling anything else!).
A relatable song as we realise through their acting and singing that God indeed brings us to life as we become fully immersed in His love and power flowing through us in the form of the Holy Spirit; this 2013 radio single is one of Jonathan's best songs and videos throughout his entire career. Together with the release of Stellar Kart's new video for 'All In (Apologise)' on the 4th June, this month is starting to become one of my favourite months of the year in terms of Christian music video debuts. Kudos to Jonathan, David and Charmaine for the whole music video production process. Hopefully this video will obtain a Dove Award nomination for Short Video of the Year at the 2014 Dove Awards!
Below are some behind the scenes photos of the video shoot, as well as the trailer for the video releasing Monday 10th June at noon EST on New Release Tuesday.