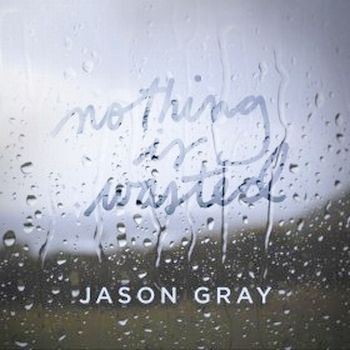 Artist: Jason Gray
Title: Nothing Is Wasted EP
Label: Centricity Music
Release Date: 3/26/13
Reviewer: Jonathan Andre
Tracklisting:
Nothing is Wasted (Radio Mix)
Nothing is Wasted (Alternate)
The Angel of Your Presence
Love is Rebuilding
Before I've Done Anything
Since releasing Everything Sad is Coming Untrue in 2009 and A Way to See in the Dark in 2011, Jason Gray's poetic songwriting ability has been applauded by many listeners, other fellow artists, and critics from around the world as they marvel at how a stutterer in his speech can be so eloquent whenever he is behind a microphone. While he still has a stutter even when he speaks now, Jason's singing is almost flawless as he is able to give us great songs from 'I Am New' and 'More Like Falling in Love', to some newer tracks like 'Remind Me Who I Am', 'Good to Be Alive', 'The Sound of Our Breathing', and more recently, current radio single 'Nothing is Wasted'. Releasing a corresponding music video to Godtube on the same day his EP released to iTunes and Amazon during the last week in March 2013, Jason's latest work has enough to intrigue new listeners whilst at the same time giving listeners something familiar and interesting that has worked for many albums previously. Personally in the same songwriting calibre as Andrew Peterson and Nichole Nordeman, Jason's craft to poetically write about life, the human condition, and the relationships between the created and creator is brought to the fore, not just in Nothing is Wasted EP, but also throughout every album release throughout his musical career. Die-hard fans of Jason will definitely purchase this album via iTunes, and even though most, if not all of these songs are available as bonus tracks on A Way to See in The Dark: Deluxe Edition, it is nice to see an EP release that releases these songs separately from the 2011 album, giving listeners an option to purchase these songs if they haven't purchased the lengthen 20-track version of the 2011 critically and commercially acclaimed album of Jason's. With two versions of 'Nothing is Wasted' and a few other light acoustical melodies; this short, albeit heartfelt and emotional EP does enough to bring in new listeners while also leading long-time listeners in anticipation for Jason's new album later on during 2013!
'Nothing is Wasted' is Jason's current single on the radio right now. Listening to the song first on his 2011 album, we are given 2 great renditions on the EP, one with a piano and the other with some light looping percussion in the background. While many may not pick 'Nothing is Wasted' as a radio single for Jason- because who wants to promote a sombre song full of piano as a radio melody, a remix of sorts for the poetic melody presents to us a melody in the end that is certainly more radio friendly than it's original format. Despite which version you love to listen to (both the remix radio track and the piano only format are on Nothing is Wasted EP), the song gently reminds us (as well as Jason) that '…nothing is wasted, in the hands of our Redeemer…' Something that ought to be remembered within us that nothing cannot be used by Christ to shape us into the men and women He longs for us to be; Jason's heartfelt passion evident throughout not only this song, but the remainder three on the album is infectious and inspiring. With much thought given to producing this radio single- with new musical arrangements rather than a radio edit version of a song artists normally release to radio stations around the country; producer Ben Shive (who also produced Bebo Norman's Lights of Distant Cities) ought to be commended for his hard work as we hear the underlying musical undertones of strings and percussion that place this radio mix of the song as one of my favourites from Jason since his other radio hit 'Good To Be Alive'. While the piano version of 'Nothing Is Wasted' gives listeners slightly different lyrics and show us the process of writing a song, from demo to completion; Jason still presents a vulnerability that's certainly brought to the fore during these first two songs that are able to set the EP mood of reflection and powerful emotion. Well done Jason for such an uplifting song that shows us that '…every broken piece is gathered in the heart of Jesus and what's lost will be found again…' ('Nothing is Wasted').
'Before I've Done Anything', 'Love is Rebuilding' and 'The Angel of Your Presence' are the remainder tracks on the EP and each of them carry a sense of poignancy amidst the light instrumentation each of these songs possess. 'The Angel of Your Presence' marries together acoustic guitars and synths to provide a heartfelt song of trust as we understand that God's presence '…quiets all our questions…' and comforts us during our hurt and our hopefulness of the future; while 'Before I've Done Anything' emphasises the grace freely given to us, and that before we've ever even done anything to deserve the free gift of grace, God freely gives it anyway. With light electronic sounds within the background of Jason's ethereal and ingeniously produced vocals, 'Before I've Done Anything' offers to us the most upbeat song on the EP. 'Love is Rebuilding' feels like another version of 'Nothing is Wasted' with the message of beauty found within all the rubble and hurt and shame that we can sometimes feel as God peels back and uses what has made us broken to build us up as he continually moulds us as we learn from our trials and circumstances. Despite having such similar theme to the opening track, it does provide a nice way to thread a theme through the album as we are presented with the hope that Christ uses all things for our good and His glory, and that '…from these remains, Your kingdom shall be raised, Your love is rebuilding us…' Presenting us with an acoustic, raw and at some moments seemingly unfinished atmosphere to the song, 'Love is Rebuilding' is perhaps one of my favourite songs, not only amongst the bonus tracks on A Way to See in the Dark, but also amongst these 5 songs as well. Well done Jason for such a hopeful song that gives us great comfort as we face the storms in our lives!
Overall: Nothing is Wasted EP is a nice addition to any Jason Gray music collection as we see Jason's vulnerability depicted through heartfelt acoustic tracks that remind us that nothing is wasted in God's sight. While this EP may not have the same popularity as other releases out during that day like albums from JJ Weeks, Shawn McDonald and The Advice; fans of both Jason Gray's earlier material, or fans of other singer-songwriters like Steven Curtis Chapman, Josh Wilson, Nichole Nordeman and Andrew Peterson will certainly jump at the chance to purchase these 5 tracks. As Jason continues to write for his new album later on during the year (or perhaps in 2014), this EP is enough to whet the musical appetite of long-time fans and newer fans alike as we hear some of the most personal and poignant melodies released during 2013 so far. Well done Jason for these helpful songs that show us that '…when hope is more than you can bear and it's too hard to believe it could be true and your strength fails you half way there, you can lean on Me and I'll believe for you…' ('Nothing is Wasted')
RIYL: Josh Wilson, Steven Curtis Chapman, Andrew Peterson, Nichole Nordeman
Buy the Album: iTunes/Amazon mp3