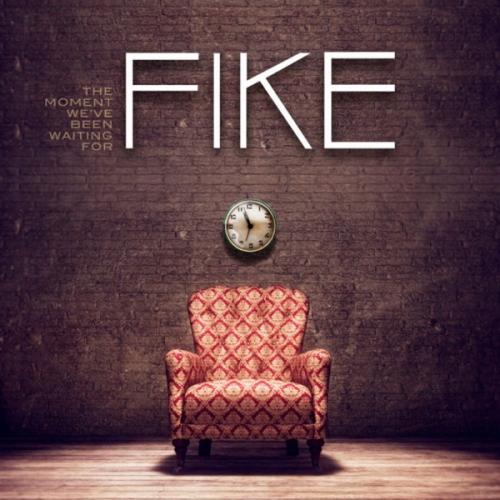 Artist: Fike
Title: The Moment We've Been Waiting For
Label: Integrity Music
Release Date: 4/10/12
Reviewer: Jonathan Andre
Tracklisting:
The Moment We've Been Waiting For
Grace
Jehovah
Wait
Song Of Sacrifice
Glorious You Are
Behold Our God
My Saviour Lord
In This House
Be Still
Outshout The Lies
Chosen
That's Why I Praise
Integrity Music's newest signing is husband and wife duo, Dana and Richie Fike, worship pastors out of Colorado Springs and penning songs for The Katinas, Dara MacLean and Phillips, Craig and Dean. As I listened to the album, I was pleasantly surprised at how easily I could sing along and worship, with simple yet powerful melodies encompassing most of the album. The musical style is different to most other worship albums, with an infusion of folk, pop rock and acoustic, similar to that of All Sons and Daughters, Bebo Norman or even the mainstream John Mayer. As their debut project released in early April produced by Brent Milligan (Steven Curtis Chapman, Seventh Day Slumber) and Paul Mabury (Brandon Heath, One Sonic Society), I am certain that this newest worship duo will make an impact in the Christian worship music industry. Fike has released 13 songs of prayer, honesty, excitement, hope, and joy. It is only a matter of time before these songs are launched into the corporate worship setting, and I can't wait to be one of the first people to start singing along!
Fike's first radio single, 'Wait', is a song that incorporates an acoustic pop setting into a subject matter about waiting upon the Lord, asking for His direction and to not be afraid to just wait for His voice to direct us to where He wants us to head, physically, but also spiritually too. There is a line within the first verse that is a real eye opener, that sometimes '…It never goes like I thought it should…' There have been times in my life, and perhaps yours, that certain things don't go to plan. In fact, the Lord can sometimes surprise us and say, 'Just wait, I have something better for you around the corner!' Whenever that happens, we should understand that God has our best interests at heart, and even though we may not understand the full picture, we know '…the Lord is good…' and will always use situations to build up our character and make us into the people that He wants us to be. Infusing a rhythm folk genre within the song in a similar style to artist John Mayer, this song is one of the highlights from the album. Similarly, 'Be Still' is the companion to 'Wait'. In order for us to know when to wait and when to pursue an opportunity; we first need to know how to hear God's voice. Over the musical arrangement of acoustics and rising percussion; Richie and Dana sing out, '…I will be still and know You are God…' When we are still and quiet, without any distractions, we can just ask the Lord to come fill our hearts, and speak to us what He wants us to hear.
'Outshout the Lies', a song originally recorded by tween pop band 'Mission Six', is strong theologically with dynamic guitars and energetic vocals. As Richie sings the first line '…outshout the lies of the enemy…' we are introduced to the central theme, that what we have in Christ is more than anything that can be thrown at us by Satan. We have the power of the living God inside of us, and what the enemy has will not stand against the King of all Kings. I am reminded about how '…the Lord is the Spirit, and where the Spirit of the Lord is, there is freedom…' (2 Corinthians 3:17) and that when we are in Christ, there is freedom and hope. God can heal the wounds that we carry, and if there are any issues we they need to work through, we can, with His help.
Two songs, 'Grace', and 'Jehovah' are simple worship songs, but are yet profound in revelation at the same time. 'Grace' is an upbeat acoustic track with drums and percussion; speaking that it is grace that sets us free, that we didn't have to do anything for us to be forgiven for our sins. God's grace found us when we needed it, and we are shown that '…All the shame I deserved, You removed it from me…You replaced with glory…' God is everything to us, and the end tag line '…where would I be without You Lord…' is reflective of this; that without the Lord's grace and compassion, we would be lost at sea forever, drowning with no way out. 'Jehovah' is a track from the Katina's 2011 Collage album. This song is a statement of who God is, His character, and the lengths that He went to draw us to Him. God is Jehovah, '…Jireh, provider! Healer, redeemer! Lamb of God who walked this Earth, master and maker! Death-overtaker! God who's come to rescue us…' With these lines terrifically sung by Dana, the song crescendos into an anthem that can be sung in the church, as we corporately join and worship the King of Kings with all that we have. We know who God is, that He is exalted above all other. This song declares these truths, and as I sing along to this track, I am confident this song will be the second radio single.
Throughout the rest of the album, both Richie and Dana's vocals shine as they powerfully proclaim the songs that mean the most to them. The title track incorporates electronic keyboards with vibrant guitars as Dana sings about the second coming, '…we will wait until that reckoning day when all the world will know who You are…' An exciting song to listen to, I can't help but anticipate the return of Christ when we will finally be going home to spend eternity with Christ. 'Song of Sacrifice' is an acoustic bluegrass track where Richie puts on his 'Robbie Seay' hat, and sings about how we are not our own that all we have is His alone, and our response should be nothing less that gratitude and sacrifice as we offer our lives to be an act of worship wherever we are.
'Glorious You Are' is a heavy piano track where Dana shows the Lord her heart, proclaiming that God is '…Glorious, You are holy, beautiful beyond knowing, You can have my heart, You are worthy…' This is worship at its best, singing a song that doesn't reflect about what we have accomplished or our struggles, our failures and hopes, but rather, a song about who He is. 'In This House' is a anthemic declaration full of guitars and strings; giving us insight that whenever we pursue the presence of God and ask for Him to take control of every part of our lives, our lives are transformed, that '…In this house, there is freedom…we are safe…' The last track is 'That's Why I Praise', and as Richie sings in the unforgettable Newsong style, I am thankful for all the great things the Lord has done, personally in my life but also in my family too. This is why we praise Jesus, because of what He has done, not by what we can do. He is worthy of our praise, and this song is a good reminder.
Overall: As Dana sings in 'Chosen' '…I am chosen! All my chains are broken…'; I can testify that God has broken everybody's chains. This album is a collection of songs of gratitude, thankfulness that a God who made the universe, but also loves us enough to be sent as the Son of Man to die in our place. With the infusion of country, acoustic, soft ballads and bluegrass; this unique duo's debut album will make waves in the Christian music industry, with their reflective melodies and heartfelt lyrics. If you're a fan of All Sons and Daughters, Robbie Seay Band or Bebo Norman; then this album's for you!
RIYL: Bebo Norman, Robbie Seay Band, All Sons and Daughters, Addison Road
Buy the Album: iTunes/Amazon mp3