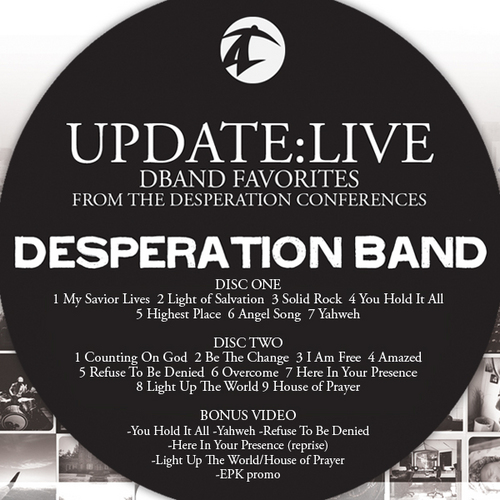 Artist: Desperation Band
Title: Update:Live
Label: independent
Release Date: 10/25/11
Reviewer: Jonathan Andre
Tracklisting:
My Saviour Lives
Light of Salvation
Solid Rock
You Hold It All
Highest Place
Angel Song
Yahweh
Counting on God
Be the Change
I Am Free
Amazed
Refuse to Be Denied
Overcome
Here in Your Presence
Light Up the World
House of Prayer
'I Am Free' is perhaps one of my favourite songs of all time. Initially heard on Newsboys 2006 album GO, the song struck to the chord at what it means to be free, and how God sets our hearts to choose whether we want to spend our days swept up in the stories of ourselves or abandon ourselves to the bigger never-ending story of God, and His ultimate plan of glory, praise and adoration as we are collided with the reality of His sacrifice for humankind. Desperation Band, who originally wrote 'I Am Free' (and also writing other chart-topping songs like 'Overcome', 'Light Up the World' and 'Here In Your Presence'), released their live 2CD album last October 2011 featuring many of their well-loved melodies, and as I listened to the energetic passion, raw emotion, and heartfelt conviction of lead singer Jon Egan, I can boldly state that Desperation Band is one of my favourite worship movement of the modern era, along with Jesus Culture and Passion. Filled with high intense rock-infused anthems like 'Solid Rock', to the hopeful piano driven prayers like 'Refuse to be Denied', the band from Colorado Springs have crafted 16 live moments of worship, easily translated into one of the best live worship experiences since Michael W. Smith's A New Hallelujah back in 2008!
From the first time listening to ex-Newsboys' frontman Peter Furler sing out the vocals '…I am free to run, I am free to dance, I am free to live for You, I am free…' to lead singer Jon Egan proclaiming the lyrics of hope and freedom against the energetic crowd on Update:Live; 'I Am Free' has always impressed with it's simple yet profoundly impacting message as listeners from around the world are able to throw down their shackles and jump to the knowledge of being unchained and set free from the prison that is our sin. Refreshing and encouraging, emotional and heartfelt, 'I Am Free' manages to squeeze in a mini-sermon, as Jon cries out '…you know, the cross, the blood of Jesus, it's a completed work! It was not unfinished, it was finished! Freedom was purchased at the cross, so no more fear, no more sickness, and no more shame, no more addiction in Jesus name…' Reminding us that we don't have to carry the chains that God broke off of us through the cross and the empty grave, we are given timely permission to lay down everything holding us back from trusting God fully with our lives. Filled with plenty of guitars and electronics, this anthem has been one of Desperation Band's most enjoyable and uplifting songs, and one of my favourite worship songs of all time, just behind Chris Tomlin's 'How Great is Our God'. Thank you Jon and the team for creating such a worshipful gem!
I'm sure that even though you may not have heard Desperation Band, their songs have made a definite impact around the globe as millions of listeners worship individually and corporately, singing praises to God. 'Overcome', recently covered by Jeremy Camp on his album, The Worship Project, is one fantastic highlight, as lead singer Jon creates a worship moment through the tag '…we will overcome, by the blood of the Lamb and the word of our testimony, everyone overcome…', profoundly impacting myself as I start to listen to one of my favourite worship songs of late. With a live raw setting complete with the crowd and strong guitars, an atmosphere of selflessness and abandon is created as Jon cries out '…awesome and great is Your name, You overcame…' 'Light Up the World', radio single from their 2009 album, packs plenty of energy into this anthem with a great amount of pedal distortions, drum kicks and powerful vocals as emotions are stirred within the congregation. One of my favourite melodies from the band, 'Light Up the World' encourages us to be the hands and feet of Christ as we minister to those around us. Also from Light Up the World is 'Angel Song', powerful musically as listeners soak in the knowledge that even the angels cry out to the Lord, praising Him day and night singing '…Holy, holy is the Lord…' Both 'Solid Rock' and 'Counting on God' portray that Christ is the firm foundation of our souls as we live our lives with spiritual principalities waging war against each other. As each song declares that '…I never have to worry what tomorrow will bring, cause my faith is on solid rock; I am counting on God…' ('Counting on God') and that '…I will stand on the solid rock, I believe if I feel it or not…' ('The Solid Rock'), we are led into the assurance that reliance on God will never steer us wrong. And what better way to proclaim this than amidst electric guitars and plenty of crowd participation?
'Light Of Salvation' is the Desperation Band of Matt Redman's 'Dancing Generation': the product of truly believing into the gospel message that the '…old has turned to something new and beautiful, broken dreams are coming true…' Filled with plenty of rocking beats to let the listener leap to their feet as they dance before Jesus, I can't help but smile and dance for joy, along with Jon and the crowd. 'Be the Change' maintains the same intensity with songs before as Jon gives a stirring proclamation with strong guitars and drums as witnesses, urging listeners to stand for God's cause, and be the change the world is yearning and longing for. Reflective and inspiring, listeners cannot help but do something after listening, showing the world that '…we'll be His hands and be His feet…' 'You Hold it All' is a moving realisation that God holds everything together. With a strong drum beat and underlying dj mixing, Jon gives us encouragement that '…You hold it all together, You hold it all forever, You hold it all, You started it all, You are my all in all…'; leading everyone to join in as we proclaim that Christ is the centre, the start and the end, a theme explored further in 'Highest Place'. As worship leader Bekah Wagner cries out amongst the strings and soft piano '…You are in the highest place, You are in the falling rain, You are in the mountain peaks and valleys speak wonders of Your name…'; we are given solace that God is with us always, providing hope even in the hopeless situations as we stand in confidence that God is never far away. At times sounding like Hillsong worship leader Brooke Fraser, Bekah gives an emotive worshipful experience, worthy of hitting the 'repeat' button again and again!
'Amazed', 'Yahweh', 'Refuse to be Denied' and 'Here in Your Presence' combined are just under an hour in length, and are certainly more than enough for a full worship experience as the Holy Spirit invades in each of these songs, to create powerful moments worthy of listening to numerous times as listeners come into a special place of abandonment before the Lord! 'Amazed', originally covered by Lincoln Brewster, gives a riveting affirmation that '…Lord I'm amazed by You…' and how we are in awe at who God is, and what He has done for us to be connected back to Him again. Complete with a rousing instrumental bridge leading into the ending tag of Delirious?' 'Obsession' '…and my heart burns for You…' flows nicely from structured to free worship, allowing listeners to be caught up in wonder. Another song that gives this emotive response is the Kari Jobe led 'Yahweh', unveiling her heart as she asserts to the Lord that He is '…Yahweh, faithful God, You're here to stay…forever and always the same…' Tracking in at 16 minutes, Kari inserts a mini-sermon within, as she empowers listeners in the congregation, myself included; to surrender fully in worship to Christ; proclaiming His eternal and matchless worth. 'Refuse to Be Denied' is a piano melody slowly building into an anthem full of heart, emotion, proclamation and declaration as guitars and drums start to praise the Father in a rousing instrumental, full of listeners turned towards Christ as they cry out the words '…I'm coming after You…'. One of the most simple lyrical choruses can be the most profound, and together with these musical arrangements, 'Refuse to Be Denied' is one of them most thematically rich as we are swept in amazement for a God who has changed our lives forever! Lastly is 'Here in Your Presence', my favourite song off the album. At 13:39, Jon gives one of the most comforting and confrontational speeches about worship, that '…everyday we have a choice, what will get out attention, what will hold us? We will worship something, will we worship an emotion…a feeling…man? Let's make the choice, worship Jesus! We are not here to impress…entertain…to make noise, we are here…to lead people to Christ…' As we consciously make our decision to follow Christ, we can fully let go of everything that doesn't matter so to proclaim '…wonderful, beautiful, glorious, matchless in every way…'; one of the most powerful worship tags that has captured the congregation and listeners around the globe as Jon leads the worshippers in a stirring tag lasting for 3-4 minutes towards the end of the track, together with a riveting guitar solo, complete with a lack of words from Jon as everyone stands in awe of the God who takes our breath away! Well done Jon for one of my favourite worship songs that doesn't need many words to pierce the heart!
Overall: Desperation Band are on the same vein as Passion as one of my favourite worship bands/movements of the modern CCM/worship era. With plenty of emotional hart-hitting songs like 'Overcome', 'Here in Your Presence', 'Amazed' and of course 'I Am Free'; everyone should stop reading this right now and go ahead and purchase the album, from their shop on their website! Full of Holy Spirit moments, this 2-CD collection of greatest hits gives listeners a yearning to press into the presence of God as we immerse ourselves in God's unending love for His creation! Congratulations Jon for creating such a wonderful album, and one of my favourite live worship albums of 2011!
RIYL: Passion, Jesus Culture, Hillsong, Paul Baloche
Buy the Album: website