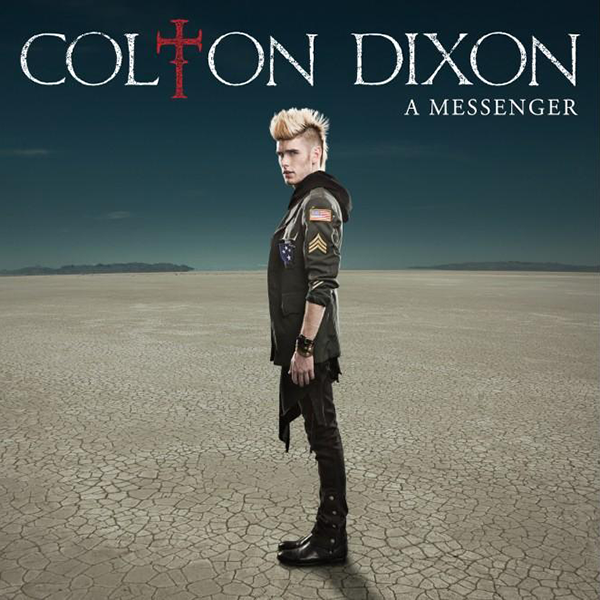 Artist: Colton Dixon
Title: A Messenger
Label: Sparrow Records
Release Date: 1/29/13
Reviewer: Jonathan Andre
Tracklisting:
Intro
Noise
I'll Be the Light
Never Gone
You Are
Love Has Come For Me
Scars
Rise
Where My Heart Goes
This is Who I Am
In and Out of Time
Let Them See You
Wake Up (Bonus Track)
Finishing 7th on the 2012 season of American Idol, Colton Dixon's rise from pop star during the American Idol weeks to a CCM artist has resulted in his debut project, releasing next week under the title of A Messenger. Signing to Sparrow Records towards the last half of 2012, it was his faith during the show that led many of his fans and critics alike to both respect and question his motives when he announced he was moving into the Christian music scene after the American Idol season finished (with many of his fans and supporters thinking he was going to play in the pop/rock circuit). Despite what many may see as a limiting career choice, Colton continues to remind everyone of his first and foremost priority through his music, and that it '…was definitely a blessing that I didn't win. I would have found a way, had I won, to maybe not be as lyrically pinpointing about my religion, but it would still have the same message; you would've just had to a dig a little deeper or whatever…' Regardless of what the press, fans or even media may say about Colton or his music, A Messenger reminds us all of our goal in life- to show Christ's love to everyone we meet in a way that draws them closer to Him rather than indirectly distancing them from Him instead. Releasing promotional single 'Never Gone' and first single 'You Are' late last year, it is his work with many artists since his exit from Idol (from Lifehouse lead singer Jason Wade to Third Day frontman Mac Powell, Brandon Heath and Tricia Brock from Superchick) that has led a great anticipation for A Messenger, and though none of Colton's co-writes with these artists made it onto the record, the finished product is still destined to be a great highlight of January 2013. From the emotive 'Scars' to the piano driven 'I'll Be the Light'; listeners in both the Christian and mainstream circles are sure to give some interest into an album that is as bold as it is subtle, confronting as it is comforting, helping listeners and healing them along the way as we collectively declare that '…if I had no voice, if I had no tongue, I would dance for You, like the rising sun…' ('You Are').
Both 'Never Gone' and 'You Are' were released in 2012 to iTunes and other digital retailers, with each of these songs portraying a different side to Colton musically, with 'You Are' primarily a ballad and 'Never Gone' a rock anthem. Nevertheless, both these songs still convey the same truth- that God is with us because He is our Saviour, our life; giver and sustainer. Starting off 'You Are' with a keyboard riff, we are met with one of the most vulnerable songs on the album. Written with good friends Jared Martin and Rhyan Shirley, Colton's motivation for this song was two-fold- creating a worship melody that expresses the praise that we have for our Father; as well as a more poignant and personal motivation- '…the other reason was I had another friend who was contemplating suicide at one point, and he needed something to get out of that slump and get his life back on track. He was in the back of our minds when we wrote this song…' Reading this quote from Colton has led me to respect both the song and the lyrical content even more, keeping in mind the fragile inspiration the song draws upon. Listening to the simple yet equally profound words '…You are the song; You are the song I'm singing. You are the air; You are the air I'm breathing…' I am personally reassured that my faith is firm in the life-giver and maker of everything, yet also one who's equally relatable and personable with everyone on the planet simultaneously. If 'You Are' is a comfort melody sung in the moments of both surety as well as difficulties, 'Never Gone' is a song from God's point of view, sung to us during the times when we may even question His very presence. As Colton reminds us that '…when believers, or even non-believers, question if God's there, remember He promised He would never leave…', a great rock anthem is shown before us with big drums beats and a rousing guitar solo with its melody reminiscent of the instrumental bridge in Delirious?'s 'Majesty'. Both these singles show us the truth of God never leaving us during times of trouble, and it is often never enough and always needed for us to hear this poignant message. Well done Colton for some of my favourite songs on A Messenger.
With a variety of musical styles on A Messenger, the message throughout each of the songs (whether it is the ballad 'Scars', the piano only 'Let Them See You' or the musically busy 'Noise') is very loud and clear, with Colton longing to portray a record that speaks to both the seeking and the certain, the believer and the one who is longing and hoping for something to believe in. Immediately from the first piano riff, 'I'll Be the Light' is destined to become a radio single at some point, with the song presented from God's point of view as He speaks about being the light for us in the moments when all we can see is our faithless selves in a point in time when faith and hope is much needed. A reassurance that '…I'll be the light when there's nothing but night, till now you've had to feel your way through the honest lies of yesterday…'; Christ continuously shows us His faithfulness, 'showing up' in the moments and places where we may not even think He can. Full of intense enthusiasm and poetic imagery, this is a song that ought to resonate with many listeners around the world, comforting as we are shown that Christ is always a prayer away if we ever need Him. 'Let Them See You' is another poetically poignant song, and though it is the only cover sung on A Messenger (written by Third Day keyboardist Scotty Wilbanks and JJ Weeks), this piano only song clearly shows us a vulnerability in Colton's singing that reminds us of the urgency of wanting Christ to be seen through us, as we live out each day in hope that whenever our friends look at us, they can see the Father. On a personal note, Colton explains that '…if you take away all the lights, all the special effects, and strip everything down, at the end of the day I only see God. God is greater and bigger than me…' Though it can take some time getting used to a piano only melody (normally my preference would be to listen to anthemic ballads and pop songs with much more instrumentation); this album closer (if you don't include the iTunes bonus track in 'Wake Up') is one of the album's great highlights. Well done Colton for these two powerful melodies.
Though only 21, Colton's art of writing is just as poignant and poetic as many other seasoned veterans. The busy and often distracting 'Noise' leads to convey a message of hope even through the chaos, peace in the middle of struggle and healing in the middle of hurt, as Colton uses various instruments and a car alarm technique that reminds us of how God is in the midst of the noise, calling us in a still small voice that can only be heard when we rest in Him and drown out the noise of our lives. 'Rise', though originally going to be a bonus track on the record, was inserted straight into the album track list and has a similar theme to 'Noise', providing hope to the people that need personal encouragement. Starting with a piano, this Coldplay and OneRepublic influenced song has Colton singing to a persona (possibly a friend), urging them to rise above the problems they are facing. Easier said than done, we all know that with the help of Christ, rising above our problems won't be as difficult as we think. 'This is Who I Am' is a striking anthem of identity full of anthemic moments and great guitar melodies, with Colton declaring his intentions of not wanting to change just because the world urges him to; and 'Love Has Come For Me' expounds upon the theme drawn upon in 'This is Who I Am', showing listeners that it is Christ's love that envelops us, urging us to stop trying to control everything in life and to just rest at His feet in worship and adoration. The synth and bass that start up the song then create a dance pop melody that speaks volumes to people who may need a reminder of how nothing can separate us from God's love. 'Where My Heart Goes' continues on with the theme of identity in Christ with an electronic prominent emphasis as Colton declares that '…I want You to be where my heart goes…', a statement that in every trial or unforseen circumstance, our confidence and trust ought to be in Christ, knowing that every situation works to His glory and our good. Also providing another message, it is in our hearts that our treasure lies too; and the time that we spend reflects who or what we worship. This song speaks of how, as believers, our priority ought to be with Christ- anything less needs wisdom, counsel and inward change. Well done Colton for discussing these identity themed songs through the album A Messenger.
Overall: With poetic melodies and songwriting skills beyond his years, Colton's Sparrow Records debut is bound to receive both praise and backlash in both musical industries. Nevertheless, Colton's album is certainly filled with plenty 'seeker-friendly' songs as well as great worship melodies fit to be played in a variety of churches both now and into the future. One of the most poignant songs on the album, 'Scars', sums up the motivation for the album, and in a similar way to how singer/songwriter Matthew West asked fans to submit their stories so that he could write songs based upon them, '…'Scars' actually came from some of my fans' testimonies…my favorite line is: 'Scars remind us who we are.' It's a map of where we've been in life; you can look at a scar and it immediately takes you back to what happened to create that. And at the end of the song…it says, 'God, your scars remind us who we are.'…' From this song alone, Colton has shown us the Father's heart, teaching us that as a result of Christ's sacrifice, we can't help but to be a messenger for Him. A perfect purchase for someone who loves the music of pop-rock artists like The Afters, Sanctus Real or Kutless; and with Colton being tipped to be nominated for the 2014 Dove Awards as New Artist, this January 29th release is certain to become one of Christian music industry's most popular albums released in January, or maybe even the whole year. Well done Colton for such an enjoyable and encouraging album!
RIYL: Sanctus Real, The Afters, Matthew West, Kutless
Buy the Album: iTunes/Amazon mp3