Album Review :
Audio Adrenaline - Big House To Ocean Floor
By Jonathan Andre in Reviews | Comments closed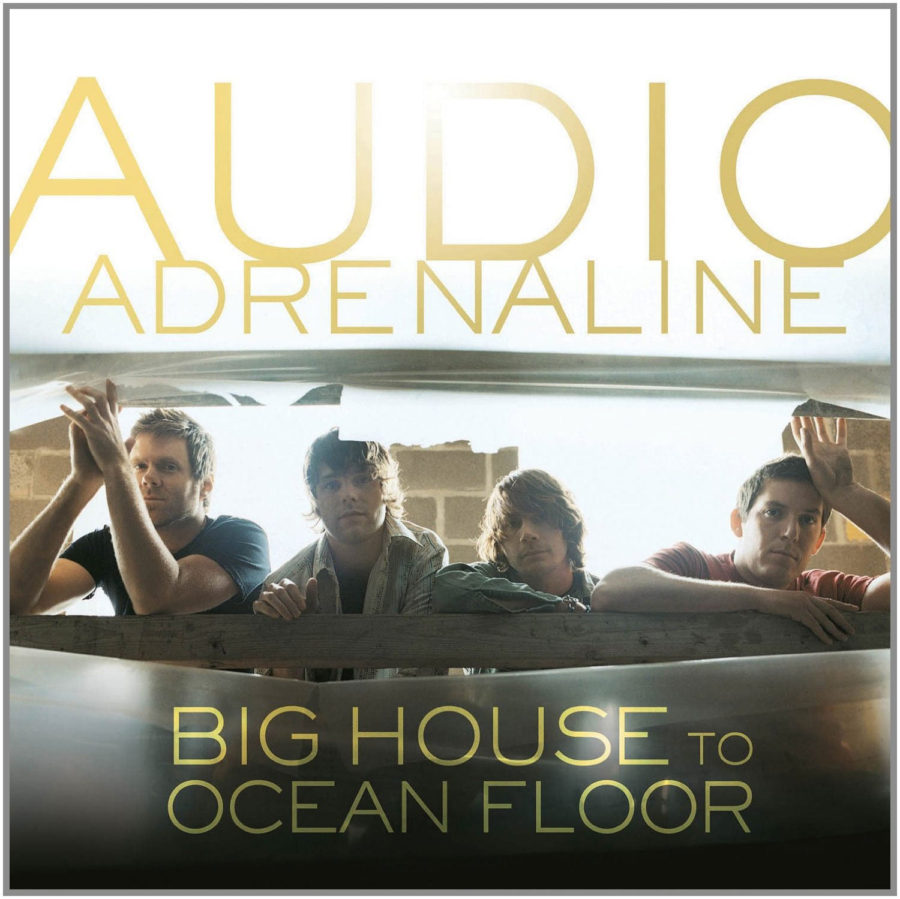 Artist: Audio Adrenaline
Title: Big House To Ocean Floor
Label: Forefront Records
Release Date: 6/4/13
Reviewer: Jonathan Andre
Tracklisting:
Big House
Get Down
Hands and Feet
We're a Band
Underdog
Never Gonna Be As Big As Jesus
Leaving 99
King
Clap Your Hands
Mighty Good Leader
Pierced
Chevette
Some Kind of Zombie
Beautiful
Man of God
Ocean Floor
Audio Adrenaline's legacy throughout the 1990s and 2000s is one of the greatest, and together with Jars of Clay, Delirious?, dc Talk and Rebecca St. James; were able to give listeners around the world quality music full of hopeful inspirations and heartfelt melodies full of encouragement, conviction, declaration and sometimes even lament (especially 'Goodbye', a song written in 2007 that echoed the departure of Audio Adrenaline as we know it). Since their disbanding in 2007, Mark Stuart went on to found the Hands and Feet Project that takes care of Haitian orphans. His love for adoption and caring for the poor has only exemplified and exponentially increased since he adopted himself during the mid 2000s. While Audio Adrenaline is now back with a new lead singer (Kevin Max previously from dc Talk fame) and an album, Kings and Queens, released in 2013; many die-hard fans of Mark, Will, Tyler and the rest of the band may find it difficult to hear Kevin front a band that many have loved throughout their childhood and teenage years. Even though ex-lead singer Mark Stuart is still the chief songwriter in the band, the idea of Kevin's distinct voice singing 'Ocean Floor' or 'Big House' at one of the band's live concerts can seem quite the while getting used to. Nevertheless, I personally think the band reforming is a good thing, giving at least a chance for many listeners who may not have heard much of Audio Adrenaline when they were around (myself included), something to listen to, with intrigue setting in and hopefully, a chance to reminisce back and see what other material Audio Adrenaline have released.
This is where this posthumous album release comes into the frame. Released on Forefront Records (a label that could call themselves defunct in several years, if TobyMac decides to release his later albums on another label like Sparrow or Gotee Records), this album contains 16 of the band's greatest hits. While many listeners may have already bought or even streamed full albums previously (especially die-hard fans or listeners becoming die-hard fans as we speak), Big House to Ocean Floor is possibly for someone who has never really heard of the band before (who hasn't heard of Audio Adrenaline?), or someone who has never purchased any albums from the band and doesn't know where to start. Most of the band's radio charting hits are present on this album- 'Big House' speaks of a day when we can travel to our Father's big house, a metaphorical allegory for heaven and how as Christians, our journey there may come sooner than we can all think or anticipate; while the album closer 'Ocean Floor' gives us a stirring electric guitar driven anthem as both Mark Stuart and Tyler Burkum take turns in the verses and choruses reminding us that our sins have been washed away, down on the ocean floor. Songs like 'Get Down', 'Never Gonna Be as Big As Jesus', 'Pierced', 'Mighty Good Leader', 'Clap Your Hands' and 'Beautiful' are all seemingly great songs from AudioA and showcase strong vocals as Mark and Tyler present melodies full of uplifting and sometimes confronting themes and messages.
From the encouraging words of 'Get Down' where Mark lets us know that God lifts us up whenever we're feeling down or discouraged, to the Tyler led 'Pierced', which reminds us that Christ was pierced for us and our forgiveness comes with a price that we can't pay for ourselves; each of the band's songs on the album has something to say as we hear some of the band's most beloved, welcomed and respected hits that have spanned across the band's 20+ year music career. Some of my own personal favourite songs like 'Hands and Feet' (which speaks about the importance of being God's hands and feet in a broken world full of people in need for help and assistance) and 'King' (a worship song to exalt the King of Kings and Lord of Lords) are gladly placed on this 16 track seemingly best-of album, and while it's not perfect (not in song selection or song order), it does give us a solid representation of the lasting songs this version of Audio A have left behind since the departure of many of the band members since 2007. Bassist Will McGinniss is the only remaining member of the previous band lineup to participate in revival of Audio Adrenaline and its resurgence to be a formidable force in the CCM industry alongside bands like Newsboys, Tenth Avenue North, Third Day, MercyMe and Casting Crowns.
A problem with this album is that many listeners may have just purchased individual songs on iTunes, Amazon or would've just listened to the songs via Spotify or Grooveshark, and this album release, for me personally, is nothing more than a marketing tool, with no new material or no remastered, remixed, or digitally altered songs in the lineup, nor any representations from their latest album Kings and Queens (perhaps 'Kings and Queens', 'Believer' or even Kevin Max rerecording a new version of 'Get Down' or 'Ocean Floor' to be recorded in the studio). Unlike best-of albums from Carman (Anthems of a Champion) and David Crowder*Band (All This For a King) this year, this album, while great in content chosen from previous albums, can falter in terms of the amount of songs available on the album. Songs like 'Good Life', 'Until My Heart Caves In', 'Rejoice' and even 'Goodbye' were overlooked for this 16 song compilation, while with the new digital technologies available to stream music in today's society, it is a wonder why best-of albums even release, if not for the original and unique material found on the album that cannot be found anywhere else (which is certainly not true of this album). Despite my ramblings and issues with this album; it is nevertheless a must if you haven't purchased any material from the band, digital, physical or otherwise, and are lazy and don't want to trawl through past album releases and only want to listen to a greatest albums release (which I recommend you not to do, Audio Adrenaline is a band where you ought to purchase whole albums and not just listen to their best hits again and again).
Overall: Audio Adrenaline's legacy is beyond awesome, and their new 2013 album, in my personal opinion, is just as good as some of their greatest hits. 'Kings and Queens' and 'Believer' are just as good as some of my favourites 'Good Life', 'Ocean Floor' and 'Get Down', and I'm sure that if the band somehow does another greatest hits album in the future, with potentially some remixed tracks, (c'mon Capital Kings and David Thulin, please remix some awesome Audio Adrenaline for the next posthumous greatest hits album), live tracks, acoustic tracks or even some re-recorded studio tracks; then I'm sure listeners will be interested. In terms of this album, let me recommend checking out the songs on Spotify first, and then maybe purchasing whole albums or individual tracks instead of parting with around $10 for this album. While great in terms of songs, messages, and song selection, purchasing it is not worth it when you can purchase the same tracks on previous albums. Nevertheless, this is a great way to say that Audio Adrenaline is still part of the CCM industry even now, and that Mark Stuart's involvement in both the Hands and Feet Project and Audio Adrenaline is not to be forgotten. Well done Forefront Records in releasing this album. Now maybe they can sign a band (or individual artist) and soon, so that TobyMac is not the only representative on a label only famous currently at releasing albums from disbanded artists.
RIYL: dc Talk, Jars of Clay, Third Day, Delirious?
Buy the Album: iTunes/Amazon mp3