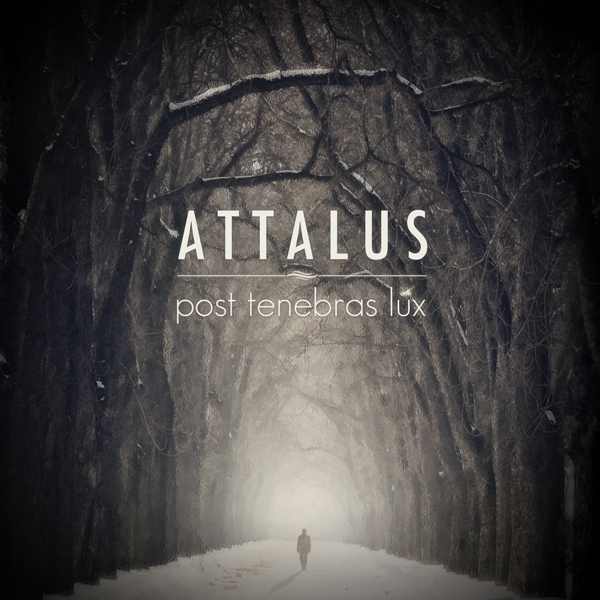 Band: Attalus (Facebook)
Title: Post Tenebras Lux
Label: Unsigned (Buy the album here though!)
Release Date: November 18th
Reviewer: Brody
Night
The Problem of Pain
Post Tenebras Lux
Faith and Reason
Shadows of Doubt
When I Loose My Way
One Defining Spark
At the Rubicon
A Country Road in Two Seasons
Let There Be Light
You know when you discover a  new band you think is amazing? You get that feeling of excitement that this new discovery is going to make massive changes to the music scene by providing something fresh and new and you can't keep your excitement to yourself. And so the mission begins to tell all of your friends about this great new find. Well my friends, Attalus is just that new band I have discovered.
"Post Tenebras Lux" is the first full length offering from Attalus, previously only having one EP. The five piece band from Raleigh, North Carolina is a band that is hard to describe. They are primarily an alternative rock band, but with heavy use of piano, in both ballads and full driving songs, guitar solos, tight bass, and precise drums, Attalus is a far cry from stereo-typical alt rock bands. Although most alt rock bands have similar musical set ups, it's the skill and quality of arrangement that separates Attalus from the pack. They are not a group to just scrape by the bare minimum of what is required of each instrument to make a decent sounding song. I feel as if each musician in the band writes their parts with fully fleshing out the song in mind. Another thing that strikes me as musically interesting with Attalus is that each song has it's own distinct feel. Some songs even border on sounding like completely different genres from others. For instance, Shadows of Doubt sounds like an upbeat, almost Abandon Kansas, rock song while One Defining Spark is reminiscent of a Dead Poetic song with keys.
As the the album title, "Post Tenebras Lux (translated from Latin to: Light After Darkness) suggests, lyrically the album deals a lot with times out disbelief, questioning, and depression. Although there is a large focus on dark themes, there is always hope within the songs, ending in a positive resolution. The Problem of Pain deals with subject matter, just like the C.S. Lewis book of the same title, about questioning why a God of love would put people through so much pain and misery. While the first verse of the song takes the thoughts of man and questions the goodness and strength of God, the second verse is supposed to be God's response in which He declares, "Pain is the place where I give you grace". When I Loose My Way is another touching song of grace depicting a conversation between a someone who has tried to outrun God and His powerful proclamation of, "Child, Oh child – I'm gonna reach you/ Even when you're too lost to pray; even when your faith slips away/ In the end I'm gonna meet You /Cause just when your feet fall out of line, and just when you think you're left behind I'm gonna leave the ninety-nine; I'll come and find you every time/ I changed your heart with just a word; I'll speak again to change your mind/ I wasn't scared to bear your hell, so I think I'll bear your doubts just fine".
To make a fanboy-ish statement, I love every song on this album. So I will best describe some of my favorites. Night, the album opener, starts off with some classical piano, only to be followed up by music I can only describe as "swing-esque", which then turns into a ridiculously catchy, driving chorus. And all of that is just within the first few moments of the album. Faith and Reason is an almost Relient K sounding piano driven punk pop sound. The song stays upbeat and toe tapping through out the whole length. Lastly, the song that had me saying, "What the heck?" multiple times throughout (in a good way) is A Country Road in Two Seasons. I was initially slightly disappointment with the first few seconds of the song because it seemed just like a slow piano ballad. That is, until the saxophone subtly emerges to compliment the solemn piano. From that point on I was sold. As the sax fades out, it is replaced by delicate tremolo picking on the guitar, soft background vocals, and in unison whistling. Eventually the song is filled in with the full band creating a massive and peaceful soundscape.
Overall: Attalus has created a freshman album that I provides me with excitement I don't believe I have felt since I first heard bands like As Cities Burn, Showbread, and He Is Legend. This is a band that I believe with my whole heart has the potential to go places and delight many people with original, heartfelt, and thought provoking music. I suggest that you all catch the wave and join Attalus for the long run with me.