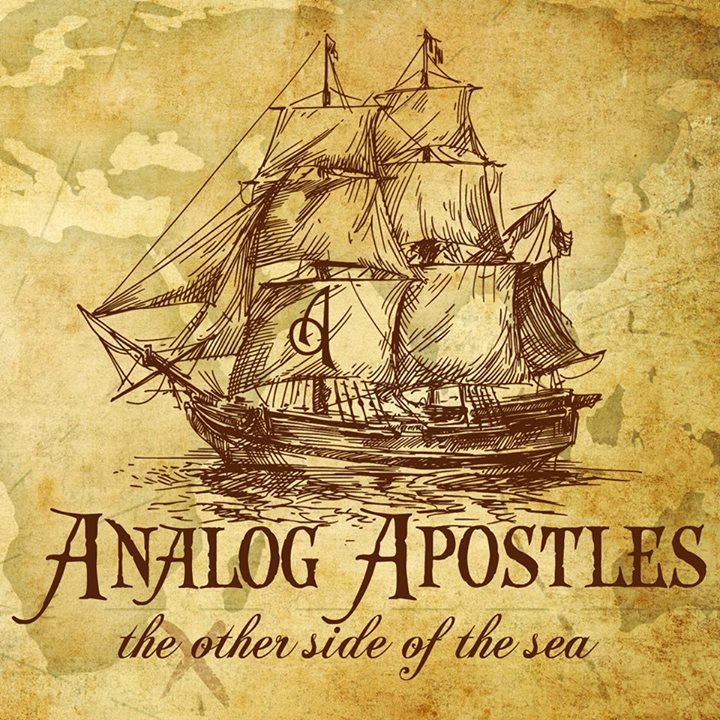 Artist: Analog Apostles
Title: The Other Side Of The Sea
Label: Independent
Release Date: 7/16/2013
Reviewer: Jeremiah Holdsworth
Buy The Album: CD / iTunes
Tracklisting:
1. Half Life Decay
2. We Made It Bitter, Not Better
3. Heart In My Hands
4. Split Ends
5. The Fortress
Analog Apostles are a fairly new band to the world of music.  Started by vocalist, guitarist, keyboardist Ben Riley in 2012, who later recruited Stuart Mackey for bass/vocals and Brandon Wood on drums.  Brandon tragically lost his life in an auto accident and Ben and Stuart stopped the band for months.  They later decided to continue and added Jeremy Wade on drums and Derek Price as a second guitarist and vocals.  Ben wanted to have a sound that drew from pop, to garage rock, with influences including The Beatles, U2, and The White Stripes.  I would add that the production follows in these footsteps, as it is raw, but not annoying.  It almost seems like the band tracked everything live at once and it feels warm and fresh.  They pull off a genre of post rock and adult alternative, blended with layers of electronics here and there.  It sounds strange, but it works.  I kept thinking I was listening to a cross of Hundred Year Storm, mixed with Barenaked Ladies, and sprinkled with Metavari over the top.
Lyrically, the songs seem to draw mostly from broken or failed relationships.  I could have easily related to a lot of these songs, in my late teens and early twenties.  They aren't cheesy or cliche, but full of poetic imagery.  Opener "Half Life Decay" has a chorus The Half Life Decays as the Silence begins, And in the end we'll sleep as friends, Losing all momentum at the finish line, Darling I love you but you're not mine. This could mean one thing to myself and one thing to someone else. That's the beauty of the depth here.  The lyrics are like this throughout the entire EP, but I feel they are best on closer "The Fortress".  The song is also the strongest on the album and one of my favorites of the year.  You can listen below.
Overall:  I thought this EP is a good start for the band.  Each song was different in its own respect and I enjoyed them all.  They didn't blow my mind musically except for "The Fortress", but I really think that would change with the right producer.  This is a good EP from a bunch of even greater guys.  I'm looking forward to what they come up with in the future.
RIYL:  The White Stripes, Hundred Year Storm, Edison Glass, Slow Day Coming, U2