Album Review :
All Sons and Daughters - All Sons and Daughters
By Jonathan Andre in Reviews | Comments closed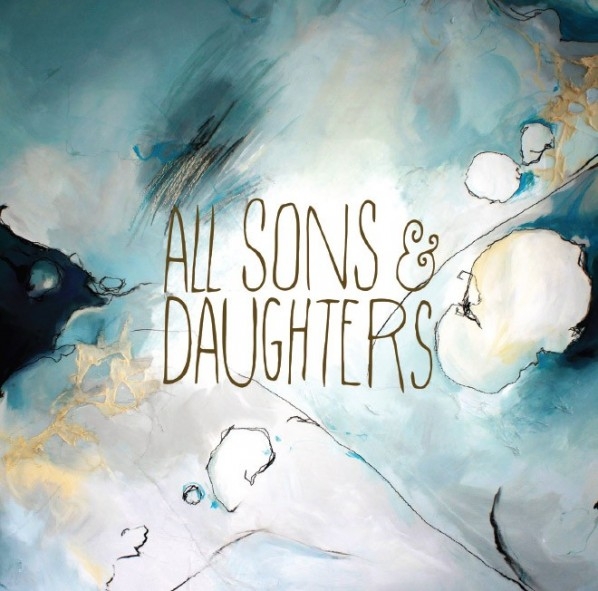 Artist: All Sons and Daughters
Title: All Sons and Daughters
Label: Integrity Music
Release Date: 5/6/14
Reviewer: Jonathan Andre
Tracklisting:
You Will Remain
Tonight
God With Us
Christ Be All Around Me
For Your Glory and My Good
King of Glory (You Restore My Soul)
The Victory
Great Are You Lord
Almighty God (feat. Sandra McCracken)
We Give You Thanks
More Than Anything
Folk music infused with worship and a bit of CCM. This is what makes up the genre of duo All Sons and Daughters, comprised of David Leonard (of Jackson Waters and needtobreathe fame) and Leslie Jordan. With the music of this unique group bridging the divide of accessible pop and the uniqueness of indie worship, both David and Leslie have given us great music ever since both of them played a part in the Know Hope Collective album til now. From hits songs like 'Spirit Speaks' and 'Sanctuary' that were some of the album standouts on Know Hope Collective, released in March 2011; this acoustic folk duo have poured out their hearts in every subsequent release, releasing a string of EPs leading up to their critically acclaimed album Season One in 2012. Releasing their live album in 2013 to critical and commercial acclaim, All Sons and Daughters continued to create great music amidst the backdrop of a live setting. Presenting songs like 'All the Poor and Powerless', Paul Baloche co-written 'Oh Our Lord' and recent hits like 'Oh How I Need You', 'Called Me Higher' and 'Hear the Sound' on an album which I thought was one the most emotive and poignant worship album releases of 2013; the duo are now back in 2014 with a brand new self-titled album. Giving us the same acoustic/folk/indie/worship musical backdrop that has been explored in their previous album releases, both David and Leslie make a powerful album worthy of my praise to place the album within my top 10 albums of 2014 so far. From standout songs like 'Tonight' (originally on Francesca Battistelli's album If We're Honest), 'Christ Be All Around Me' (on Michael W. Smith's Sovereign) and both 'Great Are You Lord' and 'God With Us' (both debuted on their live album), to other newly recorded tracks like 'You Will Remain' and 'King of Glory (You Restore My Soul)'; this is a great album to enjoy and purchase if you have enjoyed their previous albums, or love similar artists like Leeland, David Crowder Band, Phil Wickham or The Sonflowerz.
'Tonight', 'Great Are You Lord', 'Christ Be All Around Me' and 'God With Us' are all songs I have heard before in one form or another, and thus, came into this album with some familiarity when hearing it the first time. Originally on their previous 2013 live album aptly titled Live, both David and Leslie unveil to us studio recordings of 'Great Are You Lord' and 'God With Us', standouts amongst the Live album and also standouts on here as well. 'Great Are You Lord' invites us with a simple lyric, yet equally profound worshipful moment as both David and Leslie remind us of God's greatness through a song that's primary strings focused. As David's refreshing and emotive voice carries the song to anthemic heights, the duo offer up a song that is just as emotive and enjoyable in a studio setting as live. Starting off with just David's vocals and a keyboard as he offers up the God-affirming words of how '…You give life, You are love, You bring light to the darkness, You give hope, You restore, every heart that is broken…'; we are offered hopeful words of encouragement as the song is sure to minister in the lives of the listeners (myself included). With great harmonies between David and Leslie, not just in this song, but throughout the entire album, the instruments come to a grand and majestic forefront full of charisma and enthusiasm as the various forms of percussion lift the spirit and emotion of the song in general. One of my personal favourites from this studio album, producer Paul Mabury has done well with producing the album. Well done Paul for capturing the studio element whilst also showing us that a song can be equally as good live as well as in studio.
'God With Us', the remaining track from their live album, stands at 4:07 in length. As Leslie primarily leads this song (as opposed to David in 'Great Are You Lord'), the song showcases a Christmas-like theme about God coming down to Earth and being God with us. Complete with interesting instruments like accordion, light keyboards, unique acoustic guitar riffs and strings, the words of 'Emmanuel, God With Us' shows us how timeless Christmas really is, and that our celebrations that we have on that day shouldn't be confined to just one day throughout the year. A song that could fit on both a normal album and a Christmas one, All Sons and Daughters have delivered some of their best songs in 'Great are You Lord' and 'God With Us'. 'Tonight', a re-recording that was originally a bonus track on Francesca Battistelli's If We're Honest, is presented with more of a country style theme with banjos, as compared with the lullaby atmosphere present in Francesca's version. Singing like how a lullaby would actually go if we were singing to our earthly father (or mother) ('…lay Your peace like a blanket over me, and as I lay down to sleep, I will rest in You…'); 'Tonight' has a uniqueness that brings the theme of the album back to God through unique instrumentation that makes this song stand out amongst the other worship/CCM melodies on their album. 'Christ Be All Around Me' is the last 'familiar' song on the album as we hear a rendition that surpasses Michael W Smith's (and Michael's is very good, so that is saying something about the harmonisation and choreographing the song with both David and Leslie). Presenting to us a theme of us knowing and understanding that Christ is around us in everything we say and do, it is a great melody to introduce in churches in the upcoming weeks and months. Somewhat of a scripture-in-song melody, 'Christ Be All Around Me' will be within my iTunes playlist for many more months and years to come.
The remaining seven songs are brand new tracks from the duo, and are just as invigorating, enjoyable and poignant as the previous four. 'You Will Remain', the first song on the album, is the first radio single from the album, and starts the album experience off with hand claps, a steady acoustic guitar beat, and Leslie giving her ethereal and emotive vocals as we hear a song that declares that God will remain with and in us, even if or when we don't feel or even experience it. A song and declares who God is- '…Christ in me, all things true, all things pure, all things good, You are the Great I Am…', what it lacks in terms of the music not really building up to the anthemic atmosphere, it makes up for in biblically sound lyrics that are certain to give the song some impetus- expect 'You Will Remain' to be sung in churches around the world in 2014 sometime. Co-written with Derek Webb, 'For Your Glory and My Good' is a light steel pedal guitar driven song about us declaring to God to be made fools for Him as we lay down our lives in abandon, that also is as solemn, folk-acoustic and poignant as the first track, while 'King of Glory (You Restore My Soul)' brings the banjo to the fore in this melody co-written with Stu G about us proclaiming our thanks to God for restoring our soul, as utterances of Psalm 23 enter the song and thereby boast it to become one of my favourite reflective songs on the album.
Tempo is quickly changed on upbeat guitar driven 'The Victory', and together with both vocals, and the continual emphasis on guitars and banjos, both Leslie and David invite us to declare alongside them to '…shout for joy to the Lord and all the earth will adore You, let the oceans roar, mountains bow before You…' as we understand the importance for us to realise the enormity of what Christ has done for us to obtain the victory we now have in Him. 'Almighty God', featuring folk singer/songwriter Sandra McCracken, quickly decreases the tempo after songs like 'Great Are You Lord' and 'The Victory', and is the lone duet on the album. While it can seem out of place amidst an album that only has the voices of David and Leslie; 'Almighty God' is a moment of reverence, as we fervently open ourselves to the Lord, through the simple acoustics, and heartfelt lyrics of how '…Almighty God to You all hearts are open, search and know our thoughts and anxious fears, wash us in the fountain of Your mercy, come with Your light, we cannot hide from You…'
Overall: Ending the album with 'We Give You Thanks', a trademark Jason Ingram co-written song that encourages us to declare out our praises to Jesus and certain to be played in churches around the world, and 'More Than Anything', the longest song on the album where Leslie gives us a prayer-like melody with acoustic guitars and stirring keyboards as we are presented with the theme of us needing God more than anything else in the world; All Sons and Daughters new studio album is a great addition to any fan's ASAD catalogue, and a perfect gift for anyone who loves modern worship music with an acoustic edge. Even if you have adored the band for years, or if you have just started listening to this folk-acoustic-worship band, this album is a treat nonetheless. With the band redefining and possibly even reinventing the worship genre like other artists before them like David Crowder*Band, Gungor, Leeland, Audrey Assad and Jesus Culture (and to an extent, Rend Collective Experiment); Leslie Jordan and David Leonard should be commended on a job well done, not just on this album, but throughout their whole musical career. From 'Tonight', 'Christ Be All Around Me' and their hit 'Great Are You Lord' to 'God With Us' and 'You Will Remain'; the band has taken modern worship music and stretched it, placing it on its head to remind listeners that worship music can still be fun and enjoyable, unique and different, compelling, emotive and encouraging all at once. One of my standout albums of the year, David and Leslie's enthusiasm for worship is what sells the album the most. While David Leonard has been in both needtobreathe as well as pop-rock group Jackson Waters, worship is his forte, and the album shows all of this and more. Well done guys for such a hopeful and inspiring album, one of my favourite in May 2014!
RIYL: Leeland, David Crowder*Band, The Sonflowerz, Phil Wickham, Gungor
Buy the Album: iTunes/Amazon mp3