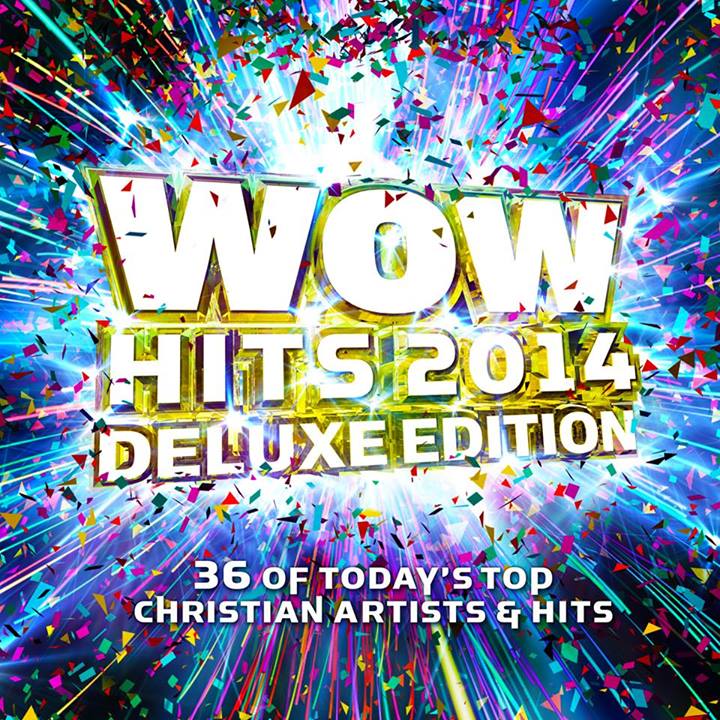 Artist: WOW
Title: WOW Hits 2014
Label: Capitol Christian Distribution
Release Date: 9/24/13
Reviewer: Jonathan Andre
Tracklisting:
DISC 1:
Whom Shall I Fear (Chris Tomlin)
Redeemed (Big Daddy Weave)
Hello My Name Is (Matthew West)
You Are, I Am (MercyMe)
One Things Remains (Radio Version) (Kristian Stanfill)
Lord, I Need You (Matt Maher)
Jesus, Friend of Sinners (Casting Crowns)
Strangely Dim (Francesca Battistelli)
Love Take Me Over (Steven Curtis Chapman)
Your Grace Finds Me (Radio Version) (Matt Redman)
My God (Jeremy Camp)
Help Me Find It (Sidewalk Prophets)
Steady My Heart (Kari Jobe)
Jesus In Disguise (Brandon Heath)
Don't Try So Hard (Amy Grant)
Starts With Me (Tim Timmons) (BONUS)
Come However You Are (City Harbor) (BONUS)
Good To Be Alive (Jason Gray) (BONUS- DELUXE)
Pray (Sanctus Real) (BONUS- DELUXE)
Restore (Chris August) (BONUS- DELUXE)
DISC 2:
We Won't Be Shaken (Building 429)
Steal My Show (TobyMac)
Gold (Britt Nicole)
I Need a Miracle (Third Day)
Proof of Your Love (Monologue Mix) (for KING AND COUNTRY)
Need You Now (Plumb)
You Are (Colton Dixon)
Overcomer (Mandisa)
Worn (Tenth Avenue North)
His Kind of Love (Group 1 Crew)
Kings and Queens (Audio Adrenaline)
Live With Abandon (Newsboys)
Keep Your Eyes Open (needtobreathe)
When Mercy Found Me (Rhett Walker Band)
Even If (Kutless)
Never Beyond Repair (Everfound) (BONUS)
Every Good Thing (The Afters) (BONUS- DELUXE)
Hurricane (Natalie Grant) (BONUS- DELUXE)
Carry Me (Josh Wilson) (BONUS- DELUXE)
Every year around September/October, WOW Hits release their annual album full of radio hits that have been released throughout the year, often declaring that these songs are the year's best. With the decisions of what to be placed on WOW Hits made by the three Christian label umbrella groups (Capitol Christian Distribution, Provident Distribution and Word Label Group), WOW Hits, which started in 1995 and now rivals the mainstream Now That's What I Call Music! has always prided themselves to make it their mission to reveal to the public songs that have charted the radio and that have become well-loved melodies in the hearts of many throughout the year. Sometimes their decisions are spot on, and sometimes the choices leave much to be desired, with this year's WOW Hits 2014 improving a little bit upon last year's previous compilation, yet even still, there are some notable absences and choices that can leave the CCM music lover baffled. The question of whether WOW Hits is even relevant anymore in its current format is a matter of opinion- with the 20th anniversary for WOW Hits coming up (WOW started making annual discs in 1995), there has been a great influx (and departure) of artists that have been featured on the compilation, with Third Day, Newsboys and Steven Curtis Chapman appearing the most on WOW.
For the casual listener picking up this release, the promise given to them that this album showcases the best in Christian music in 2013 is somewhat misleading, with some tracks being singles in 2012 and even 2011, while they often keep on promoting similar artists through WOW Hits year after year. While I can even think of around 30 odd songs that could've possibly made the WOW Hits 2014 list, there are some song 'bolters', and other songs that should've been on WOW Hits 2013, and even others that are just plain odd. While I could accept that they don't touch some artists because of preference or favour of the same artists again and again; WOW Hits 2014 feels much more like WOW Hits 2013/14, which can be great if you advertise it as so, but to declare outright that these songs were popular in 2013 and deserve to be on the 'best' album of the year can feel almost like a false claim to some. This release tells me at least one thing, that no decision making process benefits everyone, and that maybe, just maybe, a better solution to the problem of choosing the top Christian radio hits would be to revert back to the single disc WOW's like WOW Hits 1 that they released back in 2008 and release WOW Hits more than once a year. While WOW Hits is moving in the right direction, they have a whole lot to go before they can please every consumer and simultaneously declare that WOW has the best songs Christian music has to offer.
Containing more of an adult contemporary and worship music style, Disc 1 starts off with Chris Tomlin's radio hit, 'Whom Shall I Fear (God of Angel Armies)'. Written at the last minute to be included in Chris's latest album Burning Lights, the first single from Chris's chart-topping album reminds us that God stands by our side, and that '…nothing formed against me shall stand, You hold the whole world in Your hands…' With acoustics and a vertical worship emphasis, this is a great way to start off Disc 1 of WOW Hits 2013, an album full of interesting and bold choices that show that the decision made about WOW Hits are moving in the right direction, even if it is ever so slightly. Accompanying Chris Tomlin to represent the worship section of WOW Hits 2014 are both Kari Jobe and Matt Redman, with 'Steady My Heart' and 'Your Grace Finds Me' respectively. While 'Steady My Heart' has been a radio hit throughout 2012 and 2013 as Kari declares amidst the light acoustics and pop electric guitar musical backdrop that Jesus comforts and stills the heart that worries (and is a good choice, albeit a little dated, for WOW Hits 2014); Matt Redman's new radio single from his September album release is an unknown to myself, and I'm sure an unknown to many other listeners of Matt's too. Not even available on iTunes (but you can view the story behind the song on Youtube), the song speaks about God's grace is everywhere, in our everyday lives as well as in the extraordinary and glorious moments where we can tangibly see God's handiwork and grace. With the chorus echoing in the background of Matt describing the song, the words of how '…from the creation to the cross, there from the cross into eternity, Your grace finds me…' is a humble and awestruck moment of wonder as Matt's dominance within the CCM industry continues to stay strong and grow after his #1 hit last year, '10,000 Reasons'.
Scanning through the rest of Disc 1, I am pleased to see many bold decisions and interesting choices that weight Disc 1 a favourite of mine over Disc 2. Matthew West's chart-topping identity affirming radio hit 'Hello My Name Is' is a great deserving song to be within the album list, with Matthew's song certain to become a classic of his in years to come. Speaking about how we are sons and daughters of the Risen King, and that our identity is in Christ rather than our past mistakes, regret, shame and failures; this song with lyrical ties to other similar tracks like 'You Are More' (Tenth Avenue North) and 'Children of God' (Third Day) is a much welcomed song that has been one of my favourites throughout 2013 so far. Big Daddy Weave's 'Redeemed', that won the Song of the Year at the first annual K-Love Fan Awards, is also a popular radio hit this year, and deservingly makes it on a WOW Hits that has a running theme of identity building and moulding, as Big Daddy Weave also declare God's redeeming quality over our lives. Matt Maher is welcomed back after being absent in WOW Hits 2013 (where was 'Turn Around' or 'Rise Up'?), offering up a worshipful prayer in 'Lord I Need You', complete with acoustics, the backing vocal of Audrey Assad, and the theme of proclaiming to the Lord that we need Him every day of our lives. Pity that the song was also on Passion 2011: Here For You, recorded by Chris Tomlin during the annual Passion Conference, thereby making Matt Maher's inclusion on WOW Hits 2014 seemingly dated- maybe his current radio hits 'Burning in My Soul' or 'All The People Say Amen' would've been more relevant compared to a song that was circulating 2-3 years ago. Nevertheless, Matt Maher's presence on WOW Hits 2014 improves the album holistically, and his absence last year was sorely missed.
Steven Curtis Chapman's acoustic 3 minute song (literally) titled 'Love Take Me Over' is a pretty big bolter to the WOW list, and considering that 'Do Everything' from his 2011 album Re:creation was on WOW Hits 2013, I half-expected 'Long Way Home' to make an appearance. Gladly this wasn't the case, and quite a bold move from WOW to do this- with Steven's first radio single from This Glorious Unfolding offering an acoustic moment full of fun and grooving as we are given a song about surrender, and Steven offering the poignant words of how he longs for love to take over every part of his life, something we all have to declare in our lives at some point or another. Also boasting Amy Grant's new song 'Don't Try So Hard' with James Taylor, a soothing melody full of acoustics about how we ought not to try to earn God's grace and mercy, MercyMe's radio single and worship ballad 'You Are I Am' (reminding us that Christ conquers all our fears and doubts and that because who He is, we can have confidence to know our own identities in Him), as well as Francesca Battistelli's radio hit 'Strangely Dim', an alteration and re-write of the famous hymn 'Turn Your Eyes', which speaks about how when we fix our eyes '…on all that You are then every doubt I feel deep in my heart grows strangely dim…'; WOW Hits 2014 Disc 1 offers up moments of worship and easy radio listening to cater towards the listeners who enjoy a great song on the radio. While there were a few odd decisions relating to the artists of Casting Crowns, Brandon Heath and Jeremy Camp ('Jesus in Disguise' instead of 'Love Does', 'Jesus, Friend of Sinners' instead of 'Already There'…or maybe even no Casting Crowns at all, and 'My God' instead of the rock anthem 'Reckless'); on the whole Disc 1 proves to be a winner for myself, with great songs to introduce to the family and other newer songs to give listeners hope that WOW continues to deliver more current radio hits on their albums both now and into the future.
Disc 2 is primarily rock/pop focused and for fans of edgier music, and on WOW Hits 2014, there's no better way to start off the disc than to introduce to listeners Building 429's radio hit, 'We Won't Be Shaken'. Starting off with hand claps, this song that has been heavily played on Air 1, K-Love, The Joy FM and The Fish reminds us of how important it is in our lives as Christians that we don't back down from what we believe- and therefore, our foundation needs to be strong and firm so that we won't be shaken from it. A song that's a rock anthem if ever you can have one, Building 429 have delivered once again a hit that's certain to also be a chart topper alongside 'Where I Belong', perhaps even exceed it as possibly their most revered and treasured hit they've ever produced. 'We Won't Be Shaken' has become the cornerstone of Building 429's album, and to some extent the second disc of WOW Hits 2014, as we are able to witness the effects of the song as hopefully it starts a movement amongst the younger generation as we proclaim collectively that '…whatever will come my way, through fire or pouring rain, we won't be shaken…' Also presented on Disc 2 that carries on from the hard hitting anthemic atmosphere created by 'We Won't Be Shaken' are songs that have been promoted on radio throughout the 2013 and are great additions; from the newly 'resurrected' Audio Adrenaline's radio hit 'Kings and Queens' (fronted by ex-dc Talk vocalist, Kevin Max and delving into the theme of advocating for the orphans and the poor), Tenth Avenue North's 'Worn', that provides us with an honest portrayal that we are worn and tired and therefore need Christ in our lives constantly, the monologue mix of 'Proof of Your Love' by Aussie duo for KING AND COUNTRY, which presents to us the central theme of how we desperately need love in our lives otherwise our motivations behind our decisions can be for the wrong reasons; as well as the uplifting new radio single 'Overcomer' from ex-American Idol singer Mandisa, encouraging us that we are already overcomers and conquerors with Christ beside us.
Releasing her album into the mainstream market earlier on during the year, Christian pop artist Britt Nicole has been continuing to cater to both Christian and mainstream music lovers with her music full of positive hits, with her hit song 'Gold' charting the radio in both the Christian and mainstream sector. With 'Gold' offering a positive theme of self-belief and understanding that we are worth more and precious to the people around us than we may often realise, Britt Nicole's latest single is a great addition to WOW Hits 2014. Ex-dc Talk frontman and current Newsboys lead singer Michael Tait is back at the helm with the band's new single 'Live with Abandon', a three minute pop anthem about how we ought to live out our days with abandon as we unveil everything we have to offer at the foot of Christ, declaring that '…I wanna live with abandon, give You all that I am, every part of my heart Jesus I place in Your hands…'; while another lead singer of dc Talk in the form of solo artist TobyMac also offers his latest single on WOW Hits 2014, 'Steal My Show' (which reminds us of the humility we need when we offer up our own roles in our own stories for a part in God's one- trading the spotlight on us to the spotlight on Him). Both 'Live With Abandon' and 'Steal My Show' are gladly welcomed on WOW Hits 2014, and both describe us living with a lifestyle of abandon and humility, something we need more of in today's self-centred culture.
Also unveiling the latest from Plumb in 'How Many Times', a prayerful song inspired by the lead singer's own personal anxiety issues; alongside the equally sombre and often confronting melody by Kutless in 'Even If'; we are shown that as we cry out to God, He will answer our prayers as we continue to delve deeper into His Word and promises. And even if He doesn't answer our prayers (as discussed in Kutless's radio hit), we can still declare with confidence that '…You are God, You are good, forever faithful one, even if the healing doesn't come…' ('Even If'). A song that has been an anthem to many throughout 2013, 'Even If' is also a favourite of mine, and will hopefully become a classic by Kutless in years to come. While even in Disc 2 there were also a few decisions that I felt were weird and different, from choosing Third Day's hit song 'I Need a Miracle' over their more current radio hit 'Your Love Is Like a River', or placing the somewhat dated 'Keep Your Eyes Open' from needtobreathe instead of their more recent 'Devil's Been Talking' (or possibly omitting them from WOW Hits 2014 altogether), I was pleased with the addition of Colton Dixon's well-received song, 'You Are' (not as a bonus track but within the 15). Providing us with a heartfelt prayer to the Lord that '…You are the song, You are the song I'm singing, You are the air, You are the air I'm breathing…'; Colton's track of humble praise to the Father is a welcomed song on WOW Hits 2014, showcasing the fact that newer artists don't necessarily have to be a bonus track, but rather included within the 15 tracks instead!
Bonus songs on WOW Hits albums are always fun to listen to, with songs from up and coming artists supposed to attract listeners and increased interest in these artists, and therefore check out their albums when they release physically and digitally. These songs send a particular message to listeners, that these artists are new (or relatively new!) and therefore, we ought to keep them on our radar because their songs could be 'big' and the artist popular in the future. With City Harbor, Everfound and Tim Timmons being each of the artists that WOW wants us to take notice of in the year of 2013, I was most surprised with City Harbor's inclusion, considering that their song 'Come However You Are' hasn't even been to radio yet (I googled the song and artist and no results came of it). Surmising that the song is about how we can come just as we are to the Lord and His love and grace will wash us clean of our shame, hurt and guilt; City Harbor is a duo that I don't necessarily know much about, apart from their 2012 radio single 'Somebody Tell Them'. The four Russian brothers that make up Everfound debuted their radio single 'Never Beyond Repair' in February 2013, and their song deservingly appears as a bonus track on WOW Hits 2013, as lead singer Nikita speaks about how we are never too far gone to receive the grace, favour and acceptance of God; while 36 year old Tim Timmons offers up the prayerful 'Starts With Me' to round out the three bonus tracks on the standard version of WOW Hits 2014. Tim's life with the presence of cancer throughout the last decade or so further makes this song much more poignant and crucial, as we hear Tim poetically declare that the revolution that we are all seeking around the world starts with us. God has created us to perform His work, but not on our own. It starts with us, but it doesn't have to be just only us as we carry out the work of Christ. With 'Starts With Me', 'Never Beyond Repair' and hopefully 'Come However You Are' providing us glimpses of fresh and invigorating melodies from new artists that have enhanced the somewhat tired CCM industry; these three tracks are also welcomed positive points of WOW Hits 2014! Well done to WOW for these bold decisions and song choices on this 2013/14 edition of the WOW Hits brand.
With every upside there is a downside, and with WOW Hits 2014, there are some decisions that are odd, some that are 'unforgivable' and others that I don't necessarily agree with, but somewhat understand to a point. Yet with the weight of the claims that WOW albums are the best selections of the year, WOW albums need to rebrand because even in WOW Hits 2014, there are some songs that should've been added that may have been better suited to the statement of the best songs of the year, rather than some of the tracks already included in the album to begin with. Not that some of these songs themselves are bad in anyway, however, when one is considering one album to buy (some people can only purchase one album a year!), this collection of radio hits and songs should give the casual listener a snapshot of the entire year and all its songs. However, looking through this lineup of artists where most of them have been the same for the last five years or so, it doesn't really leave much room for up-and-coming artists to emerge and claim their 'right' to be placed on these types of albums. While I expound in the paragraphs below about the downsides and the omissions of WOW Hits 2014, things need to change in a drastic way so that the listener can receive the full benefit of listening to the annual WOW Hits albums, and to also improve the credibility of the WOW Hits brand in the first place.
With the introduction of Deluxe Editions of WOW Hits (employed from WOW Hits 2012 onward) becoming a more commonplace with WOW Hits leading into the future, there is further emphasis placed on these deluxe edition CDs. With hit songs by Natalie Grant ('Hurricane'), The Afters ('Every Good Thing'), Josh Wilson ('Carry Me'), Jason Gray ('Good To Be Alive'), Sanctus Real ('Pray') and Chris August ('Restore') forming the 6 songs only available on the 39 track edition of WOW Hits 2014, I was much surprised with Jason Gray's inclusion. Previously delivering hit songs like 'Remind Me Who I Am', 'More Like Falling In Love' and 'I Am New' in albums previously, I just assumed that the WOW Hits team were just biased towards people who don't have a speech stutter (like Jason has), however, I was proved wrong with his inclusion on WOW Hits 2014. While I would've hoped for more of a current hit from him like 'Nothing is Wasted', 'Good To Be Alive' is nevertheless still a great hit from Jason as we are reminded that we ought to be thankful to God for being alive in the first place. While I may have wanted each of these 6 songs to be part of the 15 tracks on each disc (and therefore leave these 6 songs as reserves for new and up and coming artists), these tracks on the bonus deluxe edition will certainly attract more consumers to purchase the higher priced disc. From Natalie Grant's powerful ballad that reminds us that God is with us in the hurricane, to Sanctus Real's humble song 'Pray' and Josh Wilson's humble moment in 'Carry Me', a song thematically similar to Plumb's 'Need You Now' as he presents a personal prayer that asks for God to '…carry me now, from this sinking sand to Your solid ground…'; these 6 tracks certainly enhance the quality of WOW Hits 2014. Nevertheless, even with these inclusions, there is a track that seemingly baffles me- Rhett Walker's 'When Mercy Found Me' is added into Disc 2, despite already being on WOW Hits 2013 as a bonus song.
Glancing through WOW Hits 2014 as a whole, there are some seemingly notable omissions that I maybe would've included in a heartbeat if I were in charge and creating a WOW Hits list. Recently switching singers from Jason Dunn to Jonathan Steingard, Hawk Nelson released their radio single 'Words' in 2012, featuring MercyMe frontman Bart Millard as guest vocals. With their album releasing in April 2013, I would've thought it was almost like common sense to add in this radio hit on WOW Hits 2014, but obviously the powers that be who created the WOW 2014 list didn't think so, with Hawk Nelson nowhere to be found. Skillet's long-awaited single 'Sick of It' from their June 2013 album Rise was also sorely missed, yet what baffles me even further is that they didn't put on timely song of 'Sick of It' (or even their second radio single 'American Noise' on a WOW Hits), yet they placed on the untimely tired radio hit 'One Day Too Late' on WOW Hits 2013 instead, leaving myself and I'm sure many others scratching their heads as to how the process of choosing songs for WOW Hits works like. Surely they could've placed on 'All I Need' by Rhett Walker Band instead of their radio hit 'When Mercy Found Me' once again, which makes me think that either they want to promote the same artists again and again (even if it means placing the same song on consecutive WOW albums) or this version of 'When Mercy Found Me' is digitally enhanced somehow (how I'm not that sure…). Stellar Kart's new album All In releases August 27th and their radio single 'All In (Apologise)' is quickly becoming one of their most beloved radio singles from SK since 'Me And Jesus', so where's the love for Stellar Kart on WOW Hits 2014? Their debut album on Inpop Records, this acoustic melody speaks about standing up for beliefs and not apologising for them, and frankly, I reckon WOW Hits are making a huge statement with their inclusion of Rhett Walker Band's 'When Mercy Found Me'. I would've replaced any one of 'Sick of It', 'Words' or 'All In (Apologise)' instead of doubling up on Rhett Walker, which further expounds to my theory of altering the process of WOW Hits and their song choices in years to come. Further complicating matters is the omitting of both 'Oceans (Where Feet May Fail)' and 'Not For A Moment (After All)' by Hillsong UNITED and Meredith Andrews respectively, arguably the two most respected worship songs of 2013 so far. With both Meredith and Hillsong offering up worshipful melodies throughout the years ('You're Not Alone' music video was on WOW Hits 2009 and 'Search My Heart' was on WOW Hits 2012); each of these songs offer up prayerful melodies worthy enough in my own opinion to warrant a place in the list of this year's best, maybe at the expense of older songs like 'One Thing Remains'- actually a cover of a Bethel song written in 2010. If they still wanted Kristian Stanfill to be represented, maybe a more suitable song in 'The Lord Our God' (from Passion 2013) would've been much more proactive, relevant and bold.
Both 'Beautiful Day' from Jamie Grace and 'All I Can Do (Thank You)' by mikeschair have had success this year on iTunes and at radio, and both can be forgiven if not in a WOW Hits (because both Jamie Grace and mikeschair's new albums aren't scheduled yet during 2013), yet what seems to be puzzling and baffling is the non-existence of radio singles from Dara Maclean ('Wanted'), Royal Tailor ('Remain') and Aaron Shust ('God of Brilliant Lights'). Each of these three singles have received a great amount of airplay in 2013, with Dara's new video of 'Wanted' even debuting on Myspace before Youtube (I can't even remember a Christian music video that debuted on myspace before) during June/July. Speaking about how we are all wanted and loved by Christ, I was certain that I would see Dara's name in the WOW Hits list. Royal Tailor's infectious new radio single 'Remain' could've possibly been a great song on the album and a possible bolter, yet its absence makes the choice of 'Make A Move' even more odd- clearly the song from Royal Tailor's debut album wasn't much of a hit during 2012 yet they still placed it on WOW Hits 2013, and therefore, I would've thought that their favouritism for Royal Tailor would've extended towards 'Remain' also. 'God of Brilliant Lights', the powerful song from Aaron, will also be sorely missed on WOW Hits 2014, as will other songs like 'Rise to You' (Jason Castro), 'Hey There' (Karyn Williams), 'Well Done' (Moriah Peters) and Newsong's popular hit 'Swallow The Ocean' (to be honest, I thought that this year would be Newsong's first year on a WOW Hits since 'Defining Moment' on WOW Hits 2003).
Kerrie Roberts (of fame from the radio single 'No Matter What' and 'Outcast') released her new album Time For The Show after around a year's wait since the album was pushed back indefinitely from July 2012. Releasing her radio single 'Finally Home' in 2012, the song failed to appear on WOW Hits 2013, so I therefore assumed that it would immediately be placed on WOW Hits 2014 instead. Alas this wasn't the case, and now I'm left wondering whether a reason why she wasn't placed on the WOW Hits was that she recently became an independent artist (same goes for Anthem Lights, where's 'Fight Forever'?). With no such appearance from new artists like Shine Bright Baby ('Beautiful Love'), JJ Weeks Band ('Is It Ever'), Citizen Way ('Nothing Ever (Could Separate Us)'), Capital Kings ('You'll Never Be Alone') or Finding Favour ('Slip on By'); the continual emphasis on artists that have been on WOW Hits time and time again is further proven correct by the absence of these radio hits. Even The Digital Age, remnants of the David Crowder*Band who started their own experimental worship outfit, were absent from WOW Hits 2014, as well as Love and the Outcome (Canadians just like Hawk Nelson who were also absent) with their radio hit 'He is With Us', and pop quintet 1 Girl Nation with their powerful song speaking about living for Christ when we're younger, 'While We're Young'. Record labels were also shunned, with no representatives from Inpop Records (where was Tricia's 'Enough' or Salvador's 'God of Forever') and only one representative from BEC Recordings (Kutless's 'Even If'). Not even Bebo Norman, who announced he was going to retire from the CCM industry at the end of 2013, was given a proper and fitting send-off with his radio hit 'Sing of Your Glory'on WOW Hits 2014, which I thought would've been a great decision for the WOW team to make. Add to this the omissions of songs that favour harder-rock enthusiasts ('Dead Come To Life' by Jonathan Thulin, 'Perfect Life' by RED, 'A City on a Hill' by The City Harmonic and 'He Weeps' by Fireflight) and then you're left wondering if it would've been better for WOW Hits 2014 to release as 3 Discs instead of two!
Overall: In its own right, WOW Hits 2014 is a pretty good album. With songs that uplift and others that provide a pop/rock emphasis, we are given songs that have been circulating radio for quite some time. However, when looking deeper into the selection process to see what songs were omitted, you can see that WOW in its current state advocates sameness (to the point of placing 'When Mercy Found Me' on WOW Hits 2014 which was also on the previous WOW, and therefore at the expense of other songs like 'Jesus, Firm Foundation', 'Revival' (Soulfire Revolution) and 'All I've Ever Needed' (A.J. Michalka) to name a few, as well as what I've reiterated earlier in the paragraphs before). Last year I wrote a statement concerning my thoughts about the state of WOW Hits in relation to WOW Hits 2013- WOW Hits have been around for around 18 years since WOW 1996. Of late, despite a few songs here and there, song selections have been few and far between as poor dated melodies by the same artists year after year always seem to take precedence over artists that may seem like they 'fly-under-the-radar', but nevertheless equally deserve their opportunity to assert themselves as some of the best musical offerings of that particular year. Reading this above statement, I can safely say that I still stand by my statement from a year ago. Don't get me wrong, this is a good album, and if 'When Mercy Found Me' was replaced by one of the other tracks I mentioned was omitted, the album would stand at a solid 3 out of 5. As of now however, it seems to be only just scraping 3- do the people who make WOW Hits think we won't notice the double up of songs between WOW Hits 2013 and WOW Hits 2014? There are good songs on the album, yet claiming that these songs are the year's best, when there are clearly other songs that can be more timely choices is quite absurd more than anything. Regardless, if anyone does purchase this album (even if they do have it on iTunes!), then know that these songs aren't the best 39- rather they are certainly the most publicised 39! There is a big difference, and if the WOW brand really wants to live up to their name, they must consider overhauling the whole franchise, consider dropping a few big artists from their roster (or using them less frequently) as well as adding some fringe artists to remind listeners of the great variety of Christian songs out in the Christian music marketplace. Like what they did with Michael W. Smith, Rebecca St. James, Superchick, BarlowGirl and Point of Grace; maybe, just maybe, it's time to retire artists like Casting Crowns and TobyMac from ever appearing on a WOW Hits album from now onward.
RIYL: Casting Crowns, Steven Curtis Chapman, for KING AND COUNTRY, Francesca Battistelli, Chris Tomlin, Third Day, Matthew West
Buy the Album: iTunes/Amazon mp3