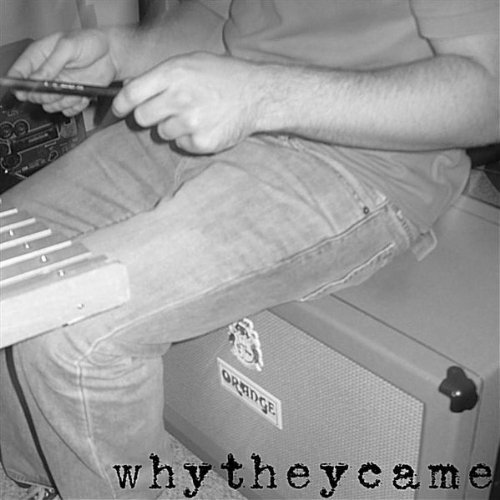 Artist: Why They Came
Album: Don't Eat from the Candy Tree
Label: Bad Apple Records
Release Date: April 18, 2011
Reviewer: Eric Pettersson
Tracklisting
Flower to Flower
I Give Up
Pilot's Pistol
When Jesus Comes Again
A Brief Encounter
Three States Away
Limbs and Strings
They Multiply
Flooded Lungs
Politely Decline
Sun Vs. Rain
It seems that either I owe Why They Came an apology, or they owe me a thank you. Four years ago I reviewed their album, Led by the Unqualified to Do the Unnecessary, which, despite liking the title and artwork, ended up getting a pretty poor review from me at the time. I thought it was boring, but when I saw their new release show up in my inbox, I had high hopes. My tastes have changed significantly over the past four years, and it was fairly safe to assume that the band had matured and developed significantly over that time as well.
On my first few spins, I found a clever folk band with catchy melodies and memorable lyrics. Pulling out that former record for comparison, I found that it wasn't as boring anymore, but it wasn't memorable either. By contrast, Don't Eat from the Candy Tree blows it out of the water. This is probably because they read my review and decided to take my advice, making things more interesting this time around. Either that or I didn't know what I was talking about back then and now have the expanded taste to appreciate something like this. Considering the two, I'm going to guess it was the first one.
Jokes aside, going in a more acoustic/folk direction was the right choice for these guys. They've kicked up the energy without losing their lo-fi character. The pondering poetry of the lyrics has improved, exploring life through heartache and triumph (but mostly heartache). In these new tracks, Why They Came continue wondering how things got the way they are and where things are going in the future. On "When Jesus Comes Again," the band blasts those who think their own sin is not as bad as the sin of others, while "Three States Away" sings of not wanting to reveal feelings for a girl. A banjo and harmonica join foot stomps and hand claps on "Limbs and Strings" for a more backwoods feel, contrasting with the understated electric guitars of some other tracks for a varied sound throughout the album. My only real complaint is with the last song "Sun Vs. Rain", which attempts to utilize a nursery rhyme in the chorus. This could be a fun move, but it ends up sounding weird, silly, and melodramatic, especially considering that this is a ten minute slow song.
Overall: Why They Came have a lot of tricks up their sleeve this time around. From more thought-provoking lyrics to more captivating melodies, the songwriting is just all around better, smarter, and more entertaining.