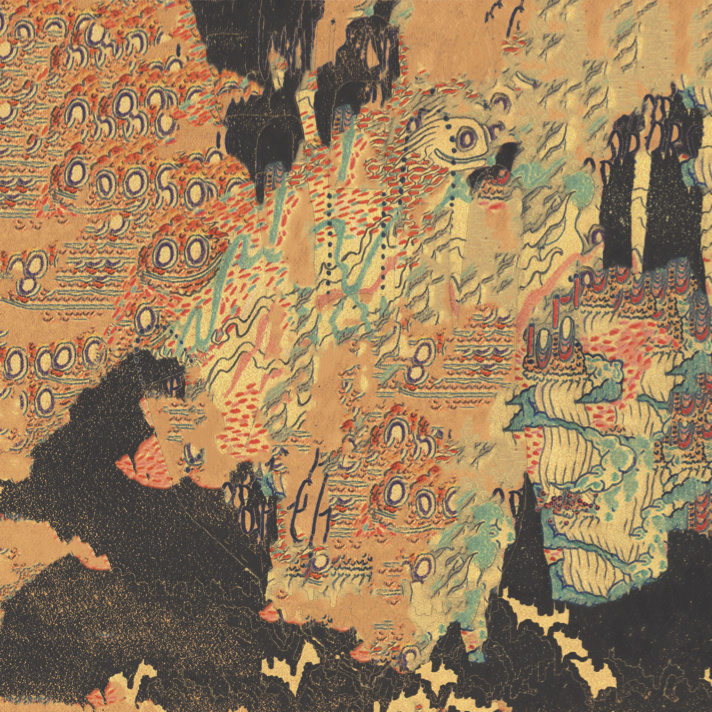 Artist: Wall of Ears (Bandcamp) (Broken Circles)
Title: Perfect Organ Assembly
Label: Sick Bear Music
Release Date: 6/25/13
Reviewer: Carter Fraser
Tracklisting:
Heavy Hologram
Autosky
Great Big Earth
Miss Earth
Cancel Features
Mind of Moss
Arms Heist
Ravage Holy Ohm
Task You
The Tale
As Cities Burn have been far from quiet since "breaking up" following the release of Hell or High Water. A single Son I Loved You At Your Darkest reunion show turned into several, followed by a number of shows without their original "screamer" T.J. Bonnette doing songs off their later two albums, and eventually an entire tour opening for Underoath. Not to mention Hawkboy, featuring lead vocalist Cody Bonnette and drummer Aaron Lunsford, who put out a pair of EPs in 2011 and did a number of shows playing new material and some Hell or High Water numbers. That's quite a bit of activity for a band that always seemed to be on the brink of breaking up even while they were around. But Lunsford has left to join Tallhart, which leaves us with guitarist Christopher Lott joining Bonnette to form Wall of Ears. Some might have been lucky enough to pick up a demo EP on the Underoath farewell tour—most probably not, as it was never made publicly available. But no worries, Wall of Ears have put out a full length LP titled Perfect Organ Assembly to entertain—and confuse—us all.
If Hawkboy was ex-As Cities Burn-ites trying to shake their post-hardcore beginnings, Wall of Ears is them totally throwing them all out the window. There's a willingness to try just about everything here, and their influences are now much more eclectic than what fed into Son I Loved You, with they themselves citing genres diverse as Japanese psychedelia, Krautrock, pysch-pop, and free jazz, to name a few. You can call their bluff here if you want, but there're mostly being serious; this is probably the point where we should stop comparing them to As Cities Burn at all, because there's not much common ground left now besides the names in the liner notes. The artistic intent is not the same for sure, as they themselves suggest: "This is the music of aliens; pop from the fringes, the concept of sound deconstructed and built up again, fresh. Wall of Ears replicates the way deep dreaming feels or how sneezing can be pretty in slow motion." There's some dramatization there, sure, but the underlying meaning of the statement is mostly accurate. Perfect Organ Assembly is not meant to be "catchy" as much as it is meant to be an experience. How effective and vivid this experience is, however, is another matter.
The first few tracks of Perfect Organ Assembly aren't too far from what we should expect from another level of progression of the trends shown on Hell or High Water and the two Hawkboy EPs, although this is still easily the biggest jump yet. The first several tracks quite literally form the foundations for the whole album (more on that later). Here things are still more or less grounded in the same songwriting styles we've seen from these two in the past, but the execution is totally different. The songs are less dynamic and more abstract, with a diminished need to "go" somewhere. Christopher Lott is surely a big part of the reason for the new direction, as he seems to be as much the frontman as Cody Bonnette is. He sings more than Bonnette does, whose vocal role is more backing than leading. Opener "Heavy Hologram" is the most familiar-sounding song on the album, chiming with twinkling pianos and painting an ethereal atmosphere with mostly unintelligible vocals (though they have posted the lyrics on their Facebook page). "Autosky" features a messy, southern indie rock vibe while continuing to introduce the listener to the flickering synths and production edits that will become more commonplace as the album goes on.
"Miss Earth" begins the transitional part of the album with a haunting "ballad" of sorts, moaning along to what could be compared to Come Now Sleep-era guitar ambience, but with a much more ambitious production job and a variety of samples along the way. It's subtly complex, and sees Wall of Ears exploring their new landscapes as effectively as any song on Perfect Organ Assembly. It's also among the most focused and direct songs on POA, adjectives that cannot be used for many of the other tracks. The swirling "Mind of Moss" beautifully fractures under its own distortion and static, and the heavily edited "Cancel Features" sounds like a visceral Danielson remix.
But this leads to tracks seven to nine, which is where things get really interesting: they're other songs on Perfect Organ Assembly played backwards and remixed to the point of being essentially unrelated to their original renditions. Really; I could obviously tell many sounds were being played backwards on first listen, but I didn't even notice that they were based on previous songs until I read so on their Facebook page. I'm fairly certain that "Arms Heist" corresponds to "Miss Earth," "Ravage Holy Ohm" to "Heavy Hologram," and "Task You" to "Autosky." It's easy to see the originals when you are looking for them, but they truly do stand as independent songs. And as you'd expect, they're quite intriguing and weird.
The work as a whole sounds like it could have come from the same creative place that Sufjan Stevens was in when he made Age of Adz, but with wildly different results. I'm mostly convinced that this was indeed the best way for Bonnette and Lott to flesh out the songs in their heads, but it's still not quite as memorable as many of the things they have put out before. It certainly achieves the surreal quality it desperately strives for, but too many times it's just surreal, and little more. Songs like the chillingly strange and engrossing "Ravage Holy Ohm" totally justify their production choices, at least in my mind, but it still takes a few listens to warm up to things. I can hardly imagine the aforementioned song without the frantic vocals played backwards and the trembling guitar ambience. Certainly Lott and Bonnette have created a mood with Perfect Organ Assembly, however disconcerting and ugly it is, and you have to give them credit for that. But I find less genius to distill from these songs than I find "pretty good." Madness there certainly is here; genius, sometimes.
Overall: This is not an accessible record, and they surely know that. I do not seeing it gaining the duo too many new fans that weren't already As Cities Burn/Hawkboy fans, and any new followers will likely not be from the same camps that they've attracted in the past. But still, Perfect Organ Assembly is a fascinating look at two established musicians pushing their boundaries far beyond what one would have expected possible from them half a decade ago. Maybe not their best work, but definitely their most experimental.
RIYL: As Cities Burn, Hawkboy, Brand New, Tallhart, Cursive, mewithoutYou