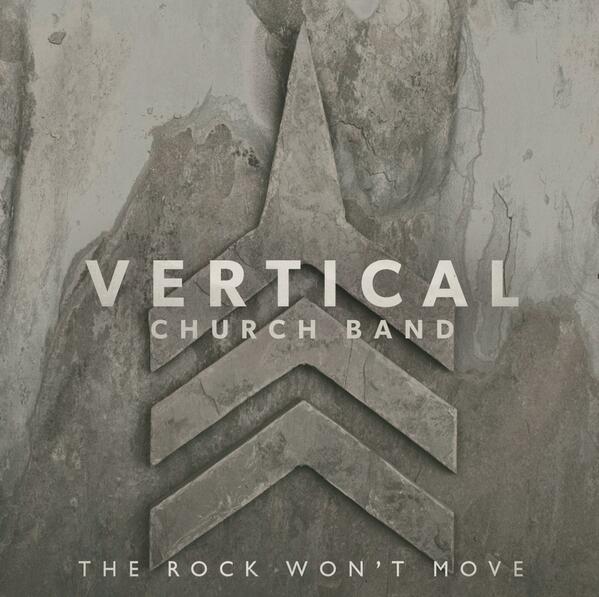 Artist: Vertical Church Band
Title: The Rock Won't Move
Label: Essential Worship/Provident Label Group
Release Date: 10/29/13
Reviewer: Jonathan Andre
Tracklisting:
Found in You
I'm Going Free (Jailbreak)
The Rock Won't Move
Worthy, Worthy
I Will Follow
Strong to Save
Call on the Name
Strong God
Only Jesus Can
He Has Won
Releasing their debut live album in July 2012, Vertical Church Band is a group formed from Harvest Bible Chapel in Chicago. Not considering themselves as a band, '…Vertical Church is a collection of people who play every week in places all over Chicagoland as part of Harvest Bible Chapel, a place that believes singing isn't a warm-up for the sermon; singing is a warm-up for heaven. So the faces may change. The style may evolve. But the aim will stay the same. Vertical…' Comprised primarily of worship leaders Jacob Sooter, Kyle Fredricks, Andi Rozier, Jon Guerra, Tara Rios and Meredith Andrews; Vertical Church Band has skyrocketed to belong as one of my favourite worship bands alongside Passion, Jesus Culture and Bethel Music, since listening to songs from both their first album ('Open Up the Heavens', 'Light Shine In', 'All Glory' and 'Who Will Rise Up'), and their acoustic EP ('Jailbreak', 'Restore My Soul'). Despite only releasing one album and one EP, their passion and heartfelt melodies included within both last year's release as well as this year's 5 song EP is infectiously enjoyable. Releasing their newest live album, The Rock Won't Move, on October 29th via Provident Label Group and Essential Worship; these 10 new songs have given listeners who enjoy corporate worship melodies some more songs to sing and enjoy, from 'Strong God' to 'Jailbreak' and 'Only Jesus Can'. One of my favourite live worship albums of the year alongside New Life Worship's Strong God; Andi, Meredith and the rest of the team have continued to do what they do best- deliver vertically directed worship music that continues to impress myself in every song they deliver. While at times the album can seemingly sound copy-cat like, with similarities between them and Hillsong, in both a lyrical and musical manner; these worship leaders from Harvest Bible Chapel have nevertheless given us something special and powerful in a collection of songs, from upbeat to reflective and slow. A great worship album if you're looking for something different than the usual Hillsong, Bethel or Jesus Culture album that frequently releases each year; this Chicago based team of worshippers have certainly become one of my favourite worship bands currently active, and with the calibre of both Live Worship from Vertical Church and The Rock Won't Move; this worship movement's popularity amongst listeners and critics is certainly going to continue increasing in the upcoming months and years ahead!
With both 'Strong God' and 'I'm Going Free (Jailbreak)' on previous albums prior this this one ('Strong God' was recorded live on New Life Worship's Strong God in August, 'Jailbreak' was recorded in an country/acoustic way on the Vertical EP released by Vertical Church Band in May); the live versions of these songs on The Rock Won't Move are certainly some of the best worship songs to be released this year so far. Written by both Jon Egan (lead worship leader of New Life Church as well as lead singer of Desperation Band) and Meredith Andrews, 'Strong God' is a subdued slow song full of reflection and reliance on God. Meredith's piercing vocals in the live setting is a great moment, especially in the bridge when she passionately declares, alongside everyone else in the congregation, that '…there is none higher, there is none greater, there is none stronger than our God…' The theme of how as we dwell in God's strength, we are able to rest in the fact that He can intervene in any situation of ours that we may declare to ourselves as being unredeemable, is one that not only covers this track, but most of the album in general. This melody of anthemic proportions is flawless with her powerful vocals and her vocal ability to reach the high notes that only a few female artists can. The bridge is perhaps one of my favourite worshipful moments on the song, if not on the whole album. Such emotion with abandon is displayed, creating a song that is destined to be sung in many churches, if not now, than further on in the year. 'Jailbreak' on the other hand is more of an up-beat track compared to the reflective Meredith Andrews led melody, and while this version of 'Jailbreak' is more electric guitar driven as opposed to the country infused version on Vertical EP; the song in general does invoke similar feelings when listening to both version. Kyle Fredricks delivers a powerful performance, inviting us to listen to this metaphor of a song reminding us that Christ has given us the key to break out of our very own jail cells, all we need to do is open it and walk right out the door. A great anthem to deliver in both the live and acoustic settings, both 'Jailbreak' and 'Strong God' are highlights of an album and worship movement that continues to deliver us fresh and invigorating hits since their rise to acclaim and popularity last year!
Meredith has become one of my favourite worship artists of all time, as well as one of my all-time favourite female artists overall (in both worship and pop/CCM markets). Releasing hits like 'You're Not Alone', 'Can Anybody Hear Me', 'How Great is The Love', and more recently 'Not For a Moment' and 'Strong God'; Meredith continues to deliver hit after hit with her strong vocals and powerful singing- 'Worthy, Worthy' is the result of great songwriting, powerful use of guitars and enthusiasm as we witness possibly one of my favourite worship songs of the year next to 'Oceans' by Hillsong UNITED. Speaking about how '…though we cannot comprehend such a mystery, just a glimpse of You revealed is compelling us to sing…'; we are reminded that even such a small glimpse of who God is and what He's been doing and revealing in our lives is certainly going to unveil itself in the form of great gratitude and thankfulness and poignant honesty towards Christ. Certain to be one of Meredith's next radio hits (maybe first radio single from her next album?); the emotion of 'Worthy, Worthy' alone should warrant a listen, not just to that song, but to the album in general.
The title track, sung by Kyle Fredricks, is another standout track on The Rock Won't Move. Initially being introduced to his singing through his rendition of 'Greatness of Our God' with Lindsay McCaul on the debut live album last year, Kyle delivers to us a melody, that along with 'Worthy, Worthy', becomes the centre and pinnacle thematically throughout the entire album. With light electric guitar, Kyle delivers a theme that every one of us are certain to understand and remember- that as God as the rock in our lives, we cannot and will not move from where we are in Him. The heartfelt chorus of how '…the Rock won't move and His word is strong, the Rock won't move and His love can't be undone, the Rock of our salvation…'; I myself am able to reflect and dwell upon this anthem as it builds into a crescendo in the bridge and pays great homage to the hymn 'The Solid Rock', borrowing some lyrical stanzas and setting them to different music arrangements, and thereby bringing something unique and fresh to all those who listen. Delivering a similar theme to the title track is album opener 'Found in You', a somewhat repetitious song led by Andi Rozier that invites us to declare alongside the band that we are found in Christ and that '…all we want and all we need is found in You, found in You, Jesus every victory is found in You, found in You…' Though at times the melody sounds similar to something Hillsong would do, the riveting guitars and keyboards that underpin the melody musically is something to behold as the music and enthusiasm by Andi more than make up for the lack in lyrical ingenuity, making 'Found in You' a commendable first song.
Throughout the rest of the album, Vertical Church Band are able to continue delivering musically unique melodies that cover a great wide of musical genres so as to hopefully bring in listeners who appreciate a wide spectrum of music. 'I Will Follow' is an acoustically driven melody with a hint of bluegrass attached to it as singer Jon Guerra (who I was introduced to when I heard the acoustically driven 'Not For a Moment' on the Vertical EP) invokes a message prominent and crucial for us to hear and respond to. Following Christ in every circumstance is a difficult thing, and Jon declares with wholehearted abandon that '…I believe everything that you say You are, I believe and I've seen Your unchanging heart, in the good things, and in the hardest part, I believe and I will follow You…' Some of the most challenging lyrics to be sung on the album, Jon executes the delivery quite well, with a fair amount of reverb to help bring the vocals into the crisp and ethereal territory as Jon vocally reminds me both Jadon Lavik and Jason Castro. Jon also performs a nice and enjoyable duet with worship leader Tara Rios (who reminds me vocally of someone like Moriah Peters or Joy Williams), 'Only Jesus Can'. One of my favourite duets since Hawk Nelson's hit 'Words' with Bart Millard, 'Only Jesus Can' uses the tactic of rhetorical questions to relay the point of how God is all-powerful and can do and accomplish anything if we ask. It is a celebration, knowing that it is only Jesus who can give us brand-new life and eternity with Him. With both Jon and Tara trading vocals and singing in different parts of the song (Jon in the first verse, Tara in the second, both singing in the chorus), the lyrics are simple, yet equally profound in the understanding that '…He can do it, yes He can, He will prove it, our God can, no one else can save us, redeem us, create a new life in us, only Jesus can…'
With worship leader Seth McConkey providing vocals to the remaining 3 tracks in 'Strong to Save', a powerful anthem that reminds me thematically like Kristian Stanfill's 'The Lord Our God', about how God is strong and '…upholds us through our trials, our God is strong to save…'; 'Call on the Name', a subdued light electric guitar driven melody that invites us to call on the name of God, because '…my God is greater, find my strength…in the name of the Lord, Jesus my Saviour…', albeit a little cliché lyrically yet still poignant and reminds me of a good radio friendly Hillsong-esque melody; and 'He Has Won', the last track on the album and an powerful electric guitar driven pop-dance melody that declares God's victory and strength through his resurrection (lyrically similar to Matt Maher's hit 'Christ is Risen'); Seth's ability to deliver both upbeat and slower melodies with poignancy (as well as his vocal similarity to Casey Darnell or Kristian Stanfill) is certain to propel these three tracks into some of my favourite on the album. Well done Seth for 'Call on the Name', 'Strong to Save' and 'He Has Won'; three melodies that glorify God in strength as we call on His name for all things, knowing the strength and power that we have in Him.
Overall: With Bethel, Jesus Culture, Hillsong and Passion being the most popular worship movements around the world, Vertical Church Band, through their humble beginnings in Chicago, have become one of my favourite new worship movements, and under the leading of worship artist Meredith Andrews, and other leaders like Kyle Fredricks, Andi Rozier and Seth McConkey; this group of worshippers continue to marvel and amaze myself and I'm sure many others. The Rock Won't Move is possibly one of my favourite live worship albums of the year, alongside Passion's Let the Future Begin and New Life Worship's Strong God. From the title track of 'The Rock Won't Move' to the poignant and favourite track 'Worthy, Worthy'; Essential Worship and Provident Label Group have a worship movement that's certain to grow and continue to increase its popularity amongst listeners in the upcoming months. Well done Meredith, Andi, Seth and Kyle for these 10 melodies, and some of the most honest and enjoyable tracks since Hillsong UNITED's ZION!
RIYL: Hillsong, Meredith Andrews, North Point Music, Kristian Stanfill
Buy the Album: iTunes/Amazon mp3