Album Review :
Unashamed Tour 2012 - Lecrae, Trip Lee, Tedashii, KB, Andy Mineo, PRO, Propaganda, and This'l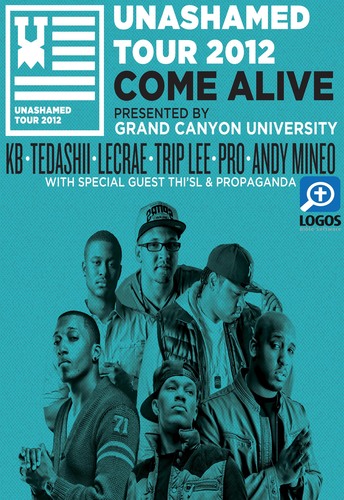 Artists: Lecrae, Trip Lee, Tedashii, KB, Andy Mineo, PRO, Propaganda, This'l
Tour: Unashamed Tour 2012 – Come Alive – Presented by Grand Canyon University
Venue: The Diamond Ballroom, Moore, OK
Concert Date: Thursday, October 25, 2012
Reviewer: Lee Brown
I'll admit that I was a little more than excited for the Unashamed Tour 2012 when it was announced. With GRITS and The Cross Movement in various stages of "on hiatus," the Unashamed Tour pretty much boasts the best and brightest Christ-centered Hip-Hop has to offer these days (with the small exception of my boy Lil' Dre, of course). And, of course, the recent mainstream explosion of Lecrae, after his latest joint Gravity burst through all sorts of charts upon its debut, just added to the excitement of it all.
I knew coming into the show with the sheer number of artists being represented that each one's set-list would be pretty compact. Even with this in mind, I was surprised to find that getting through the doors just over ten minutes late would mean I had already missed Propaganda's introductory remarks and This'l's entire set. Not all was lost, however, as Tedashii spent a good bit of time outside, despite the arctic temperatures, chatting with fans and welcoming them to the show. Although he declined an official interview (technically he pulled the "let me ask my manager" card), T-Dot showed a lot of heart in chilling with fans and posing for their next Facebook Cover photo.
Due to the long line going into the venue (it was sold out, after all), I joined the concert right as Andy Mineo was jumping into "Fool's Gold." A couple songs later, Mineo sang "In My City" and was off the stage (like I said, REALLY short sets). Despite his early placement on the card and relatively short set, the crowd really seemed to get into Mineo. After all, the dude is extremely passionate and charismatic on stage.
KB followed Mineo. While, I'd love to write a more detailed account of his time on stage, the fact that I'm mostly unfamiliar with KB meant I didn't track which songs he was performing. That being said, it is notable that Andy Mineo returned to the stage for a little collaboration work during KB's set (more on why this is important later). Overall, the crowd seemed to share a similar reaction to KB as I did. The dude was giving his all on stage, but crowd involvement was limited by the fact that fewer people knew of KB or his tracks.
PRO… I mean Derek Minor followed after KB. This change may have been confusing for some. Just in case you're unclear yourself, Derek Minor is PRO. He recently released a great little effort titled PSA Vol. 3: Who is Derek Minor? which seems to be following Mineo's path (who was "formerly known" as C-Lite) in returning to his real name. By the way, PSA Vol. 3 can be picked up for free over at Rapzilla! Minor's reception was slightly higher and more involved than KB's, but not drastically. I was a little disappointed when PRO/Minor's set ended without him doing what is arguably the best song on PSA Vol.3, "Real Recognize Real." I figured that since Lecrae was in the building, he'd come out and they'd give the fans some love. Alas, this was not the case.
Now, let's talk about Tedashii. To start his set, T-Dot came out with the very same jacket that adorns the Blacklight album. While I figured photoshop played a large role in the neon light based look found on that album cover, I was wrong. As soon as the DJ started dropping a few beats and with T-Dot's back facing the audience, the Blacklight cover was suddenly in real life on the stage. Whoever made that neon jacket should be commended. It is stinkin' awesome.
This certainly got the crowd a little more hyped up and into the set than they were before. In fact, I noticed a significant increase in crowd participation and cheering as soon as Tedashii took the stage. This seemed to remain for the rest of the show. Between the jacket, the time spent in the cold with the fans, and the overall presentation of his set, Tedashii was overall the crowd favorite of the night, in my opinion.
T-Dot's set was great. He mixed in some older hits with a good amount of newer material. He played some crowd favorites, including "Make War," "Riot," and "Can't Get With You," and had much more interplay with the audience than others that night. That being said, I became rather nervous the longer the set went on and none of the other 116 members stepped out for some collaboration. Considering Blacklight alone features PRO, This'l, KB, and Andy Mineo, I certainly expected to start seeing some guest appearances on stage.
By the time Tedashii closed out his set with a moving and powerful performance of "He Lives," I was really wondering. While I'm glad each artist got their own set, it was strange not to see more interaction. And, certainly, leaving the night without hearing Lecrae and Tedashii come together for a performance of "Dum Dum" would be unthinkable and inconceivable (more on this later).
Trip Lee followed Tedashii, however due to a few robot-based set pieces being brought out, Propaganda once again stepped up to serve as MC and build up some hype. Trip also followed Tedashii's lead in balancing old favorites with newer hits. He was also the only one I noticed to go through a major wardrobe-change mid-set. I may not have even noticed this fact as much, had Trip not made a point of it on stage. So, starting out wearing some slick duds, Trip rapped through some of his 20/20 and Between Two Worlds songs. At the mid-set break, then, Trip invited the tour guitarist to show his stuff for a minute, changed into a snap-back and tour shirt (pretty much the same look as in the picture above), and returned for a foray into The Good Life. In terms of crowd interaction, Trip didn't initially reach the bar T-Dot set. That being said, by the time Trip asked the crowd if they were robots (and bust into "Robot"), he had the crowd built up to one of the loudest and highest points of the night.
And then there was Lecrae. It was obvious from the crowd interaction (and my talking to others) that there were a lot of people at that show just to see Lecrae. This was a little unfortunate, however, because his performance seemed the least energetic and flat of the night. Certainly, he had the crowd eating out of the palms of his hands. Certainly, he proved himself the most skillful of the group and kept that crown throughout. But there was just something missing. You could just see in his eyes and demeanor that he was struggling. I later found out, Lecrae himself posted it on Facebook that night, that the man was fighting off a nasty battle with the flu. Bringing that into consideration, I'm amazed Lecrae was as on-point as he was!
As expected, Lecrae was given the longest set of the night. This could be broken down into three basic parts. He started out with some DJ quick cuts into older material such as "Represent" and "Jesus Music," quickly moving into material from the Rebel album. He then worked through a little Rehab, Rehab: The Overdose, and Church Clothes. Finally, he capped his set off (expectedly) with his newer material from Gravity.
Magisterially, Lecrae's set also finally broke the strange absence of artist interaction. During the Rebel phase of his set, Tedashii came out and started busting through "Go Hard."This got a huge pop from the crowd, too. T-Dot stayed on stage for a handful of songs, which included "Don't Waste Your Life." After T-Dot left, Lecrae invited Trip Lee on stage for a bit. I was hoping they'd backtrack into "Jesus Music" once Trip was on stage, but it was not to be. Still, it was nice to finally see the interaction on stage between the two.
Despite the strange embargo being broken from that point on, there were still some notable absences in terms of key songs. First of all, even though Lecrae did "Fakin'" during the Gravity part of the set, This'l was nowhere to be found. Likewise, I kept waiting for Andy Mineo to come out and the two go into the amazing song "Background", but this never happened, either. Overall, Lecrae's set was great. The balance in tracks from his older albums to his newest was done with precision, and even though the man himself was rather sick (as in fever type sick, not the slang use) Lecrae showed why he is the best in the game today.
Following Lecrae's set, Propaganda blessed the crowd with his spoken word "G.O.S.P.E.L." and a little more MC work.  Propaganda's appearance was a nice little addition that let the crowd know there was more to come. And what came next was the best of all. In one moment, all my fears of not getting to see the whole crew together were washed away as one by one each artist came back onto the stage. The next fifteen minutes or so were filled with top-of-the-lungs chanting of "1-1-6," speed rapping, and some of the "save the best for last" songs I was sad I didn't see earlier, including (finally) "Dum Dum."
There are no real words to describe how into this last set the crowd was. Maybe it was the fact that the chants were simple (1-1-6). Maybe it was the fact that so many of the artists best songs got a chance to shine. And, maybe, just maybe it was the fact that Andy Mineo proved beyond a shadow of a doubt that he can speed rap with the best of them (I would argue that Mineo shined above the rest during this last portion of the show, even)… But it all just worked. By the time the 116 Clique was done, the crowd was both pumped and exhausted all at the same time.
This, of course, meant it was the perfect time for Trip Lee to give a full Gospel presentation. Let me just say this, the man brought it! I've never liked Trip Lee's albums near as much as Lecrae or T-Dot's, but I earned a whole world of respect in hearing the man preach. He brought the full Gospel message, brought it well, and left no doubt what the 116 boys believe.
Overall: The Unashamed Tour 2012: Come Alive was a packed and powerful affair. Lecrae having the flu and the necessary evil of extremely short sets served to dampen the show just a bit, but the positives far outweighed those few negatives. Tedashii stole the show. Trip Lee brought the Word. Lecrae proved why he's the best in the game today. And best of all, the Clique came together for fifteen minutes of pure exhilaration and hip-hop majesty. By the end of the night, you knew what it meant to be 1-1-6 with a doubt (Romans 1:16 – For I am not ashamed of the Gospel…)!