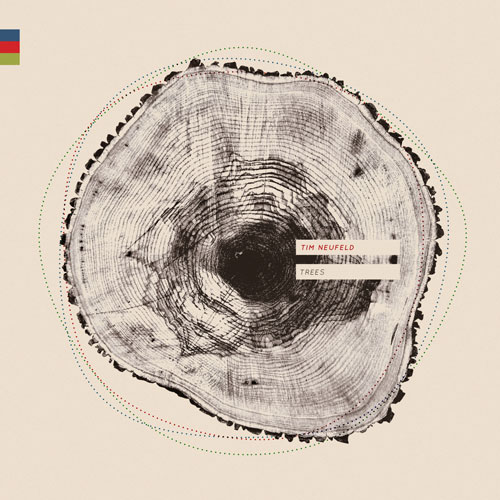 Artist: Tim Neufeld
Title: Trees
Label: independent
Release Date: 6/4/13
Reviewer: Jonathan Andre
Tracklisting:
Heart Starts Beating
Cornerstone (feat. Audrey Assad)
Fairest Lord Jesus
10,000 Reasons
I Am Set Free
Beautiful Things
All The Poor and Powerless
Glorious
This is What You Do
Praise Him
Tim Neufeld, founder and lead singer of Starfield (one of today's most underrated worship bands), is a great worshipper and one of my favourite male worship leaders, his calibre in terms of songwriting and worshipful enthusiasm placing him alongside other artists like Chris Tomlin, David Crowder and Kristian Stanfill. Always giving us great melodies to worship along to, from the poignant and hopeful 'Kingdom of Our God', and the anthemic 'Everything is Beautiful', to the rousing declaratory moment found in 'I Will Go'; Tim never ceases to amaze me with his gift to lead the listener into awe-inspiring and often poignant and powerful moments of worship. Starfield's last album The Kingdom in 2012 is perhaps one of my favourite indie worship albums since The Sonflowerz's By Faith in 2011. Now embarking on a solo career as well as still performing as Starfield with his brother Jon and tour-by-tour bass and drummers; Tim Neufeld's new album Trees full of 10 worship covers features a mixture of well-known and other lesser known melodies, each delivered by Tim with his ethereal distinct voice accompanied with acoustic guitars, powerful percussion and each song delivered through a piano/keyboard focus. While many listeners may not want to purchase this album purely on the basis that this album is full of covers and not Tim's original material, I jumped at the chance to listen to this album on Spotify, and I wasn't disappointed. From the corporate worship song 'All The Poor and Powerless' to the Paul Baloche penned 'Glorious' and the Bethel Live infectious dance tune 'This is What You Do'; Tim's musical arrangements of each of these beloved songs ought to be commended. One of my favourite albums full of worship covers ever, Trees is a great album for reflection and soaking in God's presence, as we listen to some stripped down versions of songs that have touched and impacted the lives of many listeners around the world over this past decade.
'Glorious' is perhaps one of my favourite Paul Baloche songs ever. Originally recorded by Paul on his 2009 live album by the same name, Paul wrote and performed the song with such hope and power as we are given a melody reminding us of God's glory and wonder shown through His resurrection and triumphant victory over death itself. With Tim recording the song without the live element and instead replacing it with French horns, trumpets, gang vocals, and light acoustic percussion; I am pleased to see brass instruments enter in the musical instrument frame in terms of which instruments to employ when creating a worship track or otherwise. Reminding myself of the marching bands, listening to 'Glorious' is a breath of fresh air, and the brass instruments actually accompany the jubilant sound quite nicely as the trumpets replace the electric guitars in every point of the song that originally had electric guitars in Paul's original version. Suited to someone who can appreciate the brass sound (that was heavily used in the jazz era during the mid 1900s); 'Glorious' in my opinion anchors the album full of uniquely choreographed hits and other lesser known tracks. 'Praise Him', the album ender, is one of my favourite songs on the album, and complete with gang vocals and a banjo to employ a slightly country-style sound, this original Hillsong/Royal Royal recording is something to behold as Tim cries out '…praise Him with all of the music, praise Him in all of the nations, praise Him with all of creation, we praise Him we praise Him…' with such passion and hopeful emotion. An anthem destined to appear in many churches (if it hasn't already), the song has crept up on me and has become one of the surprise worship songs this year that has been one of my favourites, and while I may not have been a fan of the song when it released on Hillsong's Cornerstone, I am a fan now! The banjo is a nice touch, and something unique to bring away from listening to this track. As the song suggests, we ought to praise God with all of our music, banjo and brass instruments included, even if these instruments may seem out of place amidst the modern instrumental setting of drums, bass guitar, keyboards and electric guitar. Well done Tim for 2 out-of-the-box and heartfelt tracks!
With an album full of worship covers, there's bound to be a few songs here and there that listeners may have heard before, even if you don't really know the original recording artist, or if you've heard the song before but just quite can't get your finger on what the title is called. Matt Redman's almost overnight radio hit '10,000 Reasons (Bless the Lord)' is one highlight worthy enough to listen to again and again, and Tim covers the song with humility, justice and respect to create a version similar to the radio version of the song, with big drums, clashing cymbals and brass instruments enough for the song to even enter the big band competition if it wanted to. Even after 2 years, Matt's song still gives me the chills, and as I hear Tim cry out '…bless the Lord, oh my soul…worship His holy name…', I'm sure this song will be on our hearts, minds and lips for years and decades to come. Similarly with All Sons and Daughters' 'All the Poor and Powerless'; their radio hit perhaps almost as famous as Matt's reminds us that even the poor and powerless (which classifies the entire world) can come to Christ, knowing that He is holy and that His sacrifice through His Son is enough for us to be reconciled with Him. The light electric guitar riffs scattered throughout the track and the reverbing keyboard gives a reflective quality about it, highlighting for me personally the awe and splendour of God and how loved I am knowing that even in my unclean state, Jesus humbled Himself to a cross to pardon my debt.
Gungor's 'Beautiful Things' highlights that God even creates beautiful things from the dust, dirt, despair and despondency that can often occur from circumstances that we can't control; while the Hillsong cover of 'Cornerstone' features Audrey Assad and a fair amount of gang vocals- a perfect combination to deliver a worshipful hit full of emotional pull as we hear 'The Solid Rock' performed in a unique and powerful way. The underlying musical uniqueness of brass instruments undercoats a song destined to be one of my favourite songs by Hillsong ever! 'Fairest Lord Jesus' is another hymn redone as Tim gives us a unique refrain possibly written by him. As the songs starts with hand-claps and an electric guitar riff, I knew I was listening to something special, and I was right. Delivering the stanzas of the hymn as verses, Tim lets us know in the chorus that '…You're beautiful, the fairest one of all creation, there is none more beautiful than You…', a pun played on the Snow White fairytale, and reminding us all of God's beauty and our response to be no less than praise and honour. The musicality of this melody is one of the best on the album, and certainly one to hear if you love hymn renditions. Also covering lesser known tracks like Bethel's 'This is What You Do' and All Sons and Daughters' 'I Am Set Free' (even I myself haven't really heard these songs that much, and I've listened to quite a number of worship songs); it is the independent worship band Lovelite's hit 'Heart Starts Beating' that struck out to me on Tim's new album. The rousing first track on Trees, Tim gives us a powerful instrumentation of light acoustics and powerful striking drums, as well as Audrey Assad singing backing vocals, to show us the enormity of God's grace in the first lyric words of how '…before we knew of our great need, You cared for us, You have buried sin and death, deep in the dust…' Powerful lyrics to start the album with, Tim's infusion of modern worship melodies delivered in a unique acoustic way is refreshing to listen to, and possibly going to be one of the most underrated worship albums released in 2013!
Overall: Starfield's music ministry is still intact after I learned a while back that Tim's new solo material is going to be released in conjunction with Starfield's new albums from this point forward. Full of enthusiasm and a heart for worship; Tim's infectious way of delivering worship melodies in an acoustic yet also energetic and enjoyable way is something that reminds me much like other acoustic-folk artists like Audrey Assad, All Sons and Daughters and The Sonflowerz. One of my personal favourite worship bands of late, Starfield's Tim Neufeld's new album is a must to purchase (after you listen on Spotify or whatever other streaming service you use) if you enjoy reflective music, and modern worship presented in a different light. With Trees being a highlight in June so far alongside Building 429's We Won't Be Shaken and Tim Timmons' Cast My Cares, Tim's efforts throughout these 10 tracks ought not to be unnoticed. You will be blessed when you listen, even if you don't enjoy worship music that much or if you aren't really that into Starfield either. One of the well received surprises of the year so far, Tim's renditions of these tracks are some of my favourite renditions of the songs ever as well! Well done Tim for such a compelling and worshipful album!
RIYL: Starfield, The Sonflowerz, All Sons and Daughters, Hillsong, Audrey Assad
Buy the Album: iTunes/Amazon mp3