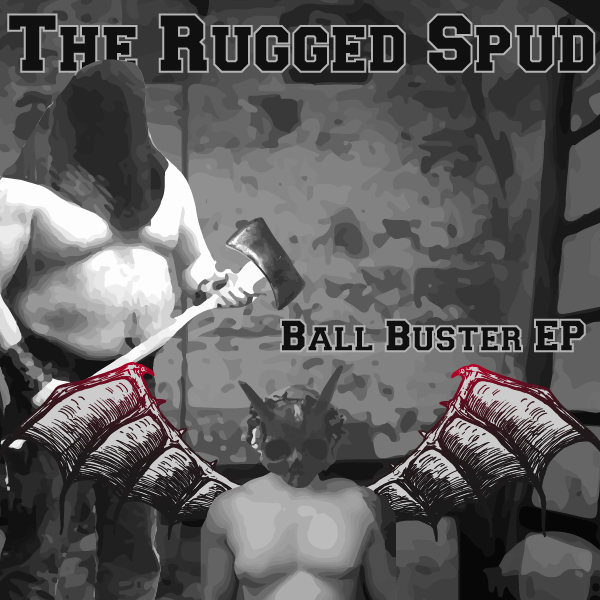 Artist: The Rugged Spud
Album(s): Ball Buster EP/ JCHC Single
Label: Independent
Release Date: 01/28/13
Reviewer: Lee Brown
Tracklisting (Ball Buster EP):
Needles
Ball Buster
Hallelujah
Tracklisting (JHCH):
JCHC
The Rugged Spud is a So Cal hardcore outfit with some punk rock roots. Before anything else, however, they are passionately devoted to Jesus Christ. Working without the support of any label, The Rugged Spud has released their final songs via their bandcamp page for the world to hear. It's a shame that this band has had to hand up their stirrups, as they have something powerful to offer.
Rugged Spud has a nice blend of "So Cal" "Punk influenced" and "Spirit-filled" flavors of hardcore. They are bold in their lyrics, aggressive in execution, and unrelenting in passion. They have also grown from their previous efforts, highlighting the tragedy of the band's untimely end. Who knows what great songs will go unwritten due to this loss.
As you can see above, this review breaks tradition for me. I'm covering their last EP and last single as one unit. Because I don't give numerical scores to shorter EP's, this works just fine (Most EPs are too short to get a real feel or experience together). As such, you'll have to read through to find out what I think. Also, because band member Emmanuel Fernandez was so kind to provide them, I'm also including the message and lyrics to the songs. I feel this gives an even better insight to the album/single and should encourage everyone to go to their bandcamp and support the band (if you're that guy, you can pick up each of these for fifty cents and they're well worth picking up for a couple bucks more than that).
The Ball Buster EP starts with "Needles." "Needles" is a reality check to the pains of this world (see the song meaning below) contrasted with the faithfulness of God. The song begins in the style of Sleeping Giant with two spoken word tracks overlaying each other. In the first vocal mix, you have a man telling his testimony of brokenness. On the second, you have a deeper voice proclaiming, "The Lord is my shepherd, I shall not want…" Once the music begins, you immediately feel the passion and aggression begin to flood your senses. The juxtaposition of heart-wrenching testimony against faithful hope continues as the chorus reassures, "I felt His blood washing over me," while the testimony speaks to brokenness of "only waking up because I sleep on a bed of needles."
The title track "Ball Buster" examines the many ways that the enemy has tried to "steal, kill, and destroy" (John 10:10) and standing up against him. They lyric, "you will experience my victory" shows the heart of the message of this track. That being said, the execution is a little banal. The thrust of the track is that "we" are going to take back what has been stolen. Just as satan has busted our "balls"… we're going to bust his right back.
This idea and execution took me some time to process. Bands like P.O.D. have touched on this topic before. In "Selah" they start out, "kick down the teeth of the wicked," for example. However, "I will bust your balls" is a little more uncouth than even that is. I would have personally chosen another metaphor to go with. That being said, I get it. David (as in King David) wrote in similar manner in various places of the Psalms about his spiritual enemies. So, while I'm hung up on the words themselves, the meaning behind them is solid. The track is aggressive and honest, and many will connect with the bold word choice. I also like the childlike vocals singing "he's under my feet" at the end of the track. It adds a nice touch.
Just as quickly as it began, The Ball Buster EP closes with "Hallelujah." It is ironic that this song follows directly after a song that proclaims "I will bust your balls." "Hallelujah" is pure and unadulterated worship. This is heavy worship in the vain of The Great Commission. This is the type track I wish we could play on Sunday mornings at church (if yours does, let me know where you go, because that's amazing). From start to finish, "Hallelujah" is exactly what it should be, hardcore and passionate worship that is engrossing from the moment it begins until the very last strum is executed. It's hard to "judge" anyone's worship, but I'll say that I will certainly be adding this to my own "hard worship" playlist.
"JCHC" is a single and a cover of Officer Negative's song of the same name. As a cover song, it keeps the original meaning and lyrics. Unfortunately, I never listened to Officer Negative. Having listened to The Rugged Spud's excellent rendition, however, I now know the error of my ways. "JCHC" is a punk-laden hardcore anthem that deserved to be covered. Though I am unfamiliar with the original, the cover version is fantastic. This is the sort of track I would have loved to see performed live in concert.
Listening to "JCHC" I was swept back into my Bombs Over Broadway, Slick Shoes, No Innocent Victim days. I must say, it was great to be taken back. With that, I must say R.I.P. to The Rugged Spud. The Ball Buster EP/ JCHC shows that you had quite a bit more to offer. I can only hope that our readers will support your final effort.
Overall:  The Rugged Spud brings some fantastically solid So Cal hardcore with some punk sprinkled in. Though The Ball Buster EP  is only three tracks, it shows that the boys of The Rugged Spud have something great to offer. "Hallelujah" is a powerful and fantastic worship song that belongs in every metal/hard worship collection. "JCHC" is a fantastic cover of a great song that takes the listener back in all the right ways.
RIYL: Sleeping Giant, Dynasty, The Great Commission, Officer Negative
—————————-
Because the band was so kind to provide them, here are the song meanings/lyrics for all of the above tracks.
"Needles"
About the song:
In our lives, We are surrounded with hurt, pain, despair. Life can be forever changed in a single moment. I wrote this song based on the band members life as well as my own. Deaths of family/friends/loved ones, Hurt, pain from relationships/backstabbing/friend betrayal/bad break ups, parents/family abandoned their children/raise them with no love. We see so much bad in this life. Situations that did not end well. Mistakes that alter a person's life. We  have experienced things in our lives, though i personally haven't been through some of these things, because people that i love have experienced them, I have walked through it with them. Sometimes we as human beings think life as crap. we think ourselves as worthless human beings. i wrote this song for us, for you, for whoever listens, to share a love that goes beyond all this crap. to share a peace that can be found. to share joy! you deserve to have a life that is beautiful. you deserve an abundant life. Jesus wants to give you these things! We went through the valley of the shadow of death, we got out of it.

In the intro of Needles, you hear some people talking about experiences they had, or are going through. these are real people sharing their life with you. we all go through it. even Jesus. The Bible verse which is being spoken is from palms 27
"Needles"
Lyrics
My mom was taken away from me. My dad doesn't even know me.
The only brother and sister I've ever had live in a bottle.
And i sleep on a bed of needles.
My friends have left me here to die.
I try but all I see is failure.
There's only one reason I get up in the morning,
Cuz I sleep on a bed of needles.But i felt His blood washing over me!
His nailed scared hands pulling me in!
I feel His peace!
I feel His grace!
I feel His mercy!
I feel His power!
I feel His love!!
"Ball Buster"
Song meaning:
The devil is not as big as people make him out to be. he is powerless. don't let him deceive you! he has been busting our balls for far too long. it's time to return the favor! We are more than conquerors. This song describes the struggle and how we have victory.
"Ball buster"
Lyrics
You've taken what was dear to me.
I'm in the midst of despair.
you have been the enemy of my family since the day you fell.
I stand on The Rock that's never seen the sting of defeat.
you will experience my victory that I've already won!you've seen me fall, you've seen me rise. I will take back whats mine.
you've seen me fall, you've seen me rise. I will see your demise
I take back all my family. I take back all my family!
They were never yours to hold. My blessings are mine.
I'm seated in heavenly places where I'll wacth you die
Everything you ever took from me, I'll get back all my blessings!
I will bust your balls!
All the pain and hurt that i've felt, all the time I've lost I'll get back!
I will bust your balls!
you are under my feet forever!!
"Hallelujah"
Song meaning
Straight worship to our Father in heaven! Hallowed be Thy name! Your kingdom come! Your will be done, on earth as it is in heaven!!
The weird words in this song are names of God found in the Bible. Describing who He is. In context with the whole album, Needles starts with the moment of pain, BallBuster is the fight, Hallelujah is the worship that happens after all is said and done, the victory cry.
"Hallelujah"
Lyrics
Hallelujah! Holy is Your name!
We give glory to the King of Kings!All creation points to Your glory!
All the angels in heaven cry HOLY!
I will praise Your name till my eyes run dry!
We come together and sing..
Worthy is the King of Kings!
Who came down and set us free!
No other can take His place!
JEHOVAH-RAPHA! ADONAI! ELOHIM!
YAHWEH! NISSI! ABBA! JIREH!
BEAUTIFUL!
All creation points to Your glory!
All the angels in heaven cry HOLY!
I will praise Your name till my eyes run dry!
We come together and sing..
Hallelujah! Holy is Your name!
We give glory to the King of Kings!
"JCHC"
Song meaning
This is a COVER SONG by the late great Christian punk band, Officer Negative. We chose to do this song because, 1) the band grew up with this band. They were one of our favorites. 2) the song JCHC is our anthem and describes how we do things in life. Playing the song live is great! Always tons of fun!
-JCHC by Officer Negative-
Lyrics
Living for Christ is what we do
That's the definition of our hardcore
We don't need drugs or booze
Christian punks we wont looseJesus Christ Hardcore
Kick satan in the face
With our steel toe boots
We are in the army of God
With salvation as our roots
We all stand together
Unified by Jesus Christ
Defeating Satan spew
With the word of Jesus Christ
Sick and tired of worldly views
Sick and tired of satans abuse
Sick and tired of compromise
Sick and tired of all his lies