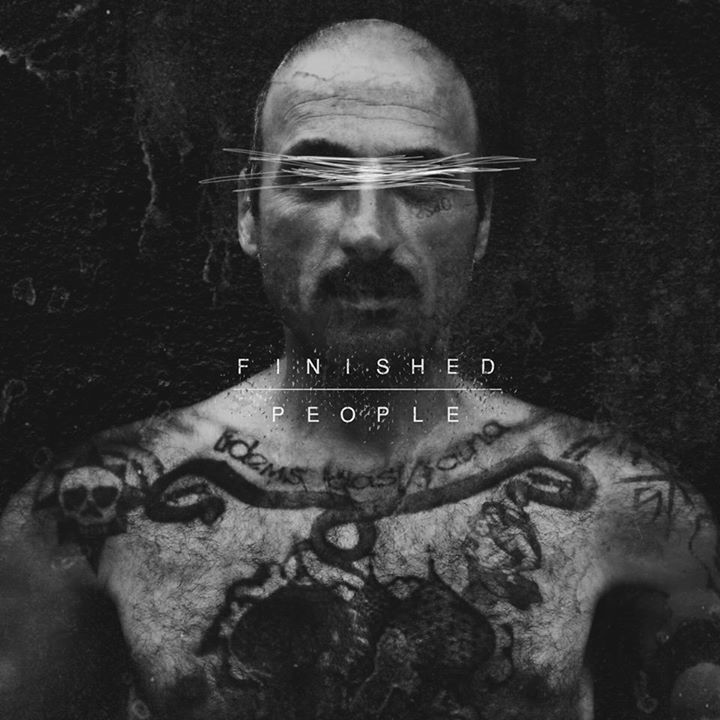 Band: Sleeping Giant
Album: Finished People
Label: Century Media
Release: 8.19.14
Reviewer: Brody B
Tracklisting:
Clutches
Overthrow
Finished People
Death Knell
Son of God, Son of Man
Christus Victor
Violence
Brother's Keeper
The Great Divorce
Blood Meridian
Victory
For anyone familiar with Christian hardcore legends, Sleeping Giant, you already have a pretty good idea of what to expect on their newest release, "Finished People". A raw production style, riffs focused more on getting the crowd moving than technicality, and front man Tom Green's passionate vocal performance. "Finished People" takes this basic formula the band have used in the past and refines it to become perhaps the best Sleeping Giant record to date.
Clutches shows that Sleeping Giant have not been slacking off in their three years of absence. This opener is one of the heaviest hitters on the album, both musically and lyrically. The only returning member from the "Kingdom Days in an Evil Age" lineup, drummer Matt Weir, gives a standout performance. Complex drumming patterns and an overall high volume in the mix make Weir's presence known. Green passionately exclaims in his signature sing/yell/scream style, "God don't let people fall into the hands of an angry church without love I never would have made it / Father don't let your people fall into the clutches of an angry world/ Without your love we're never gonna make it".
Overthrow is a super groovy track. Simplistic riffs work in the favor of this single because the listener is able to focus more on head banging than being distracted by a mindboggling guitar lead. The catchy chanted chorus sounds like it should translate wonderfully into a live environment as Green proclaims, "Flesh and bone. Snakes and Vultures. Overthrow prison culture. Watch me flow, like a River. From the throne into every nation on the earth." Impending Doom's own frontman, Brooke Reeves also makes a guest appearance at the end of the track, adding a little grit.
The title track, Finished People, is one of my personal favorites. Right off the bat the track comes out swinging with a furious breakdown over a prayer spoken in Russian. The track, lyrically, speaks about how God can use anyone – even prisoners to carry out His mission. Tom Green explains God's vision and says, "I see saints in the cell blocks / I see revival in chains".
Christus Victor is a slower, more worshipful song than anything previously on the record. This middle track seems to be "Finished People's" rendition of Tithemi from "Kingdom Days…". While Christus Victor does not have the same power that Tithemi did, the simple and worshipful lyrics are beautiful and more impactful in their redundancy. Violence keeps the slower tone going in the form of a spoken word track. Levi the Poet does the bulk of the vocals here as Green does background chanting. Levi does awesome work (As always), however I felt that the song seemed a bit out of place on this record seeing as the poet does all the singing rather than just having a small part in the track.
Brother's Keeper finds Tom Green putting an almost rap spin on his vocal delivery. I have always been a fan of his yelling, perhaps more than his screaming and this is no different. Musically, the band keeps things consistent with the rest of the record with beatdown breakdowns, blast beats, and groovy riffs.
Sleeping Giant throws a little bit of melody into The Great Divorce. Melodic leads and Green throwing around some clean vocals really diversify things. This focus on melody finds it's way into album closer, Victory. The final track begs to be played live as fans chant the repetitive, yet powerful lyrics in congregational style worship. "I am your victory / I live in love because you now live in me/ I am a prophet and king/ I will do miracles and nothing will contain me/ I am your victory/ Jesus my Victory!" make up the bass drum led anthem. The track closes with an old recording of the hymn, Victory in Jesus, which seems a bit abrupt coming from a hardcore riffs. At the same time however, the addition of the old hymnal gives the album a completed feeling.
Overall: Sleeping Giant have not pushed the envelope of the hardcore world by any means with "Finished People" and yet the Salt Lake City based band produce a monster of a hardcore record with enough heart to make up for what it lacks in musical complexity. "Finished People" capitalizes on congregational hardcore worship anthems and challenges listeners everywhere to boldly love and spread the message of Jesus.