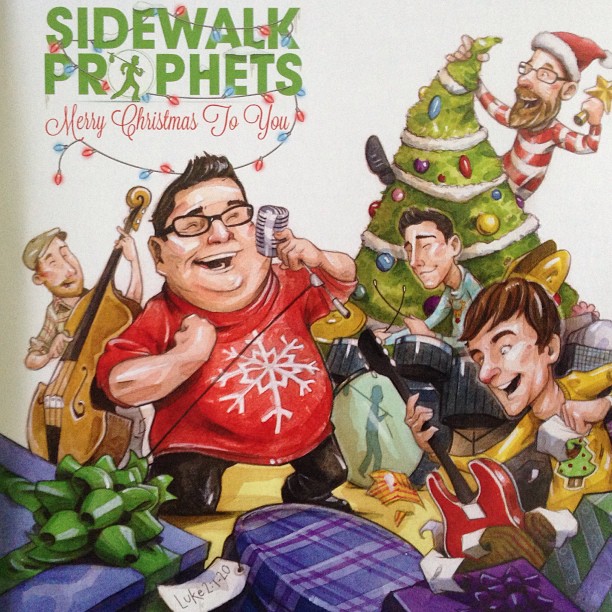 Artist: Sidewalk Prophets
Title: Merry Christmas to You
Label: Fervent Records
Release Date: 9/24/13
Reviewer: Jonathan Andre
Tracklisting:
What a Glorious Night
White Christmas (feat. Francesca Battistelli)
Give Me Christmas
Have Yourself a Merry Little Christmas
Hey Moon
Merry Christmas to You
Holly Jolly Christmas
What Child is This
That Spirit of Christmas
Silent Night
Hope is Born This Night
Because It's Christmas
Since their hits 'You Love Me Anyway' and 'The Words I Would Say', Sidewalk Prophets have had quite a ride in popularity. After their debut album These Simple Truths, radio success followed, with their hit single 'The Words I Would Say', peaking at No. 3 on the Billboard Christian Songs Chart; so popular that it featured on both WOW Hits 2010 and WOW Hits 2011. Also releasing their encouraging and personal album Live Like That in March 2012, with a fan-inspired cover with a fair amount of individual's pictures of people who inspire them to live like Christ; they are now back with their first Christmas album, Merry Christmas to You. While Christmas albums can be hit and miss, from personal favourites like Lincoln Brewster's Joy to the World and BarlowGirl's Home For Christmas, to unfortunate let-downs like Christmas in Diverse City by TobyMac, or Ashes Remain's Christmas EP; this album, released at the end of September (dunno why, considering that when it released, Christmas was around 3 months away), gives us great music that reminds me of the 50s or 60s jazz and motown era, with great music parallels between this album and Francesca Battistelli's 2012 Christmas album, also influenced by similar music roots. With around half the album full of original tracks, this is a great album if you enjoy Sidewalk Prophets as a band, or any of the keyboard prominent Christmas melodies that are often played in shopping centres with a warm, fuzzy, night-club-like feel to them. From the two Christmas singles that released in years previous ('Hope Was Born This Night', 'Because It's Christmas') to other originals like 'Hey Moon' and 'What A Glorious Night', along with famous carols such as 'Silent Night' and 'What Child is This'; Merry Christmas to You will probably be in the history books (alongside Jason Gray's Christmas Stories: Repeat the Sounding Joy) for most original Christmas songs on an album by a CCM/worship artist. While Christmas albums can be part of a tough 'genre' to review, considering all the covers of carols and comparing them to other artists renditions of them (as well as comparing artists original Christmas songs to other artists original Christmas tracks); Sidewalk Prophets and their effort on delivering an album about the holiday season and its significance to all mankind is one for the listeners to sit up and pay attention to- with a great balance of reflective ballads, worshipful melodies, and jazz inspired songs, this is a great album to play on repeat, giving us a nostalgic feeling as we cast out minds back to the era of 50s and 60s music in the process.
With an even split between cover carols and original tracks (6 carols and 6 original songs), Sidewalk Prophets have made some interesting decisions of which carols were to be represented on the album, with some odd decisions, as well as some great ones. Starting off the carols with track 2, a duet with Francesca Battistelli in 'White Christmas', this Bing Crosby song full of organs, horns and other brass instruments is great to sway along to, as we welcome in the holiday season with cheer, happiness and expectation. While this song doesn't have any spiritual content in it at all, it does provide us with a fun-filled melody as we look forward to Christmases spent with family and friends. While this song is much applicable to those who live in the Northern Hemisphere because they will indeed be spending each Christmas either with cold conditions or with 'white' around them in the form of snow, this melody does inspire myself to dream about having a 'white' Christmas sometime in the future- perhaps when I'm working, or travelling for holidays, I can be in either North America or Europe by the time Christmas comes around one of these days. The harmonisation with Francesca in this duet is also a great highlight, as this song is perhaps the most enjoyable and best musically choreographed carol on the album.
Still continuing with cover carols that have little if not no spiritual significance, 'Holly Jolly Christmas', complete with similar musical instrumentation as 'White Christmas' (keyboards, brass instruments, light percussion and light electric guitars), provides us with some Christmas cheer and friends wishing each other to have a great Christmas. While lyrically the song is quite uninteresting, the music more than makes up for a song that's certain to be played in stores around cities, countries and the world as December approaches. 'The Spirit of Christmas', a melody famously recorded in the 1950s by soul singer Ray Charles, is one of my highlights amongst the carols that don't explicitly declare out Jesus's birth and significance of that throughout the lyrics. While I don't know if Ray was a Christian or not, it is pretty awesome that encouraging lyrics can be delivered through one of the world's most respected soul singers ever, as we understand through this melody about how '…Christmas is the time of year for being with the one's we love, sharing so much joy and cheer…singing songs about Jesus [and] the blessed way that He came to us…' The band sadly also delivers a down-point in 'Have Yourself a Merry Little Christmas' (one of the most covered Christmas carols ever that provides us with a happy tune yet not much lyrical substance), providing us with string instruments to throw us back to the Disney soundtrack days. However, the song sadly fails to make any indent into providing us with something new and original, considering I've heard this song before from other artists like Jeremy Camp, BarlowGirl, Francesca Battistelli and Bebo Norman. Somewhat redeeming themselves with powerful Christmas melodies 'What Child is This', an acoustic slowed-down melody that seemingly sounds like a lullaby yet nonetheless delivers a heartfelt message of praise and adoration, and 'Silent Night', a piano only track that accentuates the lyrics amidst David's emotive vocals as he declares God's worth, even on the silent night when He was born; the carols as a whole are dim when compared to the band's original written Christmas tracks. Maybe some other well-known tracks like 'O Come All Ye Faithful', 'Away in a Manger', 'Angels We Have Heard on High' or 'Joy To the World' would've been much better if the band were going for full effect of the carols, musically and lyrically.
'Because it's Christmas' and 'Hope Was Born This Night', both initially released as Christmas singles in 2012 and 2011 respectively, deliver great reminders of the reason for this holiday season as Sidewalk Prophets deliver some of my favourite original Christmas songs from them on the album. With this track as no. 12 (instead of no. 1 on A Very Special Christmas – Bringing Peace to Earth last year), we are given a song that starts in guitar driven fashion, as singer David Frey sings about how '…the snow is falling again, it looks like wonderland, but I'm stuck in traffic behind all these red lights…' Speaking about the moments leading up to one of the most memorable and sometimes stressful times of the year and how in all the rush, busyness and madness, we can forget the true meaning of the holiday season, this 3:13 song is a timely and cheerful reminder to '…take your time and slow it down, let your heart hear the joyful sound…', understanding that the decorations, the tinsel, the stress and worry are all second to the central importance of celebration- of Jesus' birth, as well as the joy of giving to our friends and family the love that we may sometimes hold back from them every other day of the year.
'Hope Was Born This Night', the most CCM melody on the album, is also one of the most poignant and meaningful as Dave and the rest of the band remind us of the night when Jesus was born and hope was given to the world. A worshipful song at heart, it is great to be able to worship alongside the band in the chorus as we proclaim '…glory to God in the highest, peace on Earth, goodwill toward men, let all of the world sing the chorus of joy, because hope was born this night…', complete with wind chimes, clashing cymbals, light percussion and a steady electric guitar riff that underpins the music nature of the song. Again emphasising the night of the birth of Christ in album opener 'What a Glorious Night' with a rhythmic beat through steady percussion and a powerful vocal from Dave, the band showcase a great song to open an album which hopefully gives us a timely reminder and reassurance of Jesus's place in history and in our hearts. At to this the title track, a blues-y like melody with heavy bass and acoustic guitar, emphasising the message of merry Christmas, even when things in our life on that holiday go terribly wrong; as well as 'Give Me Christmas', a piano-prominent track that portrays the crucial message of how what comes with Christmas is love for God and fellow man; Dave and the band utilise the 50s and 60s era nicely in some of these tracks, with Dave himself singing in the style of artists like Michael Buble (especially in 'Give Me Christmas', 'Holly Jolly Christmas' and 'Merry Christmas To You'), creating an atmosphere that's certain to bring in listeners who are great fans of the 50s and 60s Christmas genre!
Overall: Sidewalk Prophets's first Christmas album took me by surprise a bit. Initially when I first listened to the album, I kinda expected it to be more CCM than it actually was. Providing listeners with a variety of musical genres, from blues, to mowtown, acoustic, piano pop, reflective and lullaby-like; this is an album certain to be purchased and enjoyed by listeners who have either enjoyed Sidewalk Prophets's albums previously, or if you really enjoy Christmas music with a variety of musical backdrops and genres to go along with it. With this album introducing me to some original tracks that have become some of my favourites, as well as being introduced to some Christmas holiday melodies that I probably wouldn't have heard if not for this album, we are reminded that the spirit of Christmas, and the season of happiness and joy because of Christ's birth can in fact turn people's lives around as the holiday season draws near. While I may have liked more Christmas carols that exerted more of a spiritual nature, the original tracks more than made up for it. One of my favourite Christmas albums since Steven Curtis Chapman's JOY last year; well done to Dave and the band for such an enjoyable and heartfelt holiday and seasonal album!
RIYL: mikeschair, Brandon Heath, Francesca Battistelli, Josh Wilson
Buy the Album: iTunes/Amazon mp3