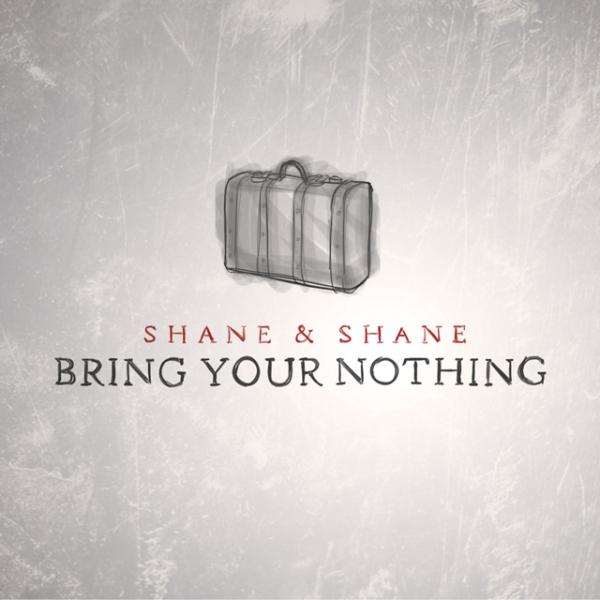 Artist: Shane And Shane
Title: Bring Your Nothing
Label: Fair Trade Services
Release Date: 5/14/13
Reviewer: Jonathan Andre
Tracklisting:
The One You'll Find
Bring Your Nothing
That's How You Forgive
I Came Alive
You Loved My Heart to Death
Eyes on You
In a Little While
Crucify Him
Without Jesus
Faith to Believe
Though You Slay Me
'…what sets us apart as believers, what sets our message apart, is that you don't bring your 'fill-in-the-blank' to make God happy…you bring what you have, and what you have is nothing. That's all He requires of us…' Shane and Shane have been around the music industry for more than 10 years, yet for me personally, this is the first album I have listened to from this duo from start to finish. Specialising in more acoustic worship rather than CCM or contemporary pop, Shane Barnard and Shane Everett continue to write and release heartfelt and overwhelmingly encouraging songs that uplift the spirit and remind us of the hope we have in Christ. Though not necessarily the first kind of music I would sink my teeth into, this album does provide us with great soothing melodies that remind us that it is indeed nothing that we bring to God in order to receive the salvation we don't and haven't even earned by ourselves. With light acoustics and passionate vocals, this album is a great fit for those who love contemporary acoustic worship, from other artists like Bethany Dillon, Lindsay McCaul, Audrey Assad or Matt Maher. With the album as a whole offering us questions, answers, confronting moments full of conviction and often uncertainty, as well as declarations that are founded on certainty of Christ's love; grace runs as an over-and-under-writing theme to this album. Co-writing with Jason Hoard (Third Day's touring guitarist and producer) and drummer for Shane and Shane Joey Parish; these two men were able to conjure up melodies that were initially inspired by a weekly songwriting class both men lead, incorporating songwriting techniques as well as theology throughout every song on this 11 track album. From the first single 'That's How You Forgive' to the acoustic and hand-clapping prominent 'The One You'll Find'; these two men from Texas have been on a great musical journey, and listening to this album, the journey doesn't end there, with this album continuing to lead them into new musical and lyrical adventures as both these vocalists continue to delve more into Christ and His promises for them.
'That's How You Forgive' is the first radio single from the band, and personally is one of my highlights of the album as Shane and Shane offer us a mixture of acoustic pop and power-ballad moments as the verse draws us with light acoustics and Shane Bernard declaring out the gospel in song. As we hear the heart behind this 3:09 melody, and how '…it really resonates with [people's] hearts, especially if they know the Lord. And if they don't, it walks them through how the Lord forgives…', we are offered to listen to a heartfelt emotional single that reminds us of how Christ continuously and fervently forgives us of all our wrongdoings. With light keyboard riffs and great harmonisation between the two Shane's, the gospel is preached, with simple yet effective words of how Christ lived, died, rose to life and now offers it to us with open arms. One of the most upbeat songs on the album (though not necessarily upbeat when comparing this track to other CCM ones), 'That's How You Forgive' anchors the album flooded with messages of grace and hopefulness. The title track 'Bring Your Nothing' starts off with a light acoustic guitar riff and a 'wooohhh' backing vocal reminding me of something Phil Joel did during the 1998 Newsboys song 'Woohoo'; as both Shane's give us a poignant melody full of lyrical and heartfelt truth of the message God wants to relay to each of us- that all we need to bring before the Lord is just ourselves and nothing else. Something that can be very hard to grasp if they attribute acceptance with good works, the song offers us to see grace defined as we witness some of the most powerful lyric lines from the album, as Shane Barnard cries out '…bring your nothing, and I'll give everything…' Pointing out the blatant truth that all we have to do is just bring ourselves as we are, broken, weary and hurting before the Lord; both 'That's How You Forgive' and 'Bring Your Nothing' ought to minister to listeners who could possibly struggle in this area of their lives. Well done guys for delivering compelling songs that invite into discussion as we continuously learn more of the undeserving and unequivocal grace poured out on us!
With hand claps and some acoustic guitar to start off 'The One You'll Find'; Shane and Shane place on their 'Jimmy Needham' hat as both of them remind us of how the Lord keeps on pursuing His beloved children as we are shown the scenario of the union between a bride and groom. With Christ as the groom and the Church as His bride, the love that Jesus has for each one of us is just as strong, if not stronger than the love a man has for a woman. Full of light acoustics as the musicality of the song employs a folk sound, Shane and Shane present to us an uplifting and compelling first song that sets the stage and mood for the entire album. 'I Came Alive' offers us a light acoustic and electric guitar riff to start off a song with great country influence as the band offers up a poignant thankful prayer to God, knowing that '…I came alive, took a breath for the very first time, when You called my name I came running…'; while 'Eyes on You' continues to employ a soulful musical atmosphere a-la Jimmy Needham and newworldson as both Shane's give us a reason for our praise and exaltation, with Christ opening our eyes as we awake from our spiritual blindness and focus our gaze on Him. 'Without Jesus' shows us a life without Jesus with us, and that within the 2:51 long uniquely written song incorporating alliteration, number association and rhyme; we are met with a powerful melody almost encouraging as it is confronting. 'You Loved My Heart to Death' depicts the crucifixion and its effects in real, raw, poignant and poetic fashion while it is 'Crucify Him' that really hits hard personally. As listeners are given a real and authentic portrayal of how some Christians act- worshipful and at the same time fulfilling their own earthly and sinful desires, we are reminded of the hypocrisy we can sometimes be caught up in. With the song equally as emotional as it is uplifting, 'Crucify Him' is one of my favourite songs on Bring Your Nothing. Well done Shane and Shane for giving us such a heartfelt and compelling song that hopefully spurs us to become Christ followers full of honest integrity.
The piano led reflective 'In a Little While' describing the moment when we will be with Christ in heaven is one to remember and treasure for many months ahead, as both Shane's sing out a heartfelt lyric on how '…I see a city, a New Jerusalem, coming down from Heaven, every tear that's fallen, will be picked up again, and we will live as one…' A song about unity and freedom in Christ Jesus, this song, alongside 'Crucify Him', anchors the last half of the album. However, it is the last song 'Though You Slay Me' that has brought me some discomfort as I listen to it. Reminding myself of Sidewalk Prophets' 'Keep Making Me' or All Things New's 'Keep Me On My Knees', I sometimes feel discomfort when people sing to God, sometimes even praising Him for 'slaying' them, keeping them on their knees so that they can rely on Him only. I know for a fact that God never causes bad things to happen to us, and that very often; the choices we make have dire consequences as to where we end up. Yet I believe that it is Christ that uses every circumstance, good or bad, for His glory as our lives are continuously shaped to be more like Him. God doesn't cause the slaying, but He does sometimes want us to learn from the circumstance and see what He is trying to tell us in our moments when we have nothing else to cling to except for Christ. A song that could confuse newer believers into thinking that God loves to hurt us so that He can heal us, I myself am reminded to be more certain about what I believe so that I can explain to other believers of the truth I know- that God never causes the circumstance, but uses it gracefully to help us.
Overall: Shane and Shane has always slipped underneath the radar, and whilst many listeners may bypass them for other more popular artists, they always have something great to say in their albums they produce, with their latest album Bring Your Nothing no exception. From the feet-stomping 'The One You'll Find' to the first radio single 'That's How You Forgive'; we are reminded of grace in all its facets, with a conglomeration of musical styles- from reflective melodies to upbeat anthems. A certain purchase if you love acoustic pop-worship, this is a great album to listen to for reflection and is one of my favourite albums released in May so far. Well done Shane and Shane for such a thought-provoking and encouraging album.
RIYL: Matt Maher, Bethany Dillon, Lindsay McCaul, Audrey Assad
Buy the Album: iTunes/Amazon mp3