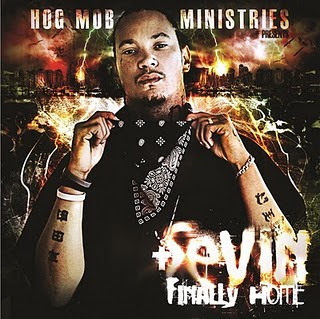 Artist: Sevin
Release: Finally Home
Label: HOG Mob Muzik
Release Date: November 2010
Reviewed By: BMer
Tracklisting:
01. Intro [2:17]
02. Dem Don Kno Me [4:00]ft. Dre & B-Rone
03. And Wut!! [3:47]
04. Involved [4:28]ft. Brotha Ruff
05. Starz [4:14]ft. Floe Montana
06. Show Me [4:07]ft. R.E.I.G.N.
07. Reel Game [2:57]
08. Let's Take A Ride [3:55]ft. K-T & Ambassador
09. Live Wire [4:54]ft. Bliz & Bizzle
10. Tuch Tha Sky [3:57]
11. Past Lyfe [4:32]ft. K-T
12. I Need Tha Gospel [5:09]ft. Paul Washer
13. I Gotta Hav U [4:20]ft. B-Rone
14. Finally Home [5:06]
15. Kry Sometimez [4:36]
16. Safest Place (interlude) [1:51]
17. Hevin [3:17]
18. Itz In U [3:51]
19. I Feel Him Komin [4:34]ft. John McArthur
Sevin is a Christian MC from Sacramento, California. Finally Home, the latest in Sevin's impressive catalogue, is released through HOG Mob Muzik. Sevin's west coast rap style features bangin' beats and a smooth flow that keeps you bobbing your head, and his edgy storytelling might be too colorful for a youth group, but strikes right to the heart of the listener.
Right from the get-go you get a sense of Sevin's lyrical power, he's a veteran of the rap game now and his non-stop flow on the intro track shows that he's not following the typical playbook that most gospel rapper play by. On track 2, "Dem Don Kno Me" Sevin's use of the n-word shows that he's not getting caught up in semantics, his mission of bringing the Church to the streets will not be compromised because he chooses to use edgy words. These tracks are not designed for the Christian music festival crowd, they're aimed at the lost on the streets, and one way to break through is to speak a language they speak. Sevin does not waste time proclaiming his faith though, track 3 "And Wut!!!" features the hook "but yea I'm a Christian and what?!", repeated over and over then …"I bang, you won't, Christ reigns, you don't".
Finally Home is long, 19 tracks featuring only one interlude and a handful of talented guests like K-T, Ambassador, Bliz, Bizzle, Dre, and Brotha Ruff. "Involved" featuring Brotha Ruff is a typical west coast track reminiscent of Xzibit or West Side Connection with it's keys and driving bass.  The title track "Finally Home" is a solid storytelling track where Sevin goes through his story of writing this album, battling through depression and demons "I ain't sweatin' all this threatenin' economy, I don't care if the terrorists are bombing me, cause all i see, what? is thisThrone of Grace, and the King that sits in it with a glowing face." The best track on Finally Here is "Kry Somtymez", Sevin's singing on the hook is raw and passionate. The message of the song is something most hardened thugs would never admit; crying when times get tough. The lyrics are tough and honest, really showing the vulnerability that makes Finally Home such a solid album. Sevin doesn't only admit to crying, he repeats it over and over as the hook of the song "Lord knows I cry sometimes, but although I'm hurtin', I give You my burdens. I wanna die sometimes, but You say just trust Me, no one can love me the way You do." He also made a video for the track.
OVERALL Finally Home is a powerful work, raw and emotional lyrics, solid beats, and a diverse delivery giving Sevin one of the better rap albums of 2010. Although the album is not without some weaker tracks, overall with 19 total songs there are definitely some standout great numbers like "Kry Somtymez" and "Involved". The lyrics feature some words that might be considered offensive, just FYI.
Buy it here