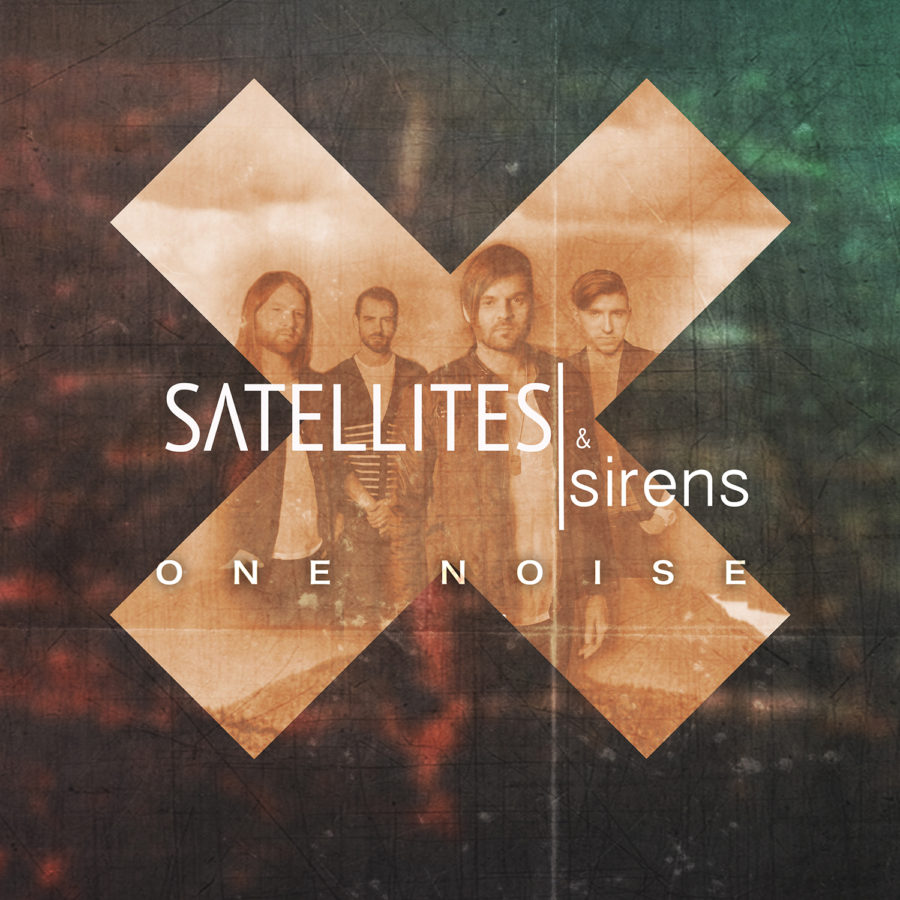 Artist: Satellites and Sirens
Title: One Noise
Label: DREAM Records
Release Date: 3/18/14
Reviewer: Jonathan Andre
Tracklisting:
Crash Down
Jump Start My Heart
One Noise
Teach Me How To Love
Magnetic
Keep Running
We Are Yours
Our God Is Able
Breakthrough (feat. Jonathan Steingard of Hawk Nelson)
You Traded Heaven
Holy Are You God
United Kingdom
Showcasing their skill as a drum and synth driven band, Satellites and Sirens have had quite a career to this point. Since signing to DREAM Records, this 4 piece band from Nashville, Tennessee have given us hits like 'Anchor', 'Take Me Back', 'Frequency' and even covers of Skillet's 'Awake and Alive' and Chris Tomlin's 'White Flag'. From Word Records, to releasing music independently, and now on the artist roster of DREAM, this alternative pop/rock/worship band still continue to travel the countries of the world, showcasing the love of God, no matter what album they have produced (and especially in this new one, releasing March 18th). While I myself haven't really listened to a Satellites and Sirens album from first song to last before (even though I have both their debut album and Frequency), One Noise has been able to interest myself from first note to last, possibly leading myself to declare that this upcoming release from DREAM Records is my favourite since Warr Acres's Hope Will Rise. While not necessarily the most lyrically hard-hitting (leave that to artists like Bebo Norman, SCC or Jason Gray), this release from Geoff Hunker and the boys at S&S is nevertheless still a great album full of vertical worship melodies with a rock and electronic edge. And even though they are still considered the 'new bands in the label', their experience as a band since 2008 is certainly going to play a big factor as the band readies for their release date and beyond. From their current radio single 'Jump Start My Heart' to the powerful gang vocal led title track and the CCM-esque 'Teach Me How to Love', Satellites and Sirens have given us 12 songs that can easily be used in alternative corporate or individual worship. Some of the most simple, yet equally profound worship songs to be released in 2014 so far, the heart of lead singer Geoff and the rest of the band is to continue to lift God's name high in every circumstance we are situated in.
'Jump Start My Heart', the first radio single from the band, is by far one of the most catchiest and enjoyable songs of 2014 so far. With gang vocals, electronic keyboards and an electric guitar riff to start off the song, Geoff leaps into worship mode, with a moment of realisation in the opening words of how '…tonight I'm on the edge of leaving everything I've ever known, tonight I'm letting go of who I've been in search for something more…' As I am reminded of the theme similarity between this first single and Hawk Nelson's 'What I'm Looking For', the first song from their most recent album Made, 'Jump Start My Heart' is a call, from us to God as we long for Him to jump start our hearts- ridding ourselves of everything that slows down our hearts (both physical and spiritual) or maybe even stopping it altogether. With synths that would draw in listeners of synth pop and other EDM music, S&S have possibly crafted one of their best songs throughout their career so far. With this song hopefully encouraging us to stop just existing and living for something more and bigger than ourselves (thereby moving our heart beats from the monotonous to the exciting); 'Jump Start My Heart', also co-written with Hawk Nelson lead singer Jon Steingard, paves the way for some great synth-pop inspired worship songs, and forms the anchor of the album, both thematically and musically. 'One Noise' the title track on the album, follows on from 'Jump Start My Heart' to bring is a more electrified, frenzied, powerful and encouraging track that reminds us that as Christians, we are '…one voice, we are one body, together one voice, we shout Your glory, singing woah, woah, we are one voice, we are one army, this is our choice, we will keep fighting…' An anthem for the church to collectively declare that we are one body unified under Christ, it is the gang vocals that lift this song up to its powerful 'anthem' status, as Geoff and the rest of the band use light electronics without going overboard to give us a sense of unity, collectiveness and passion for God as one body of Christ. Well done Satellites and Sirens, for both the title track and the first radio single, two powerful songs that are some of my personal favourites on One Noise!
'Teach Me How To Love', possibly the most CCM radio friendly melody on the album, is another one of my favourites by Satellites and Sirens on One Noise. With a steady beat and looping percussion, lead singer Geoff lays down his heart as he poignant declares right from the outset that '…I can't move past the feeling that everyone around me will one day break this heart of mine…', as we are able to relate to Geoff and understand that some times during our lives, we can indeed feel like there are some people just determined to break our hearts, or even not live up to the expectations we place on them. Yet while this song starts off with uncertainty and certain disappointment, the band move into the truth that God teaches us to love, and that as we have learnt love from the Father, we can love others, even if they don't reciprocate. With the hope that '…when I can't see past the failures and I'm tired of holding on, You teach me how to love…', 'Teach Me How To Love' is a calling to Christ to teach us in the way He knows, even if it means for us to fall, fail and stumble at certain things in order for us to realise that Christ's plan for our lives is far better, greater and much more exciting and fulfilling than we can ever dream or imagine. With Geoff continuing to succeed with his Jon Steingard impersonation, this CCM melody, and possible second single, is certainly one of my personal favourites, knowing through this melody that God's love covers all my feelings of hurt, failure, past regrets and tiredness we can often feel like we're trapped in the cycle of. While 'Crash Down', the first song on the album, can be an odd title for a melody not talking about crashing, burning or doing something with our lives that is regrettable in the long run, the title of the song is aptly appropriate as we realise that the melody is about God crashing down all the things in our lives that inhibit us from communing with Him, until we realise that '…in you, my hope is found, Your love will change me inside out, so crash down like a wave on us…' With gang vocals and a repetitive chorus that is easy for us to memorise and listen to with ease, Geoff and the rest of the band have given us a great powerhouse of a melody as the first song on the album, and the energy shown in the song translates well throughout the album as a whole.
'Magnetic' is pop electronic goodness and is a great standout musically on One Noise, as Geoff uses the motif of magnets as describing the love of God that continues to pull at us, from our hearts to His. Also co-written with Jon Steingard, we are met with the heartfelt moments across the light electronic keyboards in the emotional words of how '…when you pull me in I just can't stop, I get drawn by love that won't let up, You're taking me back to where we start with your magnetic heart…' While at some times, I felt the song was a little generic lyrically in the chorus and there were too many repetition with the phrase '…magnetic heart…'; the song nevertheless is a cleverly done melody, able to incorporate some great metaphors and motifs, and thereby one of the most lyrically unique songs on 2014 so far. With a steady electronic keyboard and music that reminds me of songs that were popular during the 1980s, Satellites and Sirens are able to use the unique musicality of 'Keep Running', and the repetitious nature of how we are to be reminded to '…move if you say "go", where you lead I will follow, I'll keep running…', to ask us a question- if God calls us to undertake a big task, will we follow Him if it is against our comfortable lifestyle? A definite throwback to upbeat songs from the 1980s (like Carman's 'Abundance of Rain' or Michael W. Smith's 'Rocketown'), Satellites and Sirens are able to use their synth background to bring back a unique musical genre and perform it with style, heart, emotion and all the while, making the melody fit nicely within the One Noise song line-up.
Fit for the church and even able to slot in between songs like 'Our God' or 'God's Not Dead'; the band's melody 'We Are Yours' (which I actually thought was a cover of Charlie Hall's song from the 2006 Passion album Everything Glorious) is a great song of vertical worship, with light electric guitars, a strong drum beat, and Geoff's vocal uniquely distorted to give an ethereal sound as we reflect and immerse ourselves in the life-building chorus of how '…We belong to You, Lord use us up cause we are Yours…' While not as hard hitting as some other energetic tracks towards the front of the album, the band still pour out their hearts to remind us of how God's name and fame is our goal, and that as we surrender ourselves down and declare that we are His to work through and in, all pressure to perform is lifted and our increased freedom continues to flow, knowing that Christ is able to work through all decisions and circumstances we are in. 'Our God is Able' and 'Holy is Our God' are also great songs that follow 'We are Yours' in terms of vertical worship and theme, as both songs give us great reminders of how God is the God of life, the God of death, and the hope, rest, and comfort for our souls ('Our God is Able'), and that there is no one like our God, that '…we are our bride, perfectly loved, holy are You God ('Holy Are You God')- also written with Jon Steingard, and one of the most enjoyable less-upbeat songs on One Noise. Sung with Jon Steingard (but not written by him), 'Breakthrough' uses synths and a quick pace to bring us into a theme of us breaking through darkness and breaking out of troubled times to '…live the dream before its gone…'; while 'You Traded Heaven' is a song of thanks from us to God, as we acknowledge that Christ has traded heaven to be with His children, and that out of the love for Him, we can declare alongside Geoff that '…we will give You all, we'll trade this world for You…'
Overall: Ending the album with 'United Kingdom', a song co-written with Jason Roy of Building 429 about the theme of unity, worshipping God united as the body of Christ, and knowing that '…the world will know Your story, they'll hear Your battle cry, Your kingdom filled with glory, will be our heart's desire, no weapon formed against us shall ever stand against what You have set in motion, so move us once again…'; the band have crafted together songs that facilitate both corporate and individual worship. Making a great transition from pop-electronic to pop-electronic-worship; Satellites and Sirens are one the best signings DREAM Records have done since Jonathan Thulin way back in 2011. And while this album is certainly a big departure from the synth flavoured albums of Frequency and Satellites and Sirens in years gone by, fans of the band know their hearts, and their hearts are to see hope, encouragement and the love of God shown through their songs- which is exactly what One Noise accomplishes. From the emotional 'Teach Me How to Love' to one of my favourite songs of 2014 so far, 'Jump Start My Heart'; Satellites and Sirens continue to show us that artists can change their styles and still make a powerful impact within the music industry (think of Kutless, Sanctus Real or Jeremy Camp?). Well done Geoff and the band (and to some extent Jon Steingard, who co-wrote on a few songs and sung on 'Breakthrough') for crafting such a great album, and one to listen to if you're a fan of artists on DREAM Records, or artists like Press Play, Hawk Nelson or Building 429.
RIYL: Hawk Nelson, Press Play, Building 429, Kutless
Buy the Album: iTunes/Amazon mp3