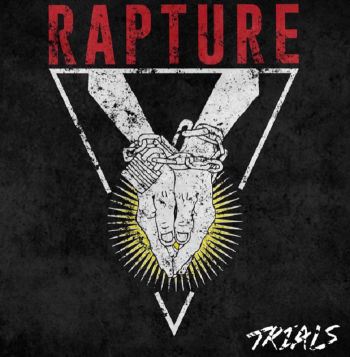 Artist: Rapture
Title: Trials
Label: On The Attack Records
Release Date: 3/6/15
Reviewer: Scott Swan
Tracklisting
Intro
Legacy
Kingdom Crew
Enemy Lines
Deceiver
Nothing Else
At it's root, hardcore punk represents the idea of pushing back against something. It's about being so fed with a system or set of ideas that the emotion just boils over into a sea of passionate protest. It's with that in mind we set our sights on a new band from Los Angles, Rapture, and their debut EP, Trails. Listening to this newly formed band, it's a healthy reminder that as Christians we have plenty we should be pushing back against; passivity, selfishness, lies of the enemy, and fear, are just a few of the subjects covered here. Trials blasts through any nonsense using a barrage of hard guitar licks and screaming vocals, providing the spark that is sure to rekindle the fire in the listener's heart.
That righteous fervor is never so welcome as in the opener "Intro," screaming the line, "Through the thick and thin, I will not give in." This quick fifty second tune really goes a long way in setting up the overall theme, and it leaves no doubt as to what you are in for musically.
Next up, "Legacy" carries a topic which could be summed up with the question: What do you want your legacy to be? A question I have found myself asking more as I get older. Do I want my life to be about me, or as the band says, would I rather live "To bring the heavens to earth." The guitars riffs, although not incredibly diverse, are relentless through out the record. If you're looking for any soft ballads with Rapture, you are in the wrong place, my friend.
Despite the somewhat warmed-over title, "Kingdom Crew," keeps the energy high and mood heavy. I really enjoyed the section in which grinding guitars carry the shouted lines, "Tooth & nail I won't give in, Win or fail I stand for this!" Again, I love the "push back" here, good stuff.
Songs  "Enemy Lines" and "Deceiver" both speak to dealing with spiritual enemies and devices used to damage our faith. You can really sense the band calling on the "strength inside" to bolster their internal resolve in order to fight this battle. The pounding cadences support that point while still getting a clue of the chaos involved in the battle as well. I will also note that midway through the first verse of "Deceiver," kicks off a cool little groove that is sure to loosen your neck. "Nothing Else" finishes things off, reminding us to keep our eyes on things that truly matter. The lyrics on the closer could be integrated into almost any worship setting with ease.
Overall: In standard punk form, this record has no song much longer than two minutes, however,  it's certainly time well spent. Blistering grooves and uplifting messages will fill that time and should leave you feeling encouraged and ready to reenter the battlefield of life. I do think there are a few things that could be tuned up a little, like the vocals for example, but if you're a fan of hardcore you'll certainly like the stripped down raw approach taken here and will be on the alert for any further efforts the band as to offer in the future. (This EP is available to download for free, see link below)
RIYL:  LIV, Dynasty, Atrocities