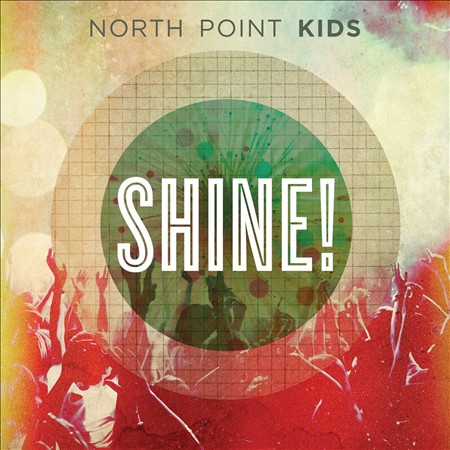 Artist: North Point Kids
Title: Shine
Label: North Point Music
Release Date: 4/9/13
Reviewer: Jonathan Andre
Tracklisting:
Your Love For Me
Tell the World
Look At Our God
Shine
Trust in You
My Help Comes From You
Thank You
I Believe It
Unlock the Power
Books of the Bible
Releasing their first children's album in April 2013 after a fair amount of success and popularity with their 2012 albums North Point: Inside Out and North Point Live: Here and Now; North Point Ministries, fronted by Eddie Kirkland, Seth Condrey, Lizi Bailey and Todd Fields have put together 10 songs primarily geared towards children and pre-teens as the ministry focused on teenagers and young adults shifts its focus onto the younger generation. While this album may only be especially popular amongst the children themselves, the songs still speak of great biblical truths and heartfelt themes also relevant for the older generation too. Initially thinking this album was going to be for kids and sung by kids, I have since been humbled in listening to the album, with myself enjoying this album to the point where this has been one of my favourite children's albums listening experiences since hearing Yo Kidz and their 4 albums during the early 1990s. While this album is catering musically towards a very distinct niche market, these songs showcase some great worship skills and heartfelt melodies from Eddie, Seth and Todd. Lyrically simple with rhyme to draw in families with young children, Shine is certain to be a treasure for many pre-teens around the world, as they listen to uplifting songs like 'Shine', 'I Believe It' and 'Books of the Bible' (which reminds me so much of 'Memorise the 66 Books (Testimony)' from Lawrence the Kat at the Beattitudes). Full of fun for the whole family, North Point Ministries have outdone themselves, with a hope that they will continue to create and distribute more CD's aimed at ministering to children and their young families.
With most of the songs on the album within the length of 2:30 – 3:30 minutes; I am constantly reminded that this music is for kids more so than other age brackets, and listening from that standpoint, the album is nicely done. With each song infusing a looping percussion beat, vocal distortion, power pop dance melodies and lyrics that can be easy to sing along to and remember, it is the strong vocals of Eddie Kirkland, Casey Darnell and the rest of North Point Music Ministries that continue to propel this new-ish worship movement into one of my favourite worship bands currently (alongside Jesus Culture, Hillsong and Passion). With a fair amount of repetition of lyrical content as well as lyrical rhyme and simple wordings, this experience has taught me to tear down everything I've known or assumed about kids music- listening to this album with new perspective as my preconceptions are dismantled and placed back together with some heartfelt moments of worship and praise, equally comparable to some of my own favourite children's music (Yo Kidz).
The title track 'Shine' gives listeners a daily reminder to shine bright for the kingdom of God, as Eddie Kirkland brings to life a dance track with electric guitar riffs and electronic beats that are bound to send and child to the dance floor; while worship leader Casey Darnell presents the three tracks 'Your Love For Me', 'Look At Our God' and 'My Help Comes From You'; each showcasing themes of thankfulness that God's love is surrounding us ('Your Love For Me'), praise as we marvel in awe at God's handiwork through creation ('Look At Our God'), and reassurance through hope and encouragement that wherever we are in our lives, Christ is there with us ('My Help Comes From You') respectively. All these three songs also give us unique musical representations- 'Your Love For Me' employs electric guitar distortion to create a powerful anthem, while 'Look at Our God' offers up Caribbean-like music with hand claps and light electric guitar riffs, and 'My Help Comes From You' showcases some uniquely interesting electronic music, with the introductory music reminding me very much of Newsboys' musical backdrop in 'Way Beyond Myself'. With all of these songs on average around 3 minutes tops, it is the simple yet biblically profound lyrics and musical ingeniousness from North Point that will bring in listeners and draw more children into listening some easy-to-learn easy-to-dance-along-to music that will hopefully will be in the children's repertoire of worship songs for months and years to come.
'Books of the Bible' incorporates rap and hip hop, as well as a musical backdrop reminiscent of TobyMac's 'Boomin'' to give us an ingenious way to remember the books of the bible, yet, my all-time favourite reminder of these 66 books is still 'Memorise the 66 Books' from Lawrence the Kat at the Beattitudes (though this last song on the album is interesting too); while we are met with dance electronic dubstep melody 'Tell the World', with lead singer Lizi Bailey urging Christians to tell the world of God's love, something that is often forgotten through all the busyness that we can sometimes bury ourselves into. 'Trust in You' starts off like any kind of remix song with electronic beats, and while the lyrics can seem a little cheesy- '…with all of my heart, I'm gonna trust in You, no matter what, You're gonna see me through…', the concept of putting our whole trust and faith in Christ is something we need to fully understand and apply, as often, we can sometimes hold back with uncertainty as we live our lives with fear of what could be seen if we open ourselves entirely and be vulnerable before the King of Kings. The rap in the second verse of 'Trust in You' reminds me so much of Michael Anthony Taylor in the Yo Kidz song 'Nu Attitude' that I won't be surprised if the rapper knew Michael, or was coached by someone who knew the rapping technique of him. 'Thank You' is performed by Candi Pearson Shelton (who vocally sounds strikingly similar to worship artist Christy Nockels) and reminds us that we need to constantly thank Jesus for everything everyday as we understand with a thankful heart what He has done and continues to do in our own lives; all the while presenting the message in a musical backdrop of dance-pop full of electronically altered vocals in some parts as well as 'wooaahh' backing vocal moments possibly done by Candi herself. Eddie Kirkland also returns later in the album with 'I Believe It', an easy-to-learn simple song that shows us a powerful truth of how we need to exclaim Christ to the nations- just to say 'I believe it', as we love as Christ loved us.
Overall: North Point Music Ministries have produced a stellar album musically to give us some of the best dance-electronic melodies kids will ever hear. With songs written for the kids (my guess is that it's targeted to anyone within the age bracket of 5-13) in a hopeful, inspired, fun and energetic way; Eddie, Todd, Candi, Lizi and Casey have given listeners a stellar album fit for any parent of young children wanting to give them some wholesome, worshipful, uplifting music. While this type of music may not necessarily be for everyone, quality children's music is still a must in today's society, and listening to North Point Kids: Shine shows me a great alternative for children compared to whatever music is within the mainstream market currently. One of the most rewarding children's albums alongside my favourite 4 Yo Kidz records that were released during the 1990s, this is bound to be a great step forward in North Point Music Ministry, and hopefully a message for other worship movements, like Jesus Culture and Passion, to also take some initiative and help alongside North Point to also create children's music for this generation and the next. Well done North Point for such an honest and enjoyable album.
RIYL: Yancy, Hillsong, Passion, North Point Live
Buy the Album: iTunes/Amazon mp3